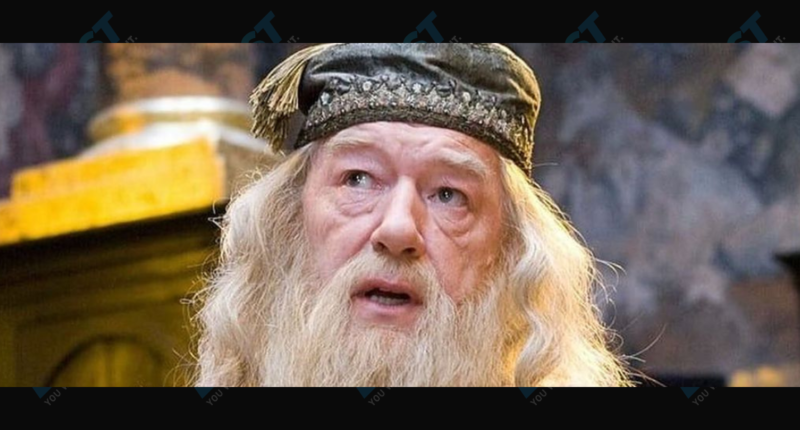 Legendary actor Sir Michael Gambon, known for his iconic portrayal of Professor Dumbledore in the "Harry Potter" films, has passed away at 82. His death was confirmed by his widow, Lady Gambon, and son, Fergus, who stated he peacefully succumbed to pneumonia in the hospital.
Following the sad news, fans and the official "Harry Potter" page paid tribute to his humor, kindness, and grace. Gambon's career spanned six decades, with memorable roles in films like "Gosford Park" and "The King's Speech," earning him two Emmy nominations, four BAFTA Awards, and a knighthood. 
He cherished his time as Dumbledore, realizing the enduring impact of the beloved franchise.
'Harry Potter' Fans Pay Their Respects To Sir Michael Gambon
"Harry Potter" legend Sir Michael Gambon, renowned for portraying Dumbledore in the fantasy series, passed away at 82.
The official Harry Potter page shared the sad news on Twitter (now X), writing, "We are incredibly saddened to hear of the passing of Sir Michael Gambon. He brought immeasurable joy to Harry Potter fans from all over the world with his humor, kindness, and grace. We will forever hold his memory in our hearts."
Fans flooded the comments with tributes, acknowledging his portrayal of the beloved character. One fan wrote, "A great actor and man, he brought to life one of the strongest and most beloved characters, we'll never forget about him!! Rest in peace!."
Michael Gambon will live on in the hearts and the memories of every single person whose childhoods he lit up by his brilliant portrayal of Albus Dumbledore.

"You think the dead we loved truly ever leave us? You think we don't recall them more clearly in times of great trouble?" pic.twitter.com/PMB4Tks7B1

— سعد ??? (@crowndefensx) September 28, 2023
Another added: "Albus Dumbledore is the greatest wizard in the world ever. The memories of him remain forever in every fan of Harry Potter. Farewell, Professor Dumbledore."
A third fan quoted a famous Dumbledore line, writing, "Do not pity the dead, Harry. Pity the living, and, above all those who live without love ~ Dumbledore." "Rest in Peace, Sir Michael Gambon," they added.
Others expressed their condolences and admiration for Gambon's portrayal, highlighting the lasting impact he had on "Harry Potter" fans. "Sir Michael Gambon's legacy as Professor Dumbledore in the Harry Potter series will forever be etched in our hearts," the fan wrote. "He brought wisdom, wit, and warmth to the role, enchanting fans around the world. His magic will live on in the memories he created."
Sir Michael Gambon Died Peacefully At 82
Sir Gambon's passing was confirmed by his widow, Lady Gambon, and son Fergus. They announced the sad news, revealing that their "beloved husband and father" peacefully passed away in the hospital following his battle with pneumonia.
In a statement, the family expressed their loss, writing, "We are devastated to announce the loss of Sir Michael Gambon. Beloved husband and father, Michael died peacefully in hospital with his wife Anne and son Fergus at his bedside, following a bout of pneumonia. Michael was 82."
The statement continued, "We ask that you respect our privacy at this painful time and thank you for your messages of support and love."
'The Great Gambon' And His Time On The Silver Screen
Born in Cabra, Dublin, in 1940, Gambon, known as "The Great Gambon" in acting circles, moved to London as a child. He made his first stage appearance in Ireland in 1962, starring in a production of Othello in Dublin.
Throughout his illustrious six-decade career that spanned TV, film, theater, and radio, the Dublin native was most recognized for his role as Hogwarts headmaster, Professor Albus Dumbledore, in the "Harry Potter" franchise.
Gambon's impressive filmography included notable roles in movies like "Toys" (1992), "Sleepy Hollow" (1999), "Gosford Park" (2001), and "The King's Speech" (2010), where he portrayed King George V and contributed to the cast's SAG Award win for outstanding performance. 
He received two Emmy nominations and secured four BAFTA Awards.
In 2012, he was honored with the Richard Harris Award by the British Independent Film Awards for his significant contributions to British cinema. In 1998, Queen Elizabeth bestowed upon him a knighthood for his outstanding achievements.
Late Sir Michael Gambon Reflects On His Experience In The 'Harry Potter' Franchise
In 2009, Gambon reflected on his experience playing Dumbledore in the "Harry Potter" franchise during a conversation with the Associated Press. He admitted that he initially didn't grasp the immense influence of the fantasy series when he accepted the role but came to appreciate the lasting legacy it created.
Recalling his decision to take on the role, he said, "They rang me up and said, 'Will you do it?' Like any other job, I said, 'Sure.' Then you find yourself in the middle of this thing."
He acknowledged the contrast between Dumbledore and his previous roles, stating, "I've played quite a lot of crooks and killers, and that's quite interesting. Then Dumbledore is the complete opposite, isn't he? He's a nice old man."
He fondly described his time with the franchise as a "happy memory" and expressed gratitude for being part of something so enduring and beloved worldwide. "You never forget that," he said.


Post source: The blast