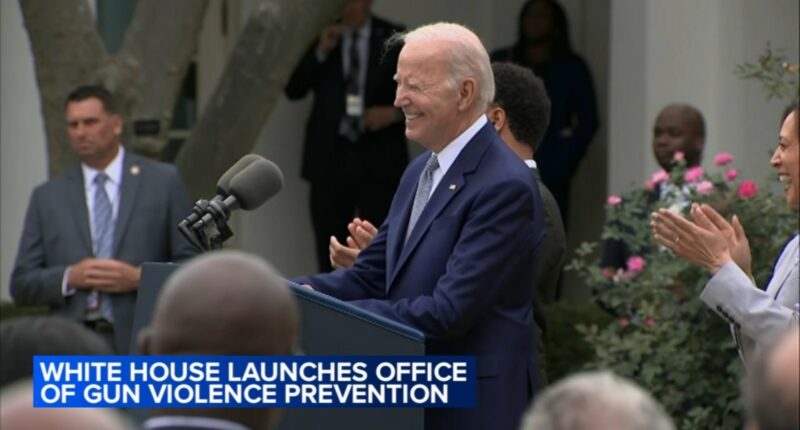 CHICAGO (WLS) — Local survivors of gun violence celebrated President Joe Biden's announcement on Friday that he is establishing a new White House Office of Gun Violence Prevention.
Some traveled to Washington, D.C. and others watched with great interest from the Chicago area.
This is the first time the White House will have a dedicated office to focus on gun violence prevention. For those who have been impacted by it, it provides hope that more lives will be saved.
Biden was joined by gun violence survivors and activists at the White House, talking about the urgent need to address gun violence in a coordinated national effort.
"So far, our country has experienced more than 500 mass shootings and well over 30,000 deaths due to gun violence. This is totally unacceptable. It's not who we are. And, we have to act and we have to act now," Biden said.
Anti-violence activist Trevon Bosley, whose brother, Terrell, was murdered in 2006, made the trip from Chicago. He wore his brother's picture in a pendant around his neck.
"For me, I think it's 100% a step in the right direction, and it also feels amazing to finally be heard," Bosley said.
Mayor Brandon Johnson was also in attendance, saying in a tweet that he was honored to be there.
The new office will be responsible for expediting the implementation of the Safer Communities Act and for coordinating support for survivors of gun violence.
Highland Park shooting survivor Ashbey Beasley watched the announcement from home. She called the initiative a game-changer.
"I was really excited to hear the president talk about how this office will put resources towards survivors, to help them with mental health resources, to help them with financial resources here in Highland Park after our mass shooting," Beasley said.
Vice President Kamala Harris will oversee the Gun Violence Prevention Office.
"We do not have a moment to spare nor in life to spare. And, here's the thing: solutions do exist," Harris said.
At an unrelated event, U.S. Sen. Dick Durbin said people have a right to be skeptical about the announcement a year before the election.
"They want results, and we've got to produce results. But, virtually anything the president does is branded political. Let's see if he can get some results," Durbin said. "I think he can get some."
Also on Friday, Biden used the occasion to renew his call for a federal ban on assault weapons.
Johnson was not the only elected official at the White House. Cook County Board President Tony Preckwinkle and U.S. Rep. Robin Kelly were also in attendance.


Post source: Abc7chicago