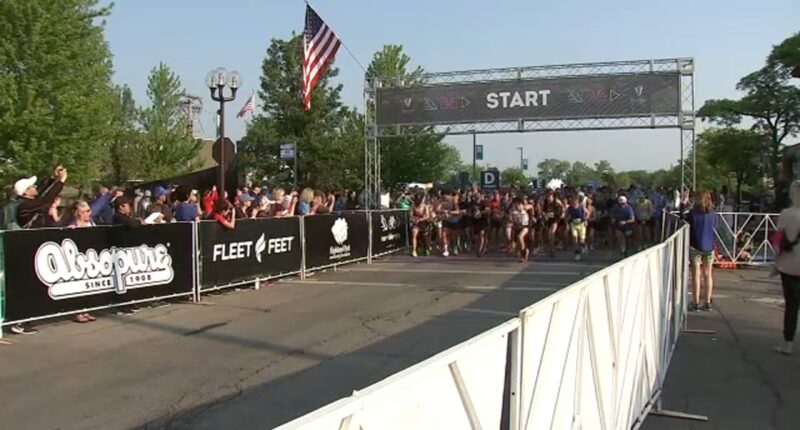 HIGHLAND PARK, Ill. (WLS) — Hundreds of people took part in the Highland Park Strong Half Marathon Sunday morning.
It's been nearly one year since seven people were killed, when a gunman opened fire at the 4th of July parade and rocked the Highland Park community.
"Very thankful we were not there, but it was still scary being at home sheltering in place," runner Julie Knowles said.
Sunday, runners at the Highland Park Strong Half Marathon and 5K, formerly known as the North Shore Classic, ran with that memory at the top of their minds.
Bears surprise Highland Park shooting survivor Cooper Roberts, 8, with dune buggy-like wheelchair
"It hits close," runner Uday Mehta said. "I was there on that day and it was a crazy day. It's sad that we have to do these things to push that, but it's good work that everyone's doing and it's good to see."
"As survivors of the mass shooting, it took a lot of courage for us, for me, to actually be out in the open in a crowd," Debra Baum with the Highland Park Gun Violence Project said.
Sunday's race, especially emotional for those who were at the parade when shots rang out.
"We were 100 feet from where the people were murdered, and we ran for our lives that day," Baum said.
Priest honored for helping strangers to safety as they fled Highland Park parade shooter
Baum recalled the frightening moments, being there with her children and grandson.
"We are all still hurting," she said. "We are still traumatized and a lot of us, I am not going to be at the 4th of July activities. It's just too hard for me to be there."
Moms Demand Action for Gun Sense in America had a large presence at the race, calling for stricter gun laws nationwide, following the 4th of July tragedy.
"Everyone here was a survivor in some way or another, and we as Moms Demand Action are working to bring awareness to gun violence prevention and make sure what happened here in Highland Park doesn't happen anywhere else in the country," Alexi Vahlkamp, Moms Demand Action group lead., said.
Members of Moms Demand Action rally for gun safety laws in Springfield
The proceeds raised Sunday will go toward the Highland Park Shooting Response Fund in honor of the victims.


Post source: Abc7chicago