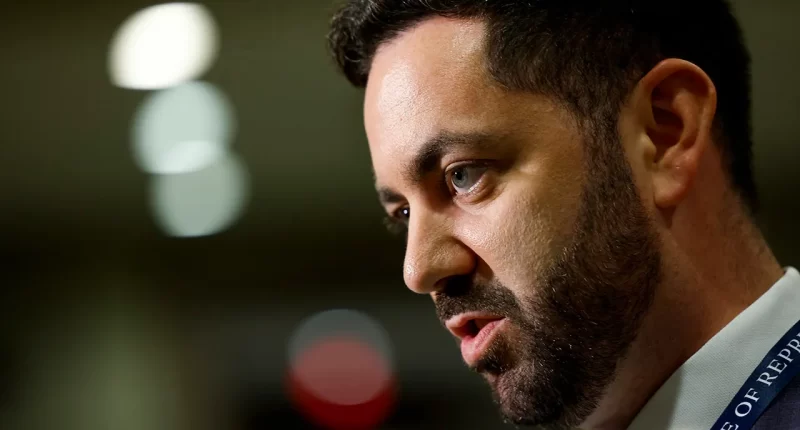 FIRST ON FOX – All but two members of the House GOP delegation from New York are demanding an investigation into a statewide standardized test question Jewish leaders consider antisemitic. The Republican congresspersons say the question reflects a "far-left anti-Israel ideology" permeating the public school system pushing "ideological revisions" of history. 
In a letter to Democratic New York Gov. Kathy Hochul and New York State Education Department Commissioner Betty Rosa, Rep. Mike Lawler, R-N.Y., leads eight fellow Republican House members from New York state in expressing "grave concern with the abhorrent, antisemitic question included in this winter's NYS Regents Exam in Global History and Geography." 
The question asks who benefited the most from changes shown on maps of Israel and surrounding areas from 1947 to 2017. The options were: Zionists and Jewish immigrants; the government of Jordan; Palestinian nationalists; or the citizens of Lebanon.
"It is simply beyond comprehension that anyone at the New York State Education Department would approve a question on a statewide exam that blatantly promotes hateful anti-Jewish and anti-Israel rhetoric which only fan the flames of antisemitism in our schools," the letter says. "For centuries, the State of Israel, one of our Nation's greatest allies, and Jews have fought for their right to exist. This question attempts to cast doubt on that very notion and rewrite history by erasing the struggle for independence that the State of Israel faced." 
NY EDUCATION COMMISSIONER UNDER FIRE OVER 'EGREGIOUS DISTORTIONS OF HISTORY' IN EXAM QUESTION ABOUT ISRAEL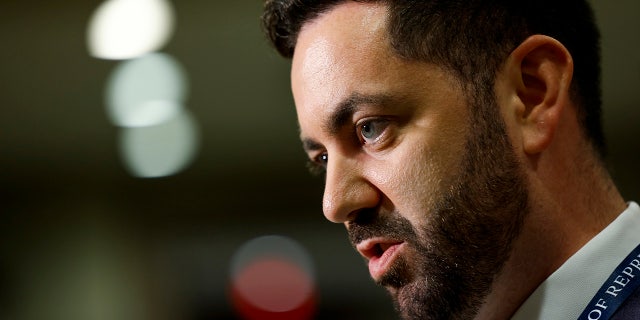 The letter cites an "unprecedented surge" of antisemitism across the nation. 
In November 2022, New York City alone saw a 125% increase in antisemitic hate crimes compared to the same period the year before. 
"This question is just the latest instance of the anti-Israel and antisemitic ideologies that are infiltrating our schools and communities," the nine Republican members of Congress assert. "Moreover, it indicates a complete lack of oversight in the approvals process at the New York State Education Department."
In addition to Lawler, the letter was signed by Reps. Nick Langworthy, Anthony D'Esposito, Claudia Tenney, Nick LaLota, Marcus J. Molinaro, Elise Stefanik, Brandon Williams and Andrew R. Garbarino. The only Republican House members from New York not to sign on were Reps. Nicole Malliotakis and George Santos. 
Santos, the subject of a House Ethics probe into alleged campaign finance law violations, has rebuffed calls to resign even from members of his own party after lying about descending from survivors of the Holocaust, having a college degree and having had a successful career at two Wall Street firms while running for office.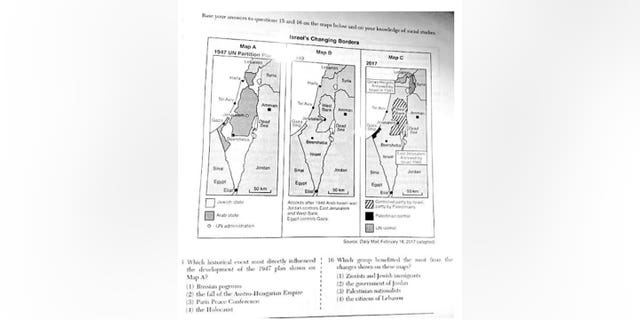 The letter also cites the recent passage of Bill A.472, which required the New York State Education Department to examine whether schools across the state were adequately teaching about the horrors of the Holocaust. 
"This question indicates that even the state's own education department isn't following this new law," the letter asserts. 
"We are calling on you to launch an immediate investigation into this attack on New York's Jewish community. There must be a thorough examination into this abject failure and the
individuals responsible must be held accountable. This type of anti-Jewish sentiment needs to be singularly and unequivocally condemned," the letter says. "We respectfully request an investigation into this matter to hold those responsible accountable for this heinous, antisemitic question that appeared on a statewide exam."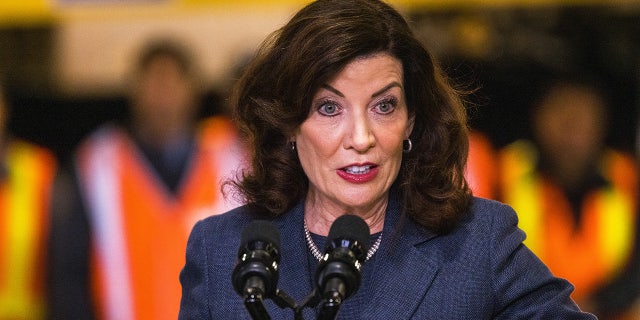 "How someone could have signed off on this, a question that seemingly calls into question the very right for Israel to exist, is beyond absurd," Lawler said in a statement to Fox News Digital. "It is imperative that we take on antisemitism wherever it attempts to take root and a thorough investigation into this matter should help prevent a question of this nature from ever appearing on a state Regents Exam again."
CLICK HERE TO GET THE FOX NEWS APP
"Antisemitism in any form is vile, unacceptable, and I condemn it in the strongest way possible. New York students should be learning and tested on real history, not ideological revisions. I urge Governor Hochul and Commissioner Rosa to act in the best interest of our students," LaLota said. 
"It defies comprehension how such a blatant antisemitic question passed through the layers of approval process in our state's education system, but unfortunately, it's a reflection of the far-left anti-Israel ideology that is permeating our government," Langworthy said. 
Fox News Digital reached out to Hochul's office and the New York State Department of Education for comment Thursday.