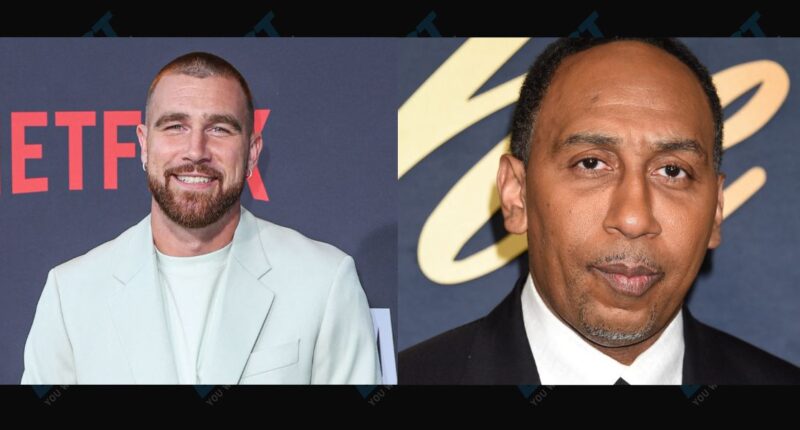 It's been rumored that Kansas City Chiefs tight end Travis Kelce and pop icon Taylor Swift have been dating — though neither party has confirmed this relationship to be true, leaving Swifties and NFL fans everywhere on the edges of their seats.
Some fans are shipping the two, saying they would make a great couple — and it seems like analyst Stephen A. Smith is a part of that group.
Stephen A. Smith Is A Swiftie?
On a recent episode of "First Take", Stephen A. Smith was asked how he feels about the Travis Kelce and Taylor Swift dating rumors, to which he immediately said, "Well let's first get the obvious out of the way — he could do a lot worse."
"I mean, Taylor Swift, I mean Taylor Swift has got it going on," he added.
Smith then admitted he attended a Taylor Swift concert, which he described as being "off the chain".
"I had to go see it for myself," he said before adding, "and I went to that concert and I said damn, it was off the chain."
Smith then got back on track commenting on the Kelce and Swift dating rumors.
"She could do a lot worse, too," he said. "Travis Kelce is a good brother man. I love me some Travis Kelce."
The analyst continued, "That's his business. I don't know what's going on, I don't ask those questions, but Travis Kelce is good people. That's my brother from another mother. That's a good man and anything that makes Travis Kelce happy, I am a supporter."
Rumors began circulating that Travis Kelce and Taylor Swift are dating a few days ago, although neither have actually confirmed if they are true.
Taylor Swift's Source Comments On Rumors
Although neither have confirmed the relationship, the "Blank Space" singer's source is now speaking out about the rumors.
"She and Travis have hung out twice, and it's nothing serious. She thinks he is very charming, and they have been texting this last week," an insider exclusively tells The Messenger. "He is a little embarrassed at how much attention they are getting, but he has told her he would love to continue seeing her."
"They are seeing where things go." However, the football star has some stiff competition for the singer's attention. "Her friends are always playfully suggesting people to set her up with," the source continues.
The "Love Story" singer is "in her fun girl era and strictly having fun right now", the source added.◊
Travis Kelce Comments On His Relationship With Taylor Swift
When asked if the rumors bothered the Chiefs tight end, Travis Kelce said "Nah, that's life, baby. That's life."
While Kelce was on ESPN's "The Pat McAfee Show", he added, "I mean, I threw it out there. I threw the ball in her court. I told her, you know, 'I've seen you rock the stage in Arrowhead. You might have to see me rock the stage in Arrowhead and see which one is a little more lit.' We'll see what happens in the near future."
Travis Kelce also admitted that back in July he had made a failed attempt to meet Swift and give her his number. "I was disappointed that she doesn't talk before or after her shows, because she has to save her voice for the 44 songs that she sings," Travis told his older brother at the time on their podcast. "So, I was a little butthurt I didn't get to hand her one of the bracelets I made for her.
"If you're up on Taylor Swift concerts, there are friendship bracelets, and I received a bunch of them being there, but I wanted to give Taylor Swift one with my number on it."
Post source: The blast