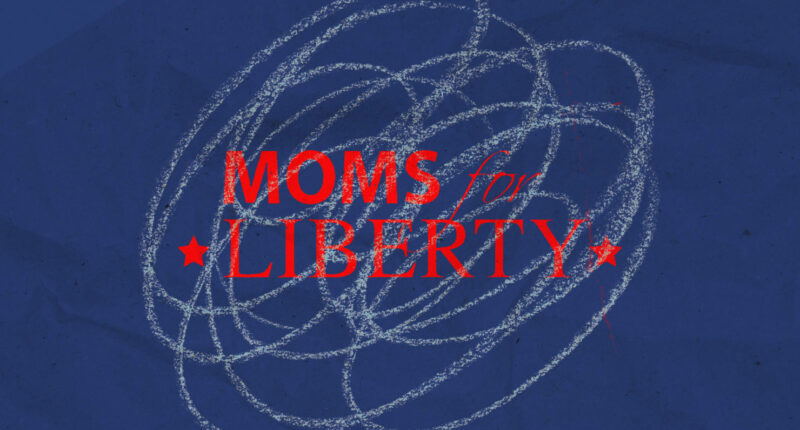 When ex-South Park writer Toby Morton set out to lampoon Moms for Liberty with a parody website this summer, he expected to receive hate mail.
On Morton's MomsForLiberties.com, visitors are greeted with swastikas encircling the "parental rights" juggernaut's logo, a leadership page that boasts Hercules actor turned conservative pundit Kevin Sorbo as their minivan driver, and a listing of items the moms have "banned for fun" including the board game Sorry. "Those who are taught to say 'sorry' are weak," the fake site for the far-right group declares. "NEVER apologize for your actions because your actions are probably warranted if you're white."
"I told myself that I never want to lose the original idea of why I started these websites, which was to make myself laugh and to troll people who deserve to be trolled," said Morton, who has also crafted spoof sites for Republicans including Colorado Rep. Lauren Boebert, Texas Governor Greg Abbott, Florida Governor Ron DeSantis, and New York Rep. Elise Stefanik, taking advantage of politicians who fail to snag all domains with their monikers.
But Morton didn't anticipate how serious this project could be. Fans sent Morton a barrage of messages detailing how Moms for Liberty (M4L) was altering their school boards and more than a few tips about its particularly egregious members, who call themselves "joyful warriors."
Funded and aligned with right-wing donors and organizations like the Leadership Institute, M4L has been at the forefront of a national movement to ban books (or even yearbooks) containing race, gender, LGBTQ themes, and sexual content. The group's second annual summit in July attracted mass protests and campaign stops from presidential candidates including Donald Trump, DeSantis, Vivek Ramaswamy, and Nikki Haley.
For Morton, what started as comic relief is morphing into a fundraising campaign, one that will create pages for each state. "My plan is to disrupt this hate group for as long as possible with billboards, pamphlets, background information and other tactics," Morton said. "They have no interest in truly educating children and would rather actively prevent them from learning the true history of our country. I have a lot of support around the country so I'll continue updating my website about this group in each state so people are fully aware."
As one South Carolina M4L chapter plans to distribute pocket constitutions to schools, Morton says he's aiming to travel there for his own counter-programming. A California city, where a M4L organizer lashed out at Morton, could soon see a taunting billboard, too.
MomsForLiberties site quotes Adolf Hitler—a nod to one M4L chapter actually doing so in their newsletter—and includes the tagline: "Officially Extremist." (This summer, the Southern Poverty Law Center for the first time designated M4L as an anti-government group. In response, M4L tweeted that the maneuver was part of "a coordinated attempt to silence and suppress us.")
"We are an extremist organization that prides itself on making sure that freedom of speech and choice only applies to those who believe gays are demonic," MomsForLiberties.com reads, "Hitler actually wasn't that bad so Jews should stop overreacting, any transgender are considered trash and need to be disposed of, current teachers in this society should be under the control of fascists who know better, and that any teachers who disobey deserve to be handled by any means necessary and this includes physical control."
Morton's antics are but a small part of a broader effort to combat the growth of Moms for Liberty across the country, as concerned parents assemble groups of their own including Stop Moms For Liberty, Our Schools USA, Defense of Democracy, and Red Wine and Blue. In Pennsylvania, citizens launched an organization Grandmas For Love.
Moms for Liberty did not respond to a request for comment.
Its local ringleaders weren't laughing, especially after Morton's followers began posting links to MomsForLiberties.com on chapter Instagram pages.
"What you see is an anonymous and untraceable email address," one member emailed Morton. "This is for my protection…"
"You have flown under the radar long enough," the person added. "It's time to shut you down. Go to Florida, then we'll make ourselves known. Enough of hiding behind 'comedy.' You must no longer abuse the system this way."
Meanwhile, a Nevada chapter of M4L commented on Morton's Instagram @wordclown: "Your username defines you. Love it!"
In other messages, defenders of M4L used the word "Jew" as an insult and made below-the-belt references to his mother's Alzheimer's diagnosis. "It obviously takes a village to take on and troll moms for liberty. How embarrassing for you fucking jew f**got," one person messaged Morton.
Some of the hate mail comes directly from the parody site's chatbox feature. "I want all of my followers to see how insane and out of touch these people are," Morton told The Daily Beast. "My screenshots of messages are without a doubt my most viewed and liked posts. Everyone needs to see what we're dealing with no matter how short and stupid the messages are.
"Also, figuring out 'Your' and 'You're' is still something they're struggling to overcome."
One San Diego mom told The Daily Beast that she criticized Morton's parody only to be targeted by "an online mob for like 48 hours straight until I could figure out how to get things locked down." To cope, she listened to conspiracy theorist and M4L collaborator James Lindsay's podcast episode that compares the backlash against M4L to China's Communist leader Mao Zedong's "struggle sessions," or public humiliations of class enemies.
"I can see why he targets politicians, they put themselves on a public stage by running for office, but I'm literally just a mom advocating for her kids and parental rights in schools," the woman added. "I'm just a mom. He and his followers are absolutely unhinged and unstable."
Morton's website, it should be noted, has a placeholder page for "fascist chapters."
"All of this information is public," Morton's page notes. "There will be NO DOXING. The purpose of this is to make sure people know about those who have chosen to join this hate group that live in their states/cities/counties."
"There will also be updated school board elections and open seats that this hate group is trying to be a part of," the site continues. "To those of you who have already sent in information from your area, THANK YOU."
Morton says he zeroed in on M4L while doing research for his DeSantis sendup, defascist24.com, which includes a phony journal for the governor. "Dear Diary," one entry begins, "I saw a rainbow today. I'm worried the sky is trying to groom me."
DeSantis has been an ally of M4L since its inception in 2021, appointing co-founders Bridget Ziegler and Tina Descovich to a new board governing Disney theme parks and the Florida state Commission on Ethics, respectively.
Morton is surprised that his hobby has taken on a life of its own. When DeSantis supporters gathered at a hotel in Tallahassee over the summer, someone plastered flyers with "DeFascist for President" and a QR code for Morton's site around the event's conference rooms. "I just thought it would be funny to troll candidates and now it's just grown so much," he said. "I'm still shocked that people are as excited about it as they are."
The comic is also wading into local battles, crafting a parody site for embattled Tennessee House Speaker Cameron Sexton, who made national headlines after his GOP-run chamber expelled two Democrats (both Black men) for supposedly violating rules for joining gun-control protests in wake of a mass shooting at a Christian elementary school.
"YOU RACIST? I GOT YOUR BACK​​​​​," says the top of Morton's SpeakerSexton.com, which includes a backdrop of a black-and-white photo of the Ku Klux Klan.
Morton went a step further by paying for a billboard in Tennessee this week that says, "I'm for the resignation of Speaker Sexton. Love, Democracy," with Morton's email at the bottom. And by putting up ads around downtown Nashville which depict Sexton with clown makeup below the words: "Speaker Sexton doesn't own SpeakerSexton.com. Go there now!"
As for Morton's spoof website of Tennessee Gov. Bill Lee, fans on TikTok assumed the governor's own page was "hacked."
GovernorBillLee.com, decorated in rainbow flags and with the motto "Equality for a few," quotes the politician's supposed conscience: "He hates what scares him."
The Daily Beast left messages for DeSantis, Sexton, and Lee.
Another target of Morton's crusade, Stefanik, let loose when the New York Post last year asked for comment on a parody site that leads with, "LET'S KEEP IT WHITE. THE REPLACEMENT THEORY AND WHY I SUPPORT IT."
"He spends all his time as a troll on social media, a scam PAC artist launching sexist and false attacks against Republican female leaders, and raising money for himself under the congresswoman's name in a desperate attempt to gain acceptance from the radical left blue checkmark brigade," her spokesperson told the tabloid.
"We pray he gets the therapy and a real job he so desperately needs."
But Morton remains unconcerned by the backlash. "There were people who said, 'When they go low, you gotta go high.' And I'm like, 'No, not with my background.' What I learned from writing for South Park was that nobody really cares if you go high or low, as long as it's funny," said Morton, who still has a framed letter from actor Tom Cruise's lawyers over a Scientology episode of the show.
"And to me, this is funny. This is why I started in the first place."


Post source: TDB