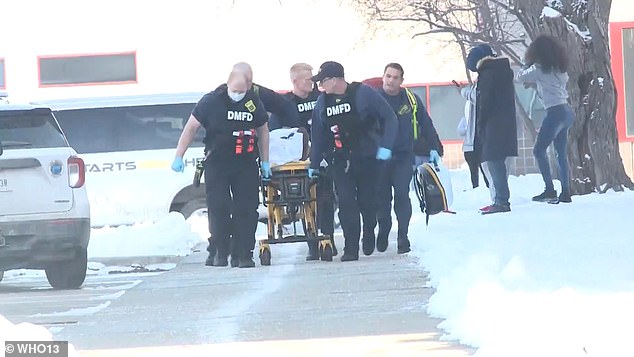 BREAKING NEWS: Two students are shot dead at school in Iowa: Cops say 'multiple' suspects are in custody
The shooting took place at Starts Right Here, a Des Moines education center
Cops said the shooting appeared to be a targeted attack on the victims
A third student was wounded and is said to be in critical condition at the hospital 
A shooting at an Iowa school left two students dead and one person wounded on Monday afternoon, police said. 
The students were gunned down around 1pm at Starts Right Here, an education mentorship program for at-risk youths located in downtown Des Moines.
Police said the wounded individual may have been a staff member, and was taken to the hospital in serious condition. The two casualties were found alive, but later died at the hospital.
Cops said the victims were targeted and that 'there was nothing random' about the attack. The victims ages have not been released, but the school focuses on high school-aged students.
Emergency services transport one of the people shot at the Starts Right Here school
A swarm of police cars on scene outside the Starts Right Here in Des Moines on Monday
A car matching witness descriptions was stopped by police at about 1:20pm two miles from the school. Three suspects were apprehended after one tried to flee from the car.
A witness who works next door to Starts Right Here said she saw somebody running from the building after the shooting while cops pursued them.
'We just saw a lot of cop cars pouring in from everywhere,' witness Nicole Krantz told the Des Moines Register.
'It's terrifying. We're all worried. We went on lockdown, obviously. We were all told to stay away from the windows because we weren't sure if they caught the guy,' Krantz said. 
Iowa Governor Kim Reynolds released a statement lamenting the shooting.
'I am shocked and saddened to hear about the shooting at Starts Right Here,' she wrote. 
'I've seen first-hand how hard Will Keeps and his staff works to help at-risk kids through this alternative education program. 
'My heart breaks for them, these kids and their families. Kevin and I are praying for their safe recovery.'
Des Moines Public Schools also released a statement. 
'We are saddened to learn of another act of gun violence, especially one that impacts an organization that works closely with some of our students. We are still waiting to learn more details, but our thoughts are with any victims of this incident and their families and friends. 
'Starts Right Here is a valuable partner to DMPS, doing important work to help us re-engage students, and we stand by to support them during this critical time.'
Advertisement