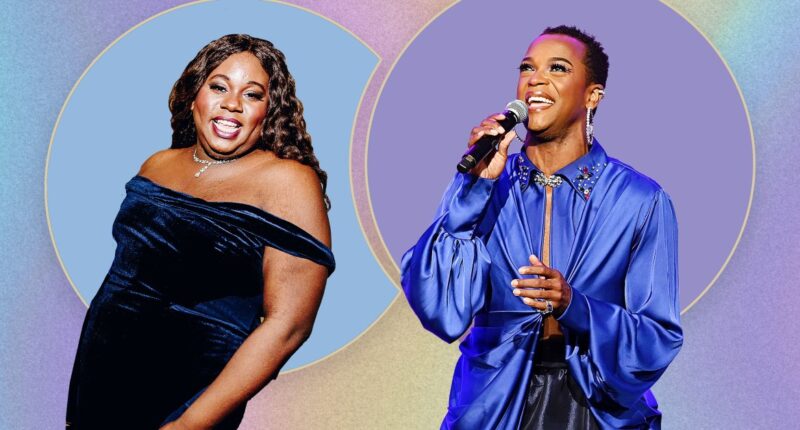 One morning in early May, J. Harrison Ghee and Alex Newell made history as the first nonbinary-identifying actors to be nominated for Tony Awards. The night before the nominations were announced was the first time that either performer had attended the Met Gala—or, as Newell calls it, "our Tony nominee party." A couple weeks later, the pair met with TIME together in a Midtown café close to both of their theaters to discuss the nominations, Ghee for Best Leading Actor in a Musical for their role as Jerry/Daphne in Some Like It Hot and Newell for Best Featured Actor in a Musical for their role as Lulu in Shucked.
Neither are newcomers to Broadway. Ghee made their debut as Lola (a drag queen who helps save a failing shoe factory) in Kinky Boots in 2017, and Newell made theirs the same year as Asaka (the Earth goddess) in Once on This Island. (The two go way back, having met at a performance of Kinky Boots.) This year, Some Like It Hot and Shucked were also both nominated for Best New Musical, meaning that Ghee and Newell originated their roles on-stage, and can make them their own.
Those roles feel tailor-made to their performers: In Shucked, Lulu is a small-town whiskey distiller who brings down the house with a standing ovation in the middle of Act I with "Independently Owned," a show-stopper about not needing a man.
Newell says they are learning from Lulu about gradually opening up. "That in my own independent life, there is something else to have, there is another person to be had, that can meld, mesh well into this independent life that I live."
And in Some Like It Hot, based on the 1959 Billy Wilder film that starred Marilyn Monroe, Tony Curtis, and Jack Lemmon, two musicians, Jerry (Ghee) and Joe (Christian Borle), must flee Chicago after witnessing a mob hit. They go undercover in drag, joining a traveling all-girl band, but Jerry, the bass player, finds himself drawn to his newfound persona as Daphne.
"Of course, doing Some Like It Hot and bringing men in dresses back to Broadway, everybody has feelings," Ghee says. "So they're concerned about how it's going to be perceived and received. And there were moments where I was like, can't we just be artists and create?"
In conversation, Ghee—in a black, strappy, leather top and pleated miniskirt—and Newell—wearing a white, puff-sleeved top and a set of feathery lashes—vamp and riff and ricochet off of each other, toggling seamlessly between thoughtful and funny. They discussed their characters, who their art serves, and what winning really means.
This interview has been edited for concision and clarity.
Alex Newell belts during rehearsal for 'Shucked' at a studio space in midtown Manhattan.
'Shucked'—Emilio Madrid
TIME: J., your dad is a minister; Alex, your dad was a deacon; and you were both in church choirs. How did that specific upbringing shape your journeys?
Ghee: You know how to make the church go up in a way of, "I'm using what I got today." Using the gift. So it is definitely such a formative way of learning yourself as an artist.
Newell: And your instrument in general. You create your own style in church. The fact that gospel and hymns have their own diaspora inside a genre, that we can have a Lecresia Campbell giving us operatic tones into a belt, and we can have pop from Mary Mary. That's that artistry of finding yourself and your voice.
You both also have had significant drag experiences, as Madam That Bitch and Crystal Demure. J., you had this beautiful quote that "drag is a tool of freedom." How did drag change your perceptions of yourself?
Ghee: When I started doing drag, I used to say I never imagined myself doing it, which was a complete bold-faced lie. I was young Lola playing in my mom's clothes as a kid, and using blankets as trains and making dresses. And so it was me tapping back into the little version of me, and that freest, most imaginative person, and having complete creative control of how I can be effective with my gifts.
Because I'm always trying to be intentional with everything that I do, and especially with drag, and so it was my way of: How am I ministering to people? How am I reaching hearts and souls and minds through this artistry? So it really helped me free myself in every way.
Newell: Well, you know, I wasn't in drag ever until I won RuPaul's Secret Celebrity Drag Race. No, I guess I never knew what drag was for so long, because I didn't know what I was doing when I was putting on my mama's heels and tromping around the house. Honey, I cried the day my foot went past a seven. I cried.
Did doing drag in your late 20s feel different?
Newell: Very different. I always say drag is appreciating the woman's body, in a way. And appreciating what life started out of. To appreciate our moms and our idols and all of that good stuff, and to really exaggerate the beauty of that form and that art.
You each have a number—"Independently Owned" and "You Coulda Knocked Me Over With a Feather"—that showcases both your skills as performers and your characters' emotional journeys. How do you feel on stage as you sing those songs?
Newell: I'll be honest, I'm tired. I am exhausted. Mine is particularly strange, because I do the opening number, I have a 40-minute break, and when I come back on stage, it's the number. I'm just like, 'Ah!' And it's such a big thing from zero. I just jump in and feel like I'm shot out of a cannon.
Ghee: By that time, I'm warm. I'm working towards that point in the show. And there are shows where I'm like, "Where am I pulling this from today?" But I get into it and it is that giving into Daphne and that freedom to find the joy every time. And it cracks a part of me open every time.
As you've spent time with your characters, what kind of relationship do you have with them? Has that changed over time?
Ghee: Changes every day. And I love it. I love being able to step in and be like, "OK, what am I finding today?" For them and for myself. What kind of freedom? What kind of joy? And bringing myself to the day in the moment, and then also leaving space for exploration and uniqueness. Very intentional of, like, "Oh, this is very close to home and purpose-driven." But then also, how do I expand within this?
Newell: When Lulu's singing the song, it is male-driven, about how this independent woman has done everything without a man. I've done the same exact thing. I haven't had a partner that's attached to me. It's just been me. And half of that creates a callus over the emotion of not needing anyone.
But then knowing that it's OK to want it and to have it. It is OK to be independent and still have the things that everybody else does. I mean, there is the one line. It's so small, it happens so fast. And it's, "There might be someone that I ain't met yet."
Alex, you've said that Lulu is like you, but heightened. What did you mean by that?
Newell: Well, you know, I modeled my Lulu off of Delta Burke and Julia Sugarbaker. I'm the hybrid of both of them on Designing Women. And it's me but heightened in the fact that I am loud. I am very outspoken. But I do have a filter, which is shocking to most. I do think about what I'm going to say. Lulu does not. Lulu, if it comes up, it comes out.
J., I read that you helped shape Daphne. Were you able to tweak her lines or character in a way that felt more true to you?
Ghee: The creative team really trusted me and gave me the space to go. They really were like, "We defer to you."
When I say to Christian [Borle, who plays Joe/Josephine] in Act II, when he's like, "What do I call you? Jerry? Daphne?" And I'm like, "Either is fine, as long as you do it with love and respect." When people ask me my pronouns, I say, "All things, with respect." I understand that the world is conditioned to respond to what they see. So they're always going to immediately say "he/him." But I don't expect you to know what I am feeling and what I am carrying that day. And what I'm presenting doesn't necessarily attach to what I am. And I walk in the fullness of who I am at all times.
J. Harrison Ghee performs as Daphne in 'Some Like It Hot.'
Marc J. Franklin
How does the comedic aspect of these musicals help access these deeper conversations?
Newell: You don't see it coming.
Ghee: Truly.
Newell: You don't see that you're gonna laugh about something that you need to fix.
Ghee: One of my favorites is when Kevin [Del Aguila, who plays Daphne's love interest] says in the show, "The world responds to what they see." And everyone's like, "Yeah, yeah, yeah," and then, "Well, the world doesn't have very good eyesight." And you're like, "Ah. Oh, right. That's very true. In so many ways."
Newell: Ours is just blatant. Our Plan B joke is blatant. Maizie [Lulu's cousin], she needs to find a plan B. Even though most people are trying to put a stop to Plan B. No one's expecting to laugh for two hours and then hear a joke like that. And literally say, "Here's the mirror. If you feel uncomfortable, you're the problem."
You had similar attitudes toward being nominated into gendered Tony categories—but I know the Tonys have also said that they're working to change. What would change look like for you, ideally?
Newell: Baby, I don't know. The change itself is an extremely hard one to make. Because if we sit here and we talk about why the categories were separated at the beginning, it was to give other people than cis white men awards. And we did take gender off of some awards in the U.K., and the only thing that won was cis white men. And I said, "Ooh, we just went right back to where we started." So I don't know what that looks like. It's a deeper conversation. I think it's adding a category, widening the horizon of the category.
Ghee: We've got to free ourselves to see ourselves. We really got to give ourselves the permission to be like, "You know what, we can do whatever we want to do." We do shape society and culture. Let's be ahead of that, and let us make the room and the space for everybody at the table to do all of the things.
What happens if you win?
Newell: In my spirit, I've already won. Not a statue, not anything. I created a lane for somebody after me to come and do exceptional. I have created space and created conversation and made the ruckus that needs to create active change. If I win, yay, I'll put the statue in my bathroom. And I'll play with it every time I brush my teeth. And I'd love it.
Ghee: But it is exciting to see so many people feeling seen and represented who are like, "Wow, thank you. I didn't know that there was any possibility for me in this world." And I know that feeling of moving to New York. I wasn't a theater kid growing up. I grew up singing in church. And so it was like, well, I sing and dance and people respond; theater sounds right. Let me go try this out. And then to find Billy Porter's album of At the Corner of Broadway and Soul, I was like, "Whoa, there is somebody in this industry I can—"
Newell: See! And be!
Ghee: Something to look up to. So to now be that for somebody else? Again, the winning is already happening.
More Must-Reads From TIME
---


Post source: The List