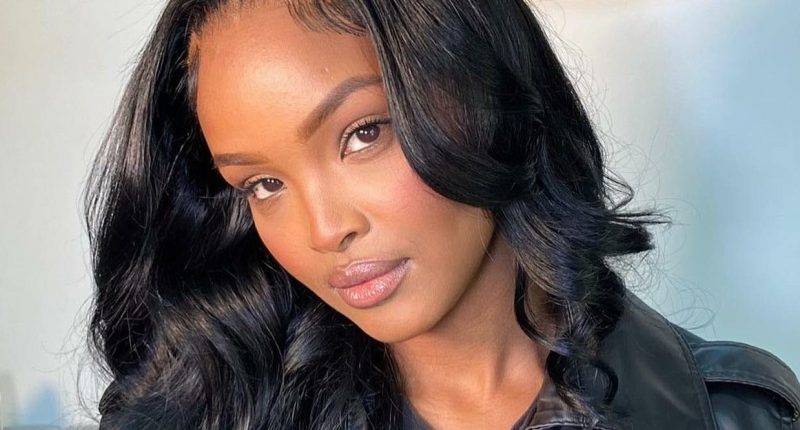 Model Jawahir Khalifa is heating things up in her little black bikini!
The season 4 winner of the hit Netflix reality series "Too Hot To Handle" is embracing the sunshine and that coveted "golden hour" lighting while posing in a drawstring bikini!
'Too Hot To Handle' Season 4 Winner Jawahir Khalifa Embraces The Sunshine In Her Drawstring Bikini
This Netflix reality star has been getting a lot of attention ever since she won season 4 of "Too Hot To Handle." Fans couldn't get enough of one Instagram post in particular that featured her posing in Bali, Indonesia, in a black drawstring bikini.
She is standing with her hands above her head as she smolders for the camera, showing off her gold jewelry. Her long dark hair falls over her shoulders as she flaunts the definition in her toned abs. In the caption, she wrote, "Sun shines through you every day."
Fans and famous friends showered the post with heart-eye and fire emojis. "Perfection," one fan commented. "Gorgeous," another follower agreed. "Obsessed with you," a third fan gushed. "You're gorgeous and honestly I believe you deserved this," another follower wrote. Other fans speculated that her "Too Hot To Handle" costar Nick Kici was the one to take the photo.
Fans of the series were not really all that shocked that Nick and Jawa started to fall for one another. Although most of the men seemed interested in Kayla Richart, Nick seemed to have eyes for Jawahir from the start. Although Jawahir initially fell for Nigel, who ditched her to go on a date with Kayla, she and Nick ended up taking home $44,500 each before the pair went their separate ways.
Wait… Nick And Jawahir Broke Up?
Sadly, Nick and Jawahir are no longer together, although Nick did tell Tudum that he and Jawhir lived in both London and Bali for seven months. "It was a completely new experience for me, I've never lived with a significant other before," Nick said.
Jawa described the time as "amazing" and revealed the two traveled around the world kayaking, bar-hopping, meditating, and climbing Mount Batur in Indonesia.
Unfortunately, things didn't work out and the two are now reported to be single; however, Jawa said that she is still "grateful" for the experience and says that Nick will always have a "special place" in her heart.
Nick said that he was also grateful for her, saying, "Our relationship taught me patience and communication from a new perspective and allowed me to face my commitment [issues] head on."
Fans Still Can't Get Enough Of Jawahir Khalifa… Especially In White Lingerie!
Even though fans are disappointed that Jawa and Nick didn't end up together, they still love checking out her steamy snaps on Instagram. Last month, the social media sensation took to Instagram to share four photos that featured her posing in lacy white lingerie.
Jawa complimented her lacy white lingerie with a pearl necklace as she let her long dark hair flow around her shoulders. The definition in her toned abs is once again on full display as accessorized her look with two gold bracelets on her right wrist.
In the caption, Jawa wrote, "Drinking my water and leaving you on read." She also revealed that this photo shoot was taken in Los Angeles, California. Her "Too Hot To Handle" season 4 costar Brittan Byrd commented "period" to which Jawa replied, "Yes yes yes."
"God really did take his time creating some human amongst us cus sister too fine," one fan gushed. "I miss and need Jawa in another reality show mate!!" another follower wrote. "She is a vibe," a third fan agreed, while some followers ventured that she should go on "Perfect Match."
Fans And Famous Friends Can't Get Enough Of Jawa's Steamy Snaps!
"Perfect Match" is a Netflix reality show that combines sexy singles from some of their best reality TV shows, such as "Too Hot To Handle," "The Circle," and "Love Is Blind." Unfortunately, none of the singles that matched on the show actually ended up together, but fans are hopeful that Jawa might appear if the show is renewed for a second season!
That being said, it's possible that Nick could appear in season 2 of "Perfect Match" – or they both could! Many fans commented on her post asking where Nick was, expressing disappointment in the break-up, or telling her to get back together with him. Some fans said they heard that they cheated, but no one really knows why the two broke up.
Interested in more "Too Hot To Handle" hotties? In another recent Instagram post, Jawa's costar Brittan Byrd hit up the beaches of Hawaii in a little white bikini!
Fans can check out those sultry snaps by clicking here!


Post source: The blast