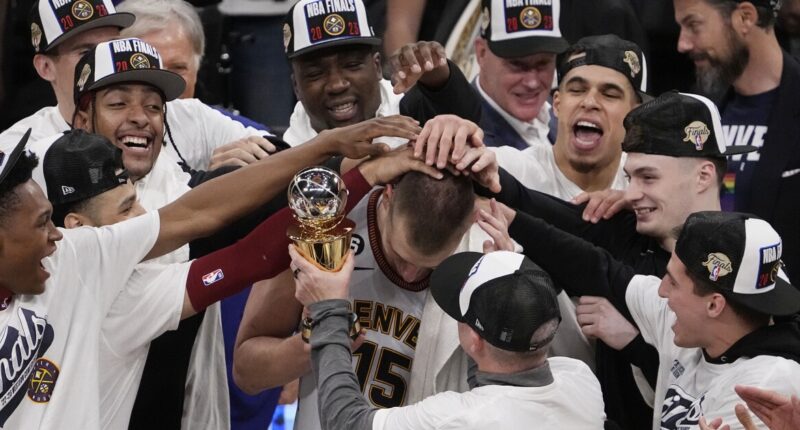 DENVER – Nuggets superstar Nikola Jokic added some hardware to an already-incredible postseason, after being named Western Conference Finals MVP Monday night.
Jokic averaged a triple-double for the series – 27.8 points, 14.5 rebounds and 11.8 assists – include a 30/14/13 line in Game 4.
Game 4 marked Jokic's eighth triple-double of the postseason – the most by a single player in a single postseason.
Nikola Jokic records his 8th triple-double of the playoffs, passing Wilt Chamberlain for most in a single postseason.

Most Triple-Doubles in Single Postseason
NBA History
2023 Nikola Jokic 8
1967 Wilt Chamberlain 7
1982 Magic Johnson 6
2019 Draymond Green 6 pic.twitter.com/xtQn82jSk4

— ESPN Stats & Info (@ESPNStatsInfo) May 23, 2023
He also became the second player in league history to average a triple-double in multiple postseason series in a single year, according to ESPN Stats & Information.
He joined Hall of Famer Wilt Chamberlain (1967) in accomplishing the feat. Chamberlain's 1967 Philadelphia won the title.
Jokic was instrumental in sending the Nuggets to their first NBA Finals in franchise history. That historic series will air on Denver7 starting June 1.
Nuggets
Nuggets in the NBA Finals: Here's the schedule of games, airing on Denver7
9:36 PM, May 22, 2023
appId : '283504728416642',
xfbml : true, version : 'v2.9' }); }; (function(d, s, id){ var js, fjs = d.getElementsByTagName(s)[0]; if (d.getElementById(id)) {return;} js = d.createElement(s); js.id = id; js.src = "https://connect.facebook.net/en_US/sdk.js"; js.async = true; fjs.parentNode.insertBefore(js, fjs); }(document, 'script', 'facebook-jssdk'));