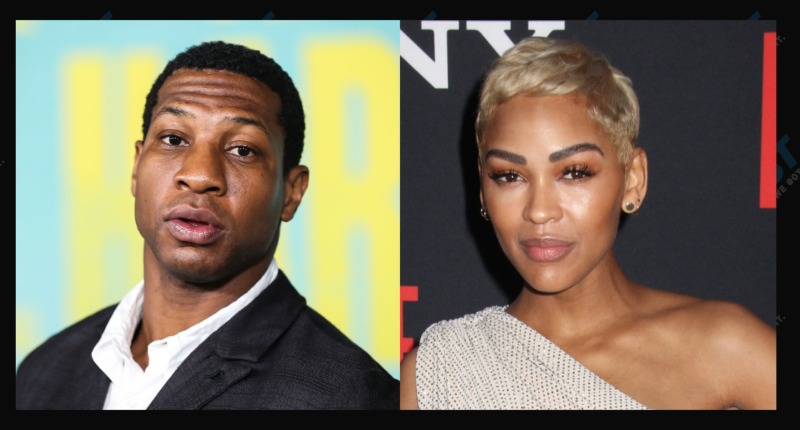 Is Jonathan Majors married to Meagan Good? That seems to be the budding question in the minds of fans in a Hollywood environment where anything can happen!
At a glittering gala, the audience witnessed a heartwarming moment as the embattled actor dubbed the "Think Like a Man" star his "Missus," sparking speculations about a secret wedding between the lovebirds. 
Jonathan Majors Ignites Frenzy Over Relationship With Meagan Good
In a video posted on X, Good was handed the microphone by her co-host Larenz Tate to speak at the Congressional Black Caucus' eighth annual Black and White Gala in Washington, D.C. The "Shazam: Fury of the Gods" actress began by excitedly saying:
"We're just so happy to be here with y'all tonight. Celebrating us, celebrating the moves we're making, celebrating the way we love and support each other, the way that we shift the world. Let's enjoy ourselves!"
Expressing her joy at the event, the 42-year-old conveyed her delight in seeing "so many beautiful Black faces," describing them as "beautiful!" As she wrapped up her short speech, she turned to Majors and playfully asked, "So Babe, you want to say anything?"
So…. They actually got married?!!?? pic.twitter.com/x8RmVCndlC

— Zulu.1920 (@Agojie_) September 24, 2023
In response, the 34-year-old bashfully said, "Y'all heard the missus, so that's what it is." The crowd's response, which was a mix of cheers and intrigued whispers, was the implication of his suggestion that she is now "Mrs. Majors." 
Although no additional details were shared in the clip posted, the online platform was abuzz with curiosity, starting with the poster who captioned the upload, "So…. They actually got married?!!??." 
Another netizen echoed the sentiment, writing, "Sumn ain't right. It feels… strange but it ain't my relationship." Meanwhile, this person was not having it at all and expressed their opposition by exclaiming, "WHAT THE HELL." 
Some were not opposed to the idea of the pair being married like these X users who noted their support, "He married the first black woman he dates, can't be mad at it," while another supporter wrote, "Megan Majors does have a certain… ring to it. ?." 
At the same time, another cybernaut felt people were reading too much into Majors' words, pointing out, "All he SAID WAS YALL HEARD THE MISSES….. YALL reaching." 
Even though they have had quite a short time together as a couple, using pet names for each other should not be so strange. And based on her friends' reaction to Good dating the "Lovecraft Country" star, tying the knot so soon might not be a problem either.
In fact, news of their romance came from a source with close ties to the "Cousin Skeeter" actress. The informant could not contain their excitement about the pair while shedding light on how unbiased the "House" guest star's friends felt about the alleged abuser.
The insider stated, "It's not the best situation, but they're letting her make her own decisions." They also pointed out that while her friends refrained from passing judgment, they were taken aback by her choice to fall for someone like Majors.
The 'My Wife And Kids' Star And 'Devotion' Actor Milestone As A Couple 
Many have had their reservations about the pair's relationship, however, it did not stop the couple from celebrating the "Eve's Bayou" star's 42nd birthday together. For the happy occasion, the pair were reportedly spotted strolling together in West Hollywood, California, exuding a casual chic aura. 
Majors wore a gray tee, black trousers, and stylish black combat boots. He complimented the look with a black wristwatch, a blue cross-body bag, sunglasses, and a baseball cap. Good opted for an effortlessly cool style, pairing an orange graphic tee with form-fitting gray leggings and fresh white sneakers. 
In the pictures, the "All of Us" guest actress matched the "Ant-Man and the Wasp: Quantumania" star by also rocking a black cross-body bag, styling her hair in a high bun while carrying a canned drink. 
Even though their actual destination remained a mystery, the fact that her beau was with her in their hometown of Los Angeles, commemorating her birthday showcased their enduring chemistry.


Post source: The blast