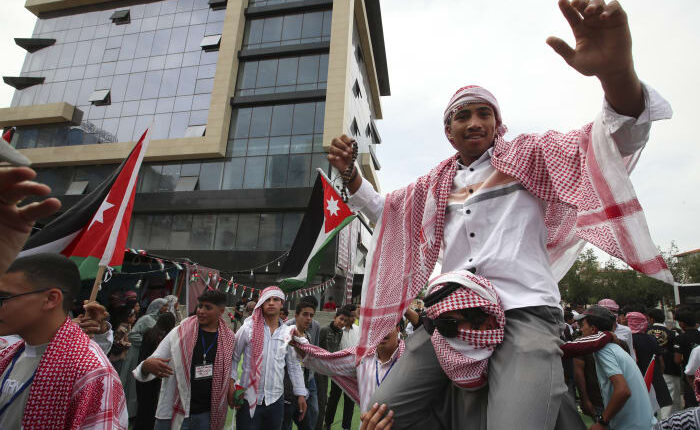 AMMAN – Jordan's capital turned into an open-air party on Thursday as crowds gathered to celebrate the desert kingdom's first major royal wedding in years and bask in the event's unmistakable demonstration of Jordan's influence and importance.
Jordanians from all walks of life shared an infectious excitement about the union between Crown Prince Hussein and Saudi architect Rajwa Alseif, momentarily forgetting their differences and troubles in a Mideast country regarded as a rare beacon of stability in a turbulent region.
The wedding fever had been building for weeks. As the day began, Jordanians decked out in traditional red-and-white scarves and other elaborate get-ups — including T-shirts printed with pictures of the couple and body paint congratulating the prince — gathered around huge screens nationwide to watch the ceremony unfold. Royals and dignitaries from around the world descended on Amman for the occasion.
The traditional Islamic wedding service lasted mere minutes, but Jordanians said the celebrations were sure to continue all night.
"This is a really important day for my country, and those who are not Jordanian wouldn't understand," said Najwa Issamad, a 40-year-old nurse watching her teenage sons dance rowdily to pop wedding music blaring from their phones downtown. "It's a time for all Jordanians to stop whatever we're doing and say, let's celebrate, let's rejoice."
Massive crowds thronged the main boulevards of the capital to watch the royal couple's red Land Rover motorcade and horse guards make its way through the city. They clapped, jostled and sang joyously.
The spirit of the occasion even sucked in the normally nonplussed. There was something powerful about the way a royal wedding can lift the veil on a family whose personalities are so often obscured by pomp and propriety, said 19-year-old Deema Abu Sharaf — who is, avowedly, "not that obsessed person."
"This is my chance to watch them, to see if they look like they're having fun," she said.
Many girls were particularly fixated by Alseif's dress — a deceptively simple white crepe gown by Lebanese designer Elie Saab, with a long fantail train. "I could not have imagined a better dress," said 32-year-old Reem Halman, smoking a water pipe while watching reruns of the bride's walk down the aisle. "It was pretty, but not over-the-top."
For most everyone, the royal wedding had the effect of providing a single national conversation. But there were those with a more tepid response to the festivities.
Fatima Elvin, a 26-year-old Jordanian with Iranian parents, said she skipped Thursday's parties to study for her university exams. She said she didn't mind missing out on the festivities.
"There's nothing crazy about them that we can really gossip about," said Elvin, referencing the lurid affairs and nasty divorces of British royals over the years that have made for tell-all books and telenovelas. "She (the bride) is perfect and they're all impossible to criticize."
Palace officials haven't disclosed details about the relationship of Jordan's future king and Alseif, a scion of an influential Saudi family, or how they met.
When asked whether Jordan's palace feud in 2021 — a crisis pitting King Abdullah II against his half-brother and former crown prince Hamzah — constituted appropriate narrative juice, Elvin stiffened and said curtly, "We can't talk about that."
Jordanian law prohibits criticism of the royal family and security services. Freedom House, an American monitoring group that makes an annual report about each country's rights record, recently downgraded its rating of Jordanian democracy — from "partly free" to "not free."
But on Thursday, the stream of good news that is Jordanian state-owned media felt representative of the national mood.
Even in the impoverished Palestinian refugee camp of Al Wehdat, crowds gathered in the garbage-strewn main square to watch the occasion live-streamed. Those interviewed dismissed concerns about public spending on the elaborate wedding ceremony while so many Jordanians barely scrape by.
"You see all these important foreigners coming here. … It makes you feel good," said 55-year-old shuttle driver Kheir Taher, who said he makes no more than four Jordanian dinars ($5.60) on a good day. "We just want to be happy."
Copyright 2023 The Associated Press. All rights reserved. This material may not be published, broadcast, rewritten or redistributed without permission.
Post source: News 4jax