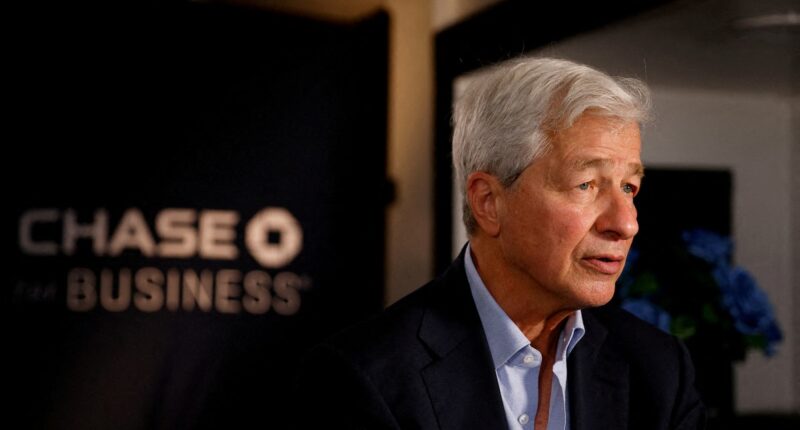 The public relations nightmare for JPMorgan Chase continues as it works to fend off litigation over its former ties to Jeffrey Epstein. On Friday, CEO Jamie Dimon was deposed in the matter, and he repeatedly insisted that he had been ignorant about the company's relationship with the late sex offender, even though some of his top lieutenants had expressed consternation about the situation.
Dimon argued that JPMorgan's former general counsel, Steve Cutler, was the "ultimate decider" on whether to dismiss Epstein as a client, according to a transcript of the deposition obtained by The Daily Beast.
Yet Cutler had expressed extreme discomfort with the relationship, according to emails cited during the testimony. "This is not an honorable person in any way. He should not be a client," Cutler wrote in 2011, according to the transcript. Separately, Cutler added, "I would like to put it and him behind us. Not a person we should do business with, period."
The finger-pointing extended to other parties at the bank. According to the testimony, two of Dimon's deputies, Mary Erdoes and Jes Staley, "made the decision to retain Jeffrey Epstein as a customer of JPMorgan." However, as The Washington Post reported last week, Erdoes suggested in her own deposition that JPMorgan's risk and compliance teams were supposed to evaluate potentially problematic clients like Epstein.
Staley has emerged looking perhaps worst of all, as The Daily Beast has previously documented. Years ago, he developed a close rapport with Epstein, and the pair exchanged multiple cringe-inducing messages.
According to recently unsealed legal filings submitted by the U.S. Virgin Islands—the site of some of Epstein's most heinous alleged crimes—"Staley corresponded with Epstein while Epstein was incarcerated and visited Epstein's Virgin Islands residence on multiple occasions." The filings added that "Epstein even advised Staley in connection with Staley's salary negotiations at JP Morgan in July of 2008."
"Conveniently, each banker points a finger at the other, claiming this hot potato was someone else's fault."
In one exchange cited in the filings, Staley texted Epstein after an apparent rendezvous that he had "fun," adding, "Say hi to Snow White." (Some parties have speculated that the reference to Disney princesses was a code for women.)
"[W]hat character would you like next?" Epstein responded.
Staley continued the banter, writing "Beauty and the Beast." Epstein then countered that "one side" of that title was "available."
Staley, through his attorneys, has previously denied wrongdoing. JP Morgan has also argued that Staley's "personal bond" with Epstein did not prove misconduct or liability on behalf of the bank as a whole.
Plaintiffs have argued otherwise, saying that Epstein withdrew enormous sums of cash from his JPMorgan accounts—almost $1 million per year—a sum that would be hard to justify for most law-abiding customers.
Earlier this spring, JPMorgan sued Staley, arguing that he should be on the hook for possible damages in a lawsuit filed against the bank by one of Epstein's alleged victims. The suit claimed that Staley ​​"breached his fiduciary duty by engaging in inappropriate conduct in his personal dealings with Epstein outside the scope of his employment that was harmful to JPMC's reputation and that posed a conflict of interest."
In a statement to The Daily Beast on Wednesday, Brad Edwards, an attorney for Epstein's victims, said, "What has become clear is that Epstein could not have run his sex trafficking operation without the valuable assistance of JP Morgan Chase. Conveniently, each banker points a finger at the other, claiming this hot potato was someone else's fault. Regardless how unbelievable the finger-pointing or purported lack of knowledge is, responsibility rests with the bank."
In Dimon's testimony, he also targeted Staley, saying there was "a chance" he knew about Epstein's misconduct. Dimon said he believed Erdoes and Cutler "were both trying to do the right thing."
A spokesperson for the bank added in a statement to The Daily Beast that, "had the Firm believed he was engaged in an ongoing sex trafficking operation, Epstein would not have been retained as client. In hindsight, we regret he was ever a client."
JPMorgan had initially fought to keep Dimon's deposition confidential. The parties to the litigation agreed to that stipulation under the condition that his remarks would not be characterized in any way to the media, according to a source familiar with the matter. But, the person added, after the bank made statements to the press about the testimony in an effort to frame Dimon's remarks in a positive light, the deal was called off.
Post source: TDB