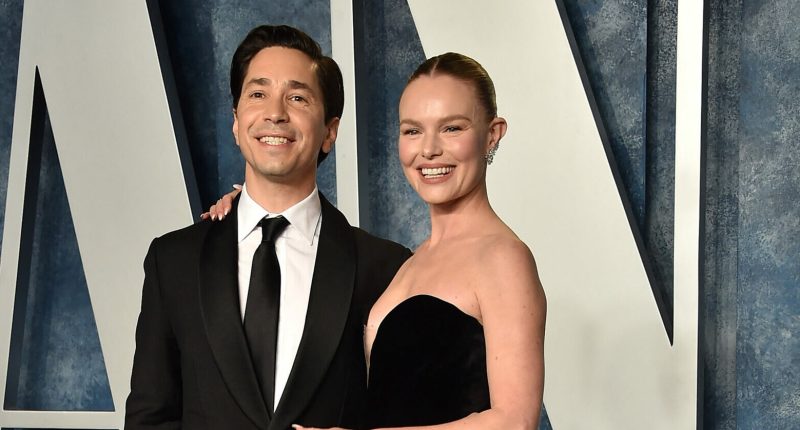 Actor Justin Long and actress Kate Bosworth are reportedly engaged and fans aren't the least bit surprised!
After finalizing her divorce from her ex-husband Michael Polish earlier this month, Long and Bosworth were spotted together at the Vanity Fair Oscars after-party. The "Blue Crush" actress saw a ring on that finger and speculated that it might be an engagement ring, but the couple waited to confirm it until a few weeks later.
Kate Bosworth Is Reportedly Showing Off Her Engagement Ring To Friends Amid Rumored Justin Long Proposal
On Friday afternoon, PEOPLE reported that the "Accepted" actor had proposed to his girlfriend roughly a year after they first took their relationship public. In March 2022, they were spotted cozying up together in Los Angeles.
They were later photographed holding hands along the streets of New York City and packing on the PDA in Hawaii. The two haven't been shy about displaying their PDA on Instagram either, writing glowing tributes to each other for their respective birthdays.
A source told the magazine that "Kate is just on cloud nine," adding, "She is showing off her engagement ring to friends. She is being coy about details, but she is beaming." The insider went on to say, "Everyone is happy for her" and her friends think that "Justin is a great guy. He adores her. It's amazing to see them together."
Earlier this week, a separate source told the magazine that she "can't wait" to call him her husband. "Kate is just the happiest. Justin is an amazing guy," the insider divulged. "She can't wait to marry him. They are very cute together. Kate has this amazing energy around Justin. She is just beaming."
Kate Bosworth Has Settled Her Divorce With Michael Polish
The "Remember the Titans" actress, born Catherine Anne Bosworth, was previously married to film director and writer Michael Polish from 2013 to 2021. Earlier this month, The Blast obtained their divorce settlement, which shows that Bosworth is not going to pay spousal support to her ex-husband.
The "Beyond the Sea" actress will keep all of her intellectual property and the former couple will maintain their separate residences in Montana. Bosworth will also keep her property in Pasadena, California, and custody of their horse, Rombi. She will also keep her Audi, while the critically acclaimed director will maintain possession of his Jeep Wrangles and several motorcycles.
The couple had started dating in 2011 after he directed her in "Big Sur" and they tied the knot in 2013. On August 2021, the couple announced their separation, citing irreconcilable differences. Bosworth and Polish had no children together; however, she was the stepmother to Jasper, Polish's daughter from a previous marriage. Polish had previously been married to Jo Strettell from 1998 to 2004.
Justin Long Gushes Over Kate Bosworth In Heartfelt 40th Birthday Tribute
On January 2, the actor took to Instagram to share a gushing tribute to his now-fiancé. He called her the "best part of my day, every day," before describing all the things that he loved about her. "She laughs with abandon. She makes me laugh the same – all the time," he wrote. "She sees beauty everywhere and in everyone. She thanks everyone – even when she's suffering, she's kind."
"She is deeply compassionate and can't hurt anyone but she can be a rascal. She loves to tease. She has the best softest lips I've ever kissed," he continued. "She loves beer and football more than I do (and I love beer and football). She is the strongest person I've ever known. She's fiercely committed to the truth. She's so fun to work with. She's the most fun to do everything with. She is genuinely curious about people and the world. She makes everything in my life better – all my favorite songs and movies, vacations and sunsets, and Chinese food."
"She strives to be better but she's the best person I know. She will do anything for her friends. She is so generous she makes my parents slightly uncomfortable around the holidays (she also makes the best cookies). She is the most beautiful human being I've ever seen. She is purely good. She will stand up to anyone who isn't. She has true integrity and grit. She has, by far, my favorite smile," he went on, calling her "my joy" and "my best friend."
Ireland Baldwin, who is currently pregnant with her first child, was one of the first to comment on the post, writing, "I love your love!" Close friend Aaron Paul also wrote, "My god I love this love story. Love to you both my friends. So d— happy you found each other."


Post source: The blast