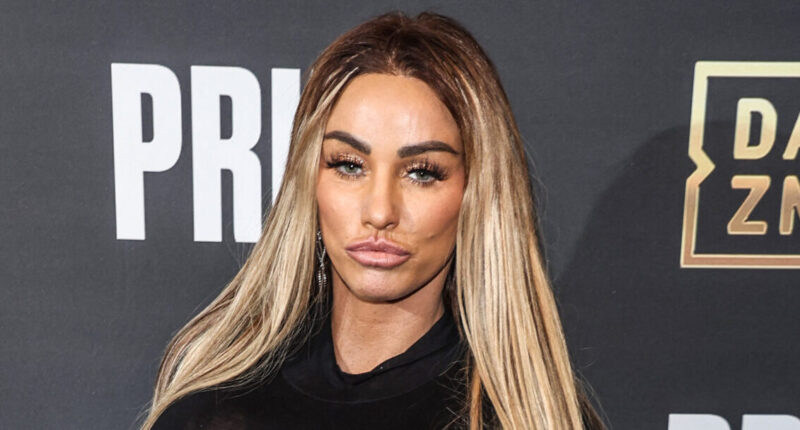 Katie Price's chosen surrogate has decided not to proceed with carrying the former glamour model's prospective child.
The 45-year-old had previously met with her selected surrogate, who had verbally committed to carrying her sixth child earlier this month. As a devoted admirer of the former "Loose Woman" star, the surrogate had aspired to fulfill Price's deepest desire to welcome another baby into her life.
Katie Price's Plans To Welcome Another Child Through Surrogate Has Suffered An Unfortunate Blow
In a move nobody expected, Price's surrogate, whose identity remains protected, reportedly perceived that Price treated her and her four children poorly, causing her to feel disrespected after their initial one-on-one meeting.
Upon dropping out of the process, the individual, who had been establishing a connection with the television personality since October 2022, expressed regret over dedicating nearly a year to the relationship.
She believed this time could have been better spent bonding with someone else who would have valued the opportunity to use her as a surrogate. According to a Daily Star report, an insider claimed:
"Katie's surrogate feels completely let down. She sacrificed a lot of time and energy getting to know Katie and verbally agreeing to carry her baby, which is a huge decision."
Going on, the source clarified that "this was something" that the unidentified surrogate "wanted to do" until she finally met the mother of five in person, and "she was treated appallingly." They added:
"The surrogate feels she was disrespected by Katie, who also didn't make her children feel welcome and she certainly wasn't appreciated, considering the sacrifice she was willing to make."
Until Price finds somebody else who would love to welcome her next kid, she will remain focused on the ones she already has, especially her first child, Harvey.
According to The Sun UK, the media personality shares the 21-year-old with former Manchester United footballer Dwight Yorke, and he struggles with Prader-Willi syndrome. This condition leads individuals to experience constant hunger and be at risk of diabetes and obesity.
Harvey faces additional challenges as he is partially blind and falls within the autistic spectrum. Unfortunately, these factors have made the young adult a target of disturbing online abuse.
In 2021, due to his complex care needs, his mother moved him into full-time residential care, where he continues receiving the necessary support and maintenance. 
Three years after she welcomed Harvey, Price birthed her second son, Junior, whom she shares with her first husband and singer, Peter Andre, on June 13, 2005. Despite fans frequently comparing him and his well-known father, the latter has publicly admitted that the now-18-year-old is more famous than he is, as he launched his clothing line at 12.
The "Angel Uncovered" author and Andre welcomed their first daughter, Princess, on June 29, 2007. However, two years after her birth, her parents' marriage collapsed, and her father moved on with medical doctor Emily MacDonagh. 
Despite her young age, reports suggest that Princess has already secured a book deal, and fans frequently remark on the striking resemblance between her and her mother when she was younger. The "I'm a Celebrity…Get Me Out of Here!" star's other kids include son Jett and daughter Bunny, whom she shares with her third husband, Kieran Hayler.
The 'Who's Doing the Dishes?' Guest Star Is Yet To Scrub THIS Ex From Her Will
Last month,  the 45-year-old disclosed that Andre is still listed as a beneficiary in her will, even after two subsequent marriages. She admitted that amid the twists and turns in her romantic life, she overlooked moving to remove him from her will following their divorce.
Confessing an appearance on Kathy Burke's podcast, "Where There's a Will There's A Wake," the "Let's Dance for Comic Relief" star stated, "I haven't even done a will update because, at the moment, everything I've got gets left to Pete, Junior, Princess, and Harvey."
The "Shooting Stars" guest star pointed out that the omission dawned on her while preparing for the podcast interview, prompting her to recognize the necessity for an update in her will. We expect Price to make the change before she and her current flame and fiancé, Carl Woods, walk down the aisle shortly.
Post source: The blast