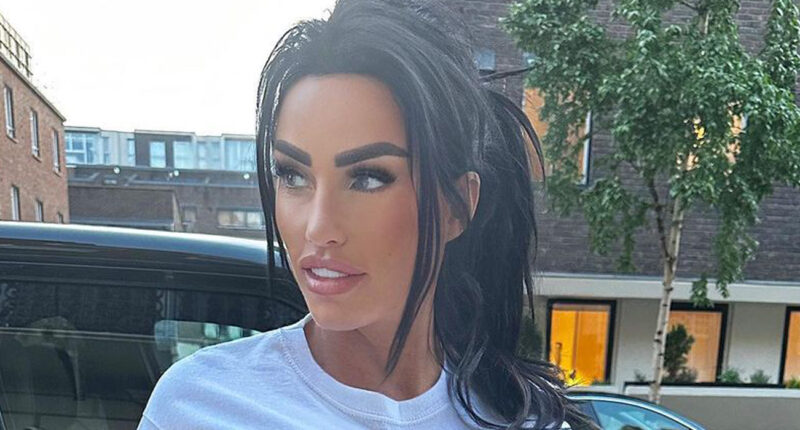 Katie Price might actually have to face the music as skipping her bankruptcy hearing doesn't seem to be doing the magic!
As the court schedule for the reality TV star presses on, the possibility of her cherished mansion being put on the market hangs heavily in the balance. This celeb-owned home, purchased for £1.3 million nearly a decade ago, has recently been appraised at a cool £2 million.
Katie Price's Mansion On The Chopping Block Ahead Of Bankruptcy Hearing
The former glamor model is set to face a crucial moment this Thursday as she is required to divulge her financial details before a judge in London during her ongoing hearing. According to The Sun, court officials have confirmed that the 45-year-old will be called upon to provide evidence. 
Price's creditors, which include two lenders with claims against her property, are pressing for their owed funds. The trustees overseeing the English model's bankruptcy possess the authority to sell the Mucky Mansion to settle her debts, if necessary.
Legal notices have also been affixed to the property in Sussex, prohibiting the businesswoman from independently selling the residence. The author is now tasked with presenting her case to the court, demonstrating either a plan to address her £2.3 million debts or establishing the home's essential role in her work.
As fans might be aware, the expansive property serves as a backdrop for a significant portion of her OnlyFans content, and it was prominently featured in her Channel 4 reality series, "Katie Price's Mucky Mansion."
In an earlier hearing this year at a specialized insolvency and companies court in London, Katie neither appeared nor was represented. The court also learned that the public examination of her finances had been postponed before. 
Yet, trustees pursued a re-listing of the inquiry when she violated a payment agreement, as stated by barrister Darragh Connell. He told the court, "We are now at the stage where this matter needs to be expeditiously dealt with."
Judge Paul Greenwood then announced that the hearing, where Price would face questions about her finances, would be scheduled for the earliest available date after July 21.
The judge expressed that it was necessary to schedule the one-day examination "as soon as the court can accommodate." The Insolvency and Companies Court clerk also informed the outlet that the "next hearing date in the above matter" was September 14, 2023.
Despite her imminent home loss, the designer does not seem too bothered. During a TikTok live session, the former Page 3 model candidly addressed questions from her followers, especially regarding her finances and the well-known Mucky Mansion.
Price asserted that she "is not broke," humorously adding, "I live in my own £2.2m house, I own it, nobody can ever take it away from me. I wouldn't call that broke, would you?" Later, she reiterated, "I'm not poor actually, totally the opposite, but thank you."
The 'Signed By Katie Price' Star Successfully Avoided Fifth Bankruptcy Hearing
In April, The Blast reported that even after agreeing to pay £12,000 monthly to her creditors, the "Hell's Kitchen" guest presenter did not adhere to the arrangement. In fact, those she owed money claimed that she failed to meet her obligations. 
On top of that, the mother-of-five also allegedly evaded court hearings. In case you missed it, Price's mansion faced a repossession order in 2021 due to her half a million pounds debt, which was why the above payment arrangement was made. 
The "I'm a Celebrity…Get Me Out of Here!" star declined to address inquiries about her £3.2 million mortgage debts, a substantial portion of which is owed to lenders for mortgages tied to her infamous Mucky Mansion in West Sussex. 
Initially slated for February, she was anticipated to make a personal appearance at the London bankruptcy court on April 12. This hearing had been rescheduled from February, as she had previously employed the same tactic in November 2021.
According to reports, she was expected to face intense questioning regarding her various income sources and outline her strategy for settling the creditors. The "Dream Team" guest star would have had to disclose her income particulars, encompassing her Depop page. 
The bankruptcy trustees also sought to ascertain her earnings from television work, including her Channel 4 series.
Post source: The blast