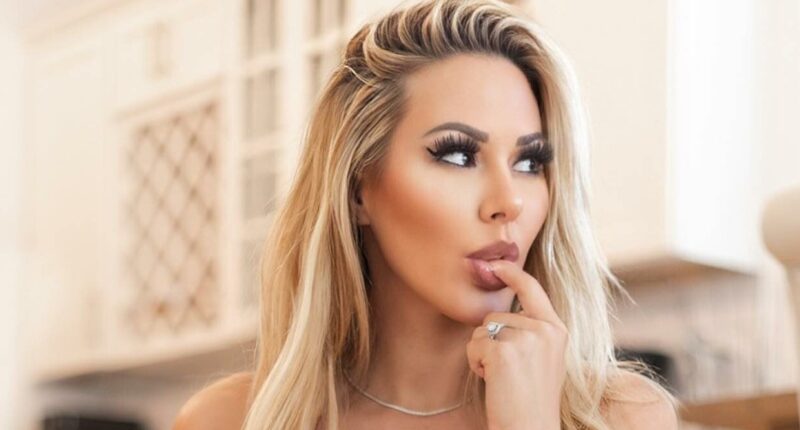 Model Kindly Myers is another year older and another year wiser!
The Army National Reserve veteran shared a video to celebrate her birthday that featured her blowing out the candles on her cake while wearing pink lingerie!
Army Veteran Kindly Myers Eats Her Birthday Cake In Pink Lingerie!
On Wednesday afternoon, the former soldier took to Instagram to share a video of her blowing out the candles on her birthday cake while wearing pink lingerie. "I'll have my cake, and I'll eat it too!" she wrote in the caption of a video that featured her lighting a single pink candle with a match and sticking it on the top of her birthday cake. She then blows it out and begins to lick the frosting from around the edge with her finger.
She takes a forkful of the cake and chews a few bites before she walks away from the unfinished cake, leaving it sitting on her kitchen counter. For this video, she paired her one-piece pink lingerie set that glossy pink lips and pink eyeshadow to celebrate her big day.
Fans and famous friends were quick to wish her a happy birthday. Popular OnlyFans model Dana Hamm wrote, "Happy birthday baby." Self-proclaimed Professional Internet Breaker Kayla Moody commented, "Yessss baby. Happy birthday gorgeous!!! You deserve the best in everything."
"Have the best day celebrating with friends and family hottie!!!" another fan commented. "Happy Birthday Kindly! I hope you have a great and blessed day filled with love and happiness along the way," another follower wrote. "Happy birthday. Have an awesome day. You are always so good at what you do," a third fan chimed in.
Kindly Is Heading Back To Los Angeles Again!
Only a few days ago, in yet another recent Instagram post, the popular OnlyFans model shared a photo that featured her smiling for a selfie at LAX – Los Angeles International Airport. Her long blonde hair is styled in loose waves as she poses in a white tank top covered up by a black jacket. "Long flight. But I've made it to LA," she wrote in the caption.
"Rest, hydrate, and meditate and you'll be alright," one fan offered. "You always look perfect to me," another follower gushed. "Enjoy your time in LA," a third fan chimed in. "You still look amazing," another follower shared. "Glad you made it there safety," another fan wrote while other fans showered her post with plane emojis.
Kindly Leaves Nothing To The Imagination Slipping Off The Front Of Her Swimsuit
In yet another recent Instagram post, the social media sensation wrote "Laughing is my favorite" in the caption of a post that featured her laughing in five different poses. She is wearing a white swimsuit in all of them, giving her fans a cheeky display as she tugs down the front of her bathing suit to show off her bare chest. Although her photographer got quite a view, it had to be covered up on Instagram.
"You laughing at my terrible jokes," one fan teased. "Always laugh when you can. It is cheap medicine," another follower wrote. "You look sexy and cute when you laugh," a third fan gushed. "You, Mrs. Kindly, have an awesome, gorgeous, natural smile!! Don't let anyone take that away from you!!" another follower exclaimed.
"Kindly, every picture is perfect. You are an absolutely beautiful woman," another fan wrote. "If being this sexy was against the law, you'd be on death row," another follower teased. "Wow at this point I'm all out of words right now there is a level where she can smile and the world can be happier and better. No doubt that she has a perfect smile. She definitely has a perfect smile," another fan gushed.
Interested in more Kindly Myers content? Fans just can't get enough of the Playboy cover model and her steamy snaps and fun videos! Fans can check out the steamy birthday photo shoot she did for her birthday last year – that earned her praise from Tiger King's Joe Exotic – by clicking here!


Post source: The blast