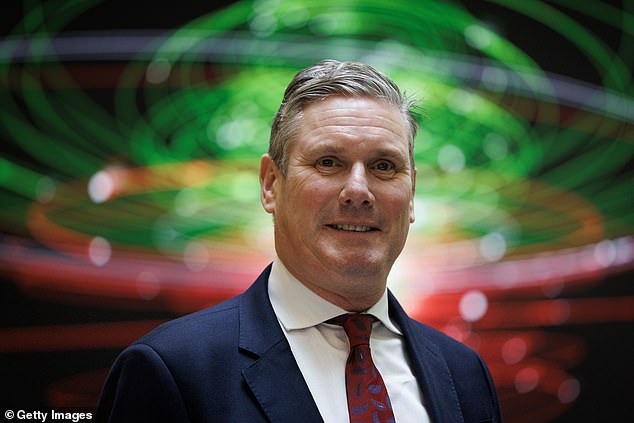 Labour faced a backlash tonight over plans to move immediately to put VAT on school fees if it wins power.
The policy could force bursars to hit families with unaffordable charges from as early as September next year. 
Education Secretary Gillian Keegan dismissed the proposal as 'ill thought through' and warned it would hurt small independent schools, including those catering to special needs.
Labour wants to charge private schools 20 per cent VAT and scrap the 80 per cent relief they receive on business rates by stripping them of charitable status.
Independents can now register as charities in return for acts that benefit the local community, such as sharing their facilities with state schools.
Experts fear removing the perk would flood the state sector with 40,000 pupils whose parents have been priced out of fee-paying. 
Sir Keir Starmer was facing a fierce backlash this evening after it emerged his party would strip independent schools of their charitable status
Education Secretary Gillian Keegan dismissed the proposal as 'ill thought through' and warned it would hurt small independent schools
Labour sources told the i newspaper the plan would be brought in immediately instead of being 'phased in' over several years – meaning it could be in place for the academic year after an election victory.
Senior figures in the private sector last night accused the party of 'playing politics with children's education' and demanded a full consultation.
Adam Hurst, head of the independent Dolphin School in Berkshire, said some families would be put in an impossible position.
He added: 'Many of our parent body are dual-income households, making sacrifices – choosing to go without a car or a holiday, for example – so they can provide their children with an independent education.
'It's not an easy decision for them to make. Lots of my parents say they either couldn't afford a rise in fees or would have to seriously reconsider their choice to send their child to our school.
'A lot of the schools around us are full and wouldn't have space for children who are displaced.
'I am worried about it. If it came in rather suddenly, it would put pressure on the school and on parents. The school doesn't have the financial resources to absorb the cost, our parents don't either.'
Barnaby Lenon, former head of Harrow School and chairman of the Independent Schools Council, said: 'Adding 20 per cent VAT to school fees is going to mean that for some parents the fees become unaffordable.
Adam Hurst, head of the independent Dolphin School in Berkshire (pictured, file image), said families would be put in an impossible position
'VAT may have the effect of making independent schools more elitist and as usual, the children and families to suffer the most are those in the lowest income and the greatest need.'
Wales could impose new tax on drivers 
Labour's Welsh government yesterday warned it could impose a tax on drivers to help meet clean air targets.
First minister Mark Drakeford said an environment bill would include powers that could lead to road charging.
He said he hoped air quality could be improved by other means instead, such as more people taking public transport or cycling. 
Tories branded the plans 'wrong and cruel' in a cost of living squeeze.
Labour leader Sir Keir Starmer, who was a pupil at Reigate Grammar School when it transitioned into a fee-paying institution, has pledged to add the tax as part of a plan to smash the 'class ceiling'.
He said in July that the money raised would be used to give every primary school funding that will 'let them invest in world-class early language interventions, and help our children find their voice'.
Labour claims the policy could raise £1.7billion to invest in state schools – but critics say it would cost the taxpayer £400million a year to state-educate the displaced pupils.
Ms Keegan accused Labour of 'short-term political posturing' at the expense of families working hard to support their children.
'This ill-thought through policy will not impact the big boarding schools they claim,' she said.
'In reality, it will impact small religious and cathedral schools, or those offering specialist provision for children with special educational needs, with around 29,000 children on education health care plans currently educated in independent schools.'
A Whitehall source said: 'This is same old Labour, rushing to put in place harmful policies, whilst ignoring the damage they'd leave in their wake. These are not serious people – this is the politics of envy.'
Sir Keir was a pupil at Reigate Grammar School in Surrey (pictured, file image) when it transitioned into a fee-paying institution
Tory grandee Sir Iain Duncan Smith said: 'What are they going to do with all those kids? It's the small schools, who are more likely to be educating children whose parents are on tight incomes and have made sacrifices.'
A Labour spokesman did not deny the reports that they would end the charitable status as soon as possible.
They said: 'While this out-of-touch, out-of-ideas, tired Tory Government tinkers at the edges, briefing about plans they may or may not see through in five years' time, Labour makes no apology for relentless focus on how to drive high and rising standards in our state schools.
'Because we are the party of fair taxes, we will end the unjustifiable tax break afforded to private schools and fund recruitment of over 6,500 more teachers and put access to mental health counselling in every school.'
LAURA PERRINS: Don't let Labour wreck the private school system – it's one of the few institutions that still works
This pledge from the Labour Party is poisonous, petty and destructive. The country is facing a multitude of problems from immigration to Ukraine and the rising cost of living.
So it beggars belief that one of Labour's first moves in government – should it win the next election – would be to slap a punitive 20 per cent tax on private school fees by removing their VAT exemption.
The party is dressing this up as a policy of fairness, claiming that the £1.7billion raised will be spent on improving state education. But this has nothing to do with fairness – and everything to do with the politics of envy.
Sir Keir Starmer makes no secret of his vendetta against private schools with cheap jibes about Rishi Sunak's alma mater Winchester College – and its 'rowing club, rifle club and extensive art collections'. In fact, the Labour Party assumes that all private schools are like Winchester, Eton and Harrow – with Olympic-class sporting facilities, five-star dining and fees of £50,000 a year.
This couldn't be further from the truth. Most private schools are modest institutions. The advantage they have over their state counterparts is their ability to offer smaller class sizes and more sports and arts. This is what parents up and down the country scrimp and save to afford, forgoing foreign holidays and home improvements so that their child can have the best start in life.
Sir Keir Starmer makes no secret of his vendetta against private schools with cheap jibes about Rishi Sunak's alma mater Winchester College (pictured)
I used to be a governor at a small London private school. After much agonising, we decided to send my eldest son there after he began struggling at his state primary. The pain of the financial sacrifice was outweighed by the way he flourished in smaller classrooms.
Fellow parents included NHS workers, teachers, hard-working immigrants and single mothers who worked all hours to pay the fees. They did not send their children there through snobbery or elitism.
Yet these are the parents who are being punished by Labour's attack on private schools. Many will no longer be able to afford the 20 per cent rise in fees.
It's the uber-wealthy and elite schools who can absorb the fee rise. Under Labour's plans, the likes of Eton will end up as glorified finishing schools for international students, whose parents won't notice the increases, and hard-working British families will be priced out.
Meanwhile, smaller schools will fold, causing the loss of tens of thousands of jobs (private schools are often major local employers, especially in rural areas).
As a result, parents will be forced to send their children to already over-subscribed state schools. The taxpayer will have to fund their education at £8,000 per pupil. With 615,000 pupils currently privately educated in the UK, this could be a hefty bill. Our independent schools are a great British success story. Yet Labour wants to take a wrecking ball to this flourishing sector to score short-term political points.
Tearing down successful schools won't automatically raise state school standards as the party claims.
Middle-class parents forced to withdraw their children from fee-paying schools will buy houses near outstanding state schools, squeezing out lower earners and making these schools even more oversubscribed. They'll spend their money on tutoring instead. Social mobility will be harmed, not helped.
In recent years, the Tories have worked hard to help families with the rising cost of living, from subsiding energy bills to the furlough scheme during the pandemic and even extending the free school meals programme. Yet Labour merely want to play politics.
The private school system is one of the last things in Britain that works. We cannot let Starmer destroy it.
Laura Perrins is a former barrister and co-editor of The Conservative Woman website