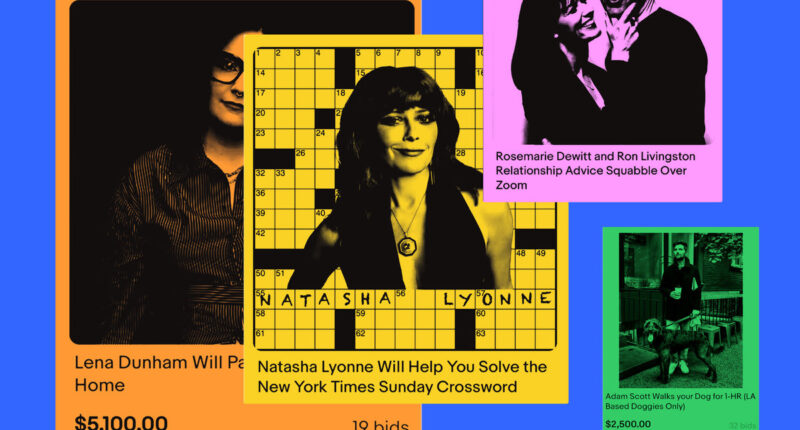 The Daily Beast's Obsessed
Everything we can't stop loving, hating, and thinking about this week in pop culture.
This week:
This Celebrity Auction Will Make You Laugh
It is a rare moment when major Hollywood celebrities' behavior is altruistic and noble, while at the same time absolutely hilarious. We are fortunate to be experiencing such a time right now—and the extremely online among us, bless them all, are having a field day with it.
A slew of famous people—actors, directors, musicians—are participating in an eBay auction to support the Union Solidarity Coalition, with the net proceeds going to benefit healthcare funds for crew members who have been affected by the WGA and SAG-AFTRA strikes.
Many of the experiences available for bidding are of the normal variety you'd expect from something like this: Zoom with the stars of Manifest; have dinner with Bob Odenkirk and David Cross; ask Sarah Silverman 20 questions in 20 minutes. Others are more…creative. Adam Scott will walk your dog for one hour. John Lithgow will paint a watercolor portrait of your dog. (Lots of opportunities to pamper your dog.) Lena Dunham will paint a mural in your house, which several people on social media remarked comes off as a threat.
The most genius members of our society—those who make memes—really ran with this one, Photoshopping fake items to bid on. It's the perfect viral trend because some of the real-life items are so ridiculous that you really wouldn't be able to tell which of the entries you stumble on while scrolling through social media are real and which are fake. (Except, of course, the ones that are of the shadier variety: Kate Winslet will tell you the "four gay actors" she knows who haven't publicly come out, referencing a 2021 quote she gave, or Caitlyn Jenner will run over your nemesis with her car. Those are just obviously fake…and hilarious.)
It's the rare meme trend where almost every single attempt is legitimately funny, and, though it's been going on all week, hasn't gotten old. Now if you'll excuse me, I need to run to the bank to apply for a loan so I can bid on "Natasha Lyonne will help you solve the New York Times Sunday crossword." (Real item!)
The Mamma Mia! Oral History
It is my firm belief that the greatest, purest joy a human can experience during their time on this Earth is while watching a production of Mamma Mia!—or either of the two films based on the ABBA musical.
Short of that, there's the bliss of reading Vogue's oral history of Mamma Mia!. Timed to the film's 15th anniversary, it's a tell-all that goes on for about 450,000 words—and, as far as I'm concerned, could have gone forever.
The creators of the original musical, members of ABBA themselves, the films' production team, and many of its stars all participate, and, in a rarity for these things, actually dish.
There are casting scoops on stars who were considered—Meryl Streep was always the first choice for Donna, but Michelle Pfeiffer was floated as a possibility—and who gave great auditions and were nearly cast. When it came to choosing a Sophie, Emily Blunt, Felicity Jones, and Natalie Dormer were great but not available; Gemma Arterton, Carey Mulligan, and theater stars Tammy Blanchard and Celia Keenan-Bolger made strong impressions; Amy Adams, Brittany Murphy, Jessica Biel, Kirsten Dunst, and Mandy Moore were among the actresses who were seen.
Dominic Cooper had to be begged to audition for Sky. Neither Pierce Brosnan, Colin Firth, nor Stellan Skarsgård had to audition, though they all confess to being convinced that they were about to royally humiliate themselves in a very public way for being in the movie. Everyone talks about the "Voulez-Vous" shoot as if they had been to war. On nights after long shoots, everyone got absolutely wasted together—Streep included.
If you're a person of taste who has seen the Mamma Mia! films a few dozen times…a year—just me?—the whole thing is a blast to read.
A Real Housewives Star Is Born
In this week's episode of The Real Housewives of Salt Lake City, one of the cast members breaks down in tears. That's hardly unusual in and of itself when it comes to this show—but the circumstances this time certainly are.
New cast member Monica Garcia got choked up while confessing to her mother that she had splurged on a Louis Vuitton bag that she could not afford. She felt inferior to the richer women in the cast, who are always flaunting designer brands, and wanted something to make her feel like she belonged. It was really touching and relatable—and finally an acknowledgment of the ludicrous wealth that the women on these shows are so typically nonchalant about.
Later in the episode, Monica confides in castmate Heather Gay that she was excommunicated from the Mormon church after admitting to sleeping with her brother-in-law for 18 months, and then spends an hour digging through the trash and tampon disposal bin in a public bathroom searching for Lisa Barlow's $60,000 lost ring.
This is what you call a stellar Housewives debut, Bravo fans. I'm obsessed.
Words to Live By
From the people who brought you the iconic Kim Cattrall quote and headline "I don't want to be in a situation for even an hour where I'm not enjoying myself" comes a new mantra, this one courtesy of Fleabag star Andrew Scott: "We need a bit more of people not liking things." Amen.
What to watch this week:
Theater Camp: One of the most delightful movies of the year can now be streamed at home. (Now on Hulu)
El Conde: Pablo Larraín imagines if Chilean dictator Augusto Pinochet was a vampire. (Now on Netflix)
American Horror Story: Delicate: No one's seen Kim Kardashian's American Horror Story debut yet. But good or bad, it will definitely be fun to watch. (Wed. on FX)
Sex Education: It's the final season! I just love this show so much! (Thurs. on Netflix)
What to skip this week:
Wilderness: Not even Taylor Swift's music can save it. (Now on Prime Video)
A Haunting in Venice: Please put an end to these Poirot movies! (Now in theaters)


Post source: TDB