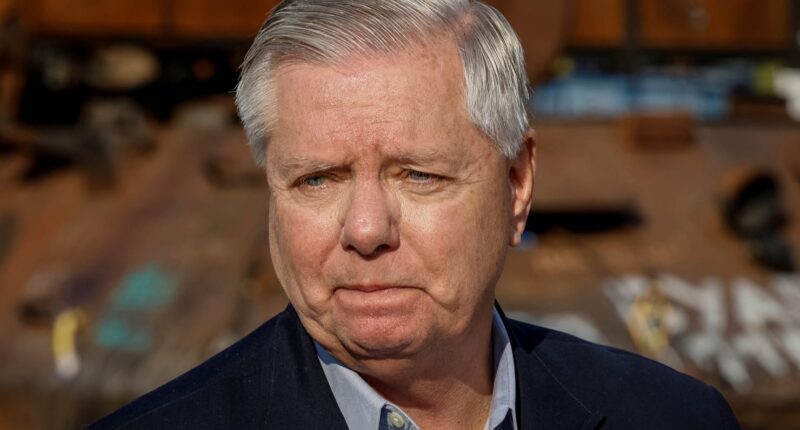 Senator Lindsey Graham (R-SC), who's been in Russia's crosshairs since edited video aired last week of comments claiming the South Carolina Senator said that its soldiers dying in Ukraine "is the best money we've ever spent," followed up with a snarky new jab Monday—hours after Russia issued a warrant for his arrest.
"Here's an offer to my Russian 'friends' who want to arrest and try me for calling out the [President Vladimir] Putin regime as being war criminals: I will submit to jurisdiction of the International Criminal Court if you do," Graham said Monday.
The snarky South Carolina Republican ended by saying, "Come and make your best case. See you in The Hague!"
The Hague, a city in the Netherlands, is home to the International Criminal Court—an entity which filed an arrest warrant of its own for Putin, who faces a slew of war crime charges for invading Ukraine and allegedly sending its children to Russia without permission.
Graham erupted Moscow into a fury on Friday, when his "best money ever spent" remark—made during a meeting with Ukrainian President Volodymyr Zelensky—was shared millions of times online.
In video aired of the meeting, Graham appears to say that Russians dying in the invasion is "the best money we've ever spent." However, in a full-length video released by Zelensky's office, Graham's comment about US spending was linked to U.S. aid, and not the deaths of Russian soldiers.
The video, however, was shared widely across Russia. Among those enraged was Margarita Simonyan, the editor of the Russian propaganda website Russia Today. The Russian journalist didn't just call for Graham's arrest, but insinuated she hopes an assassination plot is in the works.
Citing Pavel A. Sudoplatov, the soviet infamous for coordinating assassinations abroad in the mid-19th century, Simonyan said she hopes the Russian's grandchildren or pupils are around to take Graham out.
"It's not even hard," Simonyan said on Russian television. "We have his address."
Speaking on Memorial Day, Graham told reporters he's wearing the arrest warrant as a badge of honor—just as he's done in the past when ruffling feathers in Moscow.
Last spring, two months into the Russia's invasion of Ukraine, Graham called for Putin to be fatally stabbed by his own pupils, à la Julius Caesar. In February, he told China it'd be "dumber than dirt" to ship off weapons to Putin and Russia—comments that drew ire from both Asian superpowers.
"To know that my commitment to Ukraine has drawn the ire of Putin's regime brings me immense joy," Graham said. "I will continue to stand with and for Ukraine's freedom until every Russian soldier is expelled from Ukrainian territory."
Post source: TDB