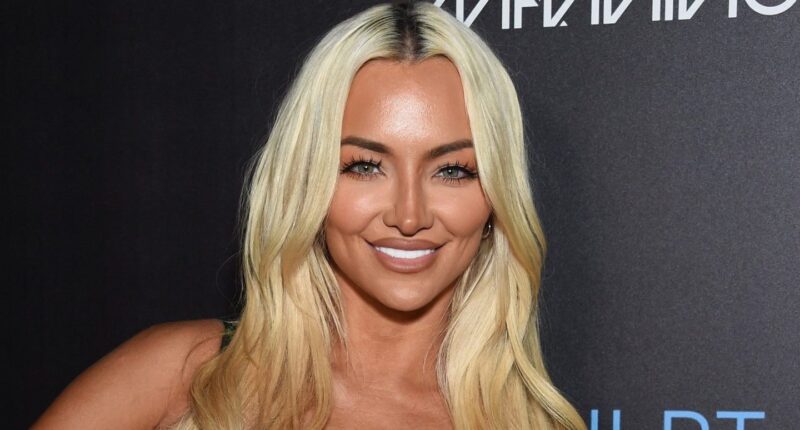 Lindsey Pelas gives Instagram a heart attack with her bikini pictures!
The glamour model has attracted an impressive following on social media thanks to her voluptuous body and beauty. On Monday, Pelas took to her account to share a set of sultry snaps that showed her rocking skimpy swimwear and putting her killer curves on display.
Soaking Up Some Sun
The post captured the 32-year-old influencer beating the hit by taking a dip in the cowboy tub in a place that looked like a desert.
While Pelas is used to posing for the camera in front of photographers, she took matters into her own hands by snapping the pics herself.
The first slide showed her closing her eyes while feeling the sunshine on her skin and the water coming up to her neck.
Enjoying The Tub
In the next slide, Pelas pulled up half of her body from the water and angled the camera downward to get a selfie. She looked straight into the lens while pouting her lips.
A swipe to the right showed Pelas standing in a hallway, facing an oval mirror. She posed by positioning one leg forward and letting her right arm hang on her side. The bombshell used her other hand to hold her phone a little higher than her face before taking the shot.
Selfie Queen
The fourth image saw Pelas taking a selfie while lounging in the tub once again. She then posed indoors and in front of a round mirror in the next pic.
Pelas added more close-up shots of herself in the three remaining images.
Lindsey Pelas' Printed Bikini
Pelas looked incredible in a printed bikini boasting blue and green hues that flaunted her bodacious figure to perfection, making for a display that proved hard to ignore. The two-piece included a halter-style top with thin spaghetti straps and a stringy band that looped tightly around her ribcage, accentuating her slender frame. It had a plunging neckline and triangle cups that made for a seriously busty show, as they were scrunched up to cover up only what was necessary of the content creator's ample assets. A scandalous amount of cleavage and sideboob was exposed due to the racy style. However, her 8.7 million followers hardly seemed bothered by the NSFW scene.
The beauty sported matching bottoms boasting a daringly high-cut design that showed off her curvy hips and toned pins. Although not seen in the photos, the piece seemed to have a thong design. It also featured a thin waistband, and the strings were knotted tightly around her hips in loopy bows, highlighting her petite waist, taut stomach, and abs.
"Heaven is a cowboy tub in the desert," Pelas wrote in the caption.
Fans Shower Lindsey Pelas With Compliments
The share already earned plenty of likes and dozens of comments in just less than a day. Pelas' fans, who flocked to the comments section, left her compliments and emojis. Many praised her beauty and fit body.
"? God help me with all this beauty," wrote an admirer.
"Always an absolute goddess ? @lindseypelas Frames 1 & 5 especially," noted another commenter.
"A gem in the oasis in the Desert," declared the third user.
Post source: The blast