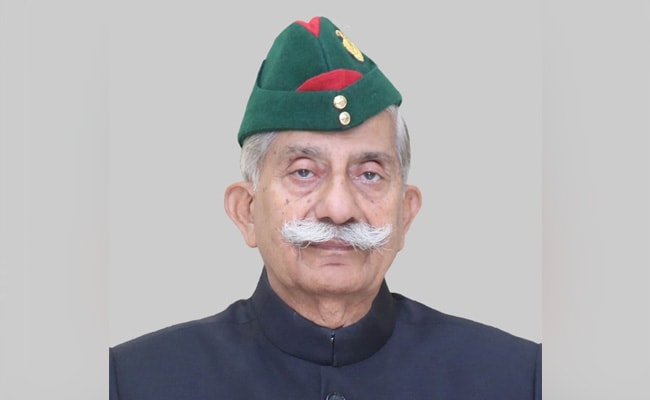 Jammu:
Ladakh witnessed "unbelievable" changes "for the better" since the abrogation of Article 370 of the Constitution, Lieutenant Governor Brigadier (Retd) B D Mishra has said, exuding confidence that it would be the most developed Union Territory in the country in the next couple of years.
Mr Mishra, who took over as Ladakh Lt Governor in February, said his priorities include ensuring that the coming generations do not face water scarcity and creating adequate jobs for the locals, besides making Ladakh "corruption-free and delay-free".
Last year, over 5.31 lakh tourists visited the Union Territory which has a population of around 2.75 lakh, he said.
"I have been there (in Ladakh) for seven months now and there is a sea change in terms of development, in people's outlook, in the benefit (being extended) to the people and also to the comfort of living," the Lt Governor told PTI-Video in an exclusive interview in Jammu recently.
The local population has ambitions in agriculture, horticulture, pisciculture, sericulture, and animal husbandry sectors which are making progress, he said.
Mr Mishra said the people of Ladakh are coming forward in setting up startups while infrastructures such as roads, bridges, tunnels, helipads and airports are being developed at a rapid speed.
This has been possible only after the abrogation of Article 370 of the Constitution in August 2019 when Ladakh was carved out of Jammu and Kashmir and became a Union Territory on October 31 of that year, he said.
Before that, there were agitations with people demanding that Ladakh be declared a Union Territory. It was because "people were neglected and out on a limb", the Lt Governor claimed, adding funds were not available and development was the least of priorities.
The army veteran said he has got his priorities straight.
The first priority is to make sure that the coming generations do not face water problems, Mr Mishra said. "Because we live on hills, water (is available) down below… I want to make sure that Ladakh never faces water problems." 
He said the next priority is job creation for the people of Ladakh, including startups.
"I have got almost 600 vacancies released in police and civil services and the process is going on, while there is a case pending in the Supreme Court related to 800 vacancies.
"The way Ladakh is progressing and the way the people are being taken care of…. the changes are unbelievable and for the better," the Lt Governor said.
Referring to Ladakh as being part of the erstwhile state of Jammu and Kashmir before the abrogation of Article 370, Mishra said earlier the people of the region had no say.
"There was one hill council and that did not have much power. Now we have got two councils (one each in Leh and Kargil districts). These two councils are fully functional. We are empowering them," he said.
Mr Mishra said he had asked the Defence Research and Development Organisation (DRDO), which deals with all high-altitude inventions and initiatives, to visit every farmer and share their technology and initiatives with them.
"Many entrepreneurs have come up and they are producing in the field of agriculture and horticulture things which have never happened," he said.
The Lt Governor said the administration has started the apricot blossom festival which is attracting foreign tourists. "Tourism is a very high-edge matter in Ladakh. We have a population of 2.75 lakh and last year we had 5.31 lakh tourists. You can well imagine how fast we are moving forward." 
The Lt Governor said Ladakh has a very bright future as a Union Territory.
"Given the topography, Leh itself is at 11,500 feet altitude and the other places which are equally high, and given the climate, limited population, dispersion and also the local economy, I think the best thing and the way for Ladakh is to be a union territory.
"The way the progress is happening, Ladakh has a very bright future. I am sure that within the next couple of years, it will be the most developed Union Territory in India. I aim to have a Ladakh that is corruption-free and delay-free and I am working on that," he said
(Except for the headline, this story has not been edited by NDTV staff and is published from a syndicated feed.)


Post source: Ndtvnews