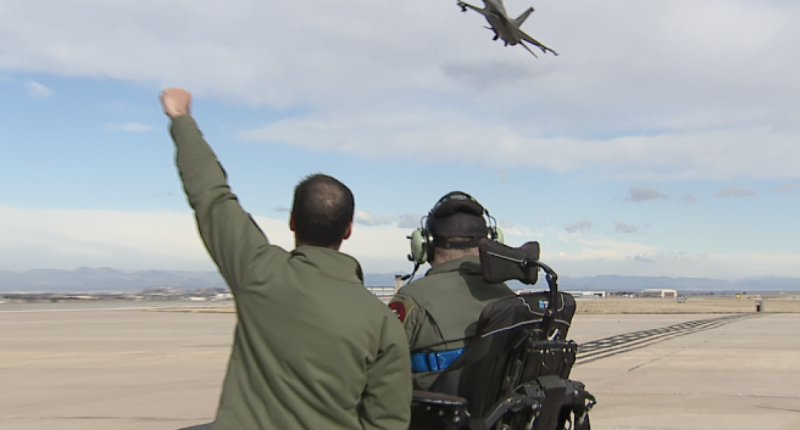 AURORA, Colo. — At 0800 hours on Buckley Space Force Base, a new "recruit" makes his way through the halls, meeting fighter pilots and crew. That's just the start of a memorable day for 17-year-old Jeremiah, thanks to Make-A-Wish.
"I just think it's very cool," he said.
His unique wish was inspired by the "Top Gun" movies.
"That's something that not every other person has wished for," Jeremiah said. "And I knew I was really interested in it."
So the servicemen and women at Buckley rolled out the red carpet, welcoming him with his own flight suit and helmet. Crew members walked him through the operations side of things, and Jeremiah and his family were able to tour one of the helicopter hangars.
"He really is kind of getting the whole treatment today," said Master Sergeant Joesph Imeraj of the Colorado Air National Guard.
Imeraj was one of several who helped make today possible. His daughter was granted a Make-A-Wish in 2018.
"Family is important to this unit, so this is an opportunity for Jeremiah to be part of the family," the master sergeant said.
Donning the signature aviator sunglasses, Jeremiah then got up close with a fighter jet.
"It's crazy how loud it is. Really cool," the teen said.
For an added touch, Jeremiah's name was added to the side of an F-16 cockpit.
After a quick inspection of "his" plane, Jeremiah helped as an air controller cleared the jet for takeoff for a training exercise. He sat on the end of the runway, giving the all-clear to the pilot, and watched it scream by.
"Holy smokes boy! Wow!" Jeremiah yelled over the noise of the jet.
He might have been a "recruit" just for a day, but it's a day he won't soon forget.
"Made me feel like on top of the world you could say," he said. "I'm just grateful for all of it."
---
The Follow Up
What do you want Denver7 to follow up on? Is there a story, topic or issue you want us to revisit? Let us know with the contact form below.
xfbml : true, version : 'v2.9' }); }; (function(d, s, id){ var js, fjs = d.getElementsByTagName(s)[0]; if (d.getElementById(id)) {return;} js = d.createElement(s); js.id = id; js.src = "https://connect.facebook.net/en_US/sdk.js"; js.async = true; fjs.parentNode.insertBefore(js, fjs); }(document, 'script', 'facebook-jssdk'));