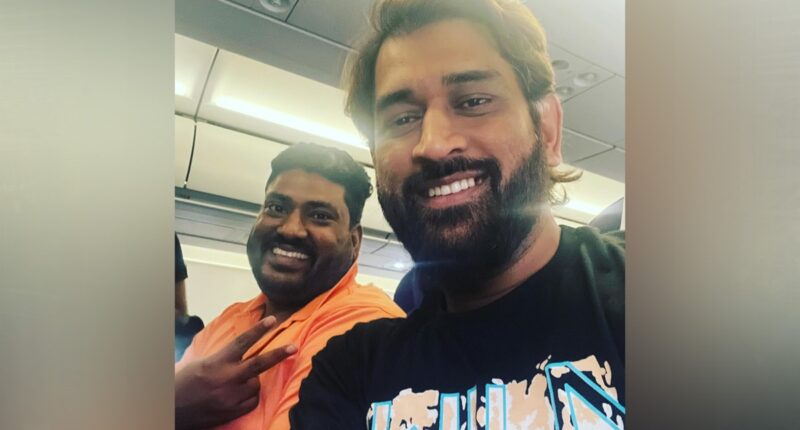 Former India captain and wicketkeeper-batter MS Dhoni is one of the most respected and loved cricketers around the world. Regarded as "Captain Cool", he has one of the most inspiring journeys in sports history. He continues to inspire the young generation with his dedication and seriousness towards his goal. This is one of the reasons that fans continue to show their love and admiration towards the star player despite his retirement from international cricket three years back. Recently, a man shared his experience of meeting the legend after a "last-minute seat change" on his flight from Mumbai to Ranchi.
Chandan Sinha took to Instagram and posted a series of selfies with the cricketer and said MS Dhoni is the "pride of his town" and the distance between their houses was less than a kilometre. However, he never had a chance to meet him. "His house was less than a km where I lived for 20 years. Pride of our town. A huge fan of his game, yet never bumped into him. But God had it all planned. Who knew that the last-minute seat change from the last to second row would turn out to be the best two and half hours of my fan life," he wrote in the caption.
He added that after settling in on the flight, he heard someone asking him to allow some space so that they could sit on the window seat and it was none other than the cricketer himself. "I took my seat and settled in. Just a little later I heard a known voice asking me to let him pass to his window seat. A surreal encounter with Mahi, was an absolute dream come true. Shellshocked, took me a moment to realise what was happening," he said.
Mr Sinha added that although the cricketer prefers napping on flights, however, he gave that up knowing that they are from the same town. "His humility made the moment even more incredible. On hearing that we are from the same town he let go his usual habit of taking a boosting nap during his flights. We had two hours of fascinating conversation. From his entrepreneurial ideas to life lessons his wisdom knows no bounds," he continued.
Further, the fan said that they discussed a variety of things. The cricketer also revealed that he drops his daughter Ziva to school every day when he is around. He concluded, "From sharing about his favourite cuisines to vacation plans. From his love for Ranchi to his love for automobiles. How he drops his daughter to school every morning when in town. His calm demeanour reaffirmed why we call him Captain Cool."
Since being shared, his post has amassed a lot of reactions online.
"Bro got a profile picture for life," said a user.
"What a moment, once in a life time & best in a life time, 2 & half hours with legend himself sitting next to you," added a user.
A third added, "U actually u lived that moment."
"Lucky you," said a person.
"Woww," added another user.
Click for more trending news




Post source: Ndtvnews