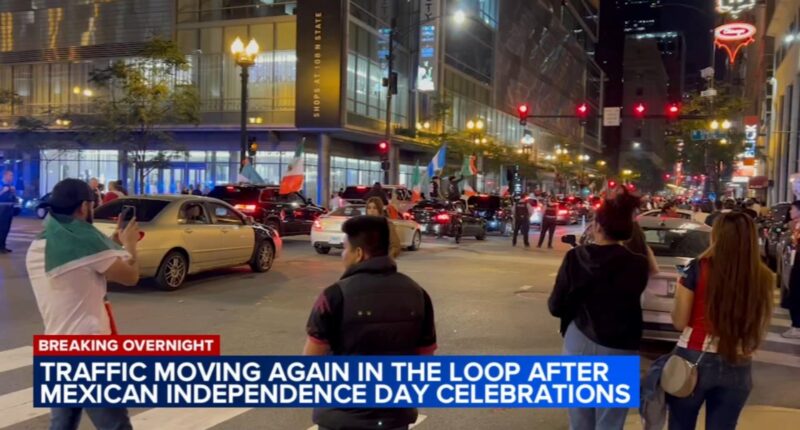 CHICAGO (WLS) — Mexican Independence Day celebrations Friday evening in Chicago led to gridlocked traffic in the Loop overnight.
Revelers celebrating the holiday blocked traffic for hours, making it virtually impossible to enter or leave downtown.
People packed the middle of city streets and fireworks erupted with a visible heavy police presence seen standing by. ABC7 did not see any CPD officers make attempts to clear the roads so traffic could flow.
RELATED | Large downtown area closed to traffic as Mexican Independence Day celebrations kick off in Chicago
An Illinois State Police car was struck around 10:40 p.m. while it was set up for highway ramp closure on I-90 at Washington Street for the Mexican Independence Day celebrations, police said. The ISP car had moved to make way for an emergency vehicle when a civilian vehicle attempted to follow, striking the rear of the ISP squad car.
The driver of the vehicle, 31-year-old Jose Lazo of Chicago, was cited for a violation of Scott's Law, improper passing of an emergency vehicle and driving with an expired license.
The gridlock, which has been seen in previous years' celebrations, continued despite city snowplows blocking major arteries into the city, including at the Kennedy and other expressways, in an attempt tp restrict access to downtown.
The Office of Emergency Management and Control told ABC7 they do not have plans to raise bridges. Traffic was reopened in the city's Central Business District by 3:30 a.m. Saturday, OEMC said.
Chicago police set up checkpoints to require residents living and working in the area to show an ID to pass through, however many people attempting to access the checkpoints reported difficulties doing so.
The following access points to downtown were open to residents and employees:
-North Halsted and West Division
-North Halsted and West Chicago
-North Halsted and West Washington
-North Halsted and West Madison
-South Halsted and South Jackson
-West Roosevelt and South Union
-18th Street and South State
-18th Street and South Michigan
-18th Street and South Indiana
-West Division and North LaSalle
RELATED | Mexican Independence Day events in Chicago to offer special celebration of heritage, culture
The city has asked revelers to celebrate responsibly, and most importantly, to let first responders through traffic if they are flashing their lights.


Post source: Abc7chicago