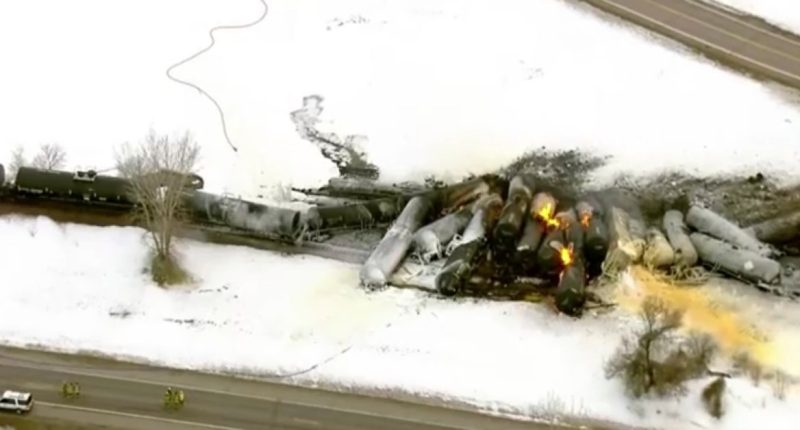 A small city in central Minnesota is under and evacuation order after a train derailed and burst into flames on Thursday.
The Burlington Northern Santa Fe (BNSF) Railway train was carrying a form of ethanol and corn syrup when it came off the tracks at around 1 a.m. local time, according to the Kandiyohi County Sheriff's Office. About 22 rail cars reportedly derailed, with several tank cars catching on fire.
Read More: Why Train Derailments Are More Common Than You Think
No injuries have been reported but parts of the city of Raymond, population 782, have been evacuated and people are being advised against traveling around the area.
"An evacuation area of ½ mile was established around the crash site and law enforcement officers and other EMS assisted with that evacuation," the Sheriff's Office statement said. "Residents were instructed to leave their homes and an emergency collection site for those with nowhere to go was established at the Central Minnesota Christian School building in nearby Prinsburg, Minnesota."
U.S. Transportation Secretary Pete Buttigieg confirmed on Twitter Thursday, that they are "tracking closely as more details emerge" and his office will be involved as the investigation unfolds.
The train track is currently blocked and it is not known when this will reopen. The Minnesota Department of Transportation said that Highway 23 is also temporarily closed at Raymond from Kandiyohi CR 1 to Chippewa CR 1.
More Must-Reads From TIME
---


Post source: The List