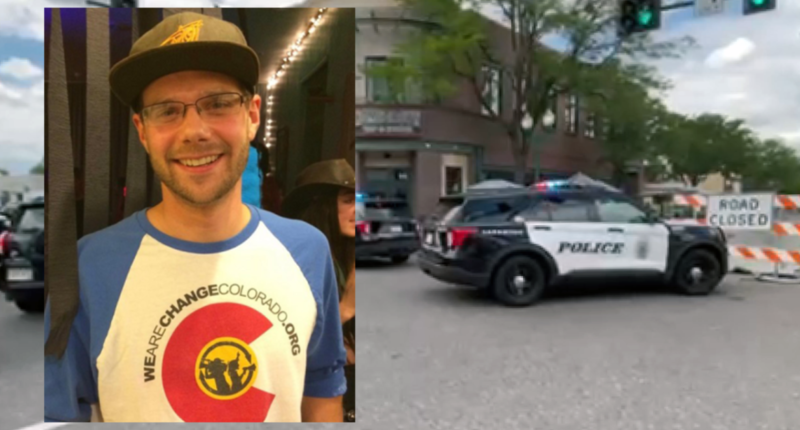 ARVADA, Colo. — The estate of John Hurley and his mother have reached a settlement with the City of Arvada a little more than two years after Hurley, a Good Samaritan who had just killed an active shooter, was mistakenly identified as the suspect and fatally shot by a police officer.
Hurley's mother, Kathleen Boleyn, filed a federal civil rights lawsuit in June 2022 in Jefferson County District Court, suing Arvada Police Chief Link Strate and former Officer Kraig Brownlow. Brownlow was the officer accused of killing Hurley, mistaking the 40-year-old man for the active shooter, whom Hurley had just shot and killed and was standing near.
Mother of 'Good Samaritan' John Hurley, City of Arvada reach settlement in suit
The Rathod Mohamedbhai LLC lawfirm said in a joint statement with Boleyn that all parties agreed to settle the matter while recognizing the "horrific set of circumstances for all involved." The total amount of the settlement is $2,775,000 and included a memorial to commemorate that day.
"In reaching a settlement, the parties acknowledge the tragic loss of Officer (Gordon) Beesley and Mr. Hurley and acknowledge Mr. Hurley's heroic actions under trying and unusual circumstances," the settlement announcement reads. "These men were loved by their families and friends; they were valued members of their communities. In light of this, the parties have agreed to explore the possibility of a memorial to commemorate the events of that day."
Local News
Mother of 'Good Samaritan' killed in Arvada Olde Town shooting sues police
4:08 PM, Jun 22, 2022
Boleyn said she felt relief when the settlement was reached. She is looking forward to planning the memorial for her son in tandem with the City of Arvada.
"Johnny was a hero, not just because I say so," she said. "Ask anybody who was in the square that day. Ask the chief of police. Ask the community of Arvada. I think they all remember clearly what happened that day. And we continue to have a commemoration on that date every year."
The incident unfolded on June 21, 2021. Around 1:15 p.m. that day, Arvada Officer Gordon Beesley responded to a call about a suspicious incident near the Arvada Library in Olde Town. About 15 minutes later, the department received calls reporting shots fired and that an officer had been hit.
It was later learned that the suspect, Ronald Troyke, 59, of Arvada, had fatally shot Beesley. Troyke left a document for police that said, among other things, "My goal today is to kill Arvada PD officers" and "Hundreds of you pigs should be killed daily."
Hurley heard the shooting while in a nearby Army-Navy surplus store and ran toward the danger. He had his own firearm on him, which he used to shoot and kill Troyke.
After Hurley shot the gunman, he picked up the suspect's AR-15 and "began removing the magazine to make the weapon safe," the lawsuit reads. While hunched over near the suspect's body and holding the rifle "pointing down," Brownlow arrived at the scene and thought Hurley was the gunman, so he opened fire.
The lawsuit reads it was clear to a witness that Hurley was unloading the gun and Brownlow did not announce himself before shooting.
Hurley was transported to a hospital, where he died.
Local News
Loved ones remember Johnny Hurley during memorial in Olde Town Square
9:04 AM, Jun 27, 2021
In November 2021, First Judicial District Attorney Alexis King found that Brownlow had reason to believe Hurley was the gunman who had already shot and killed Beesley and was likely set on killing others. In a news conference, King added that Hurley "acted as a hero" and that Brownlow would not face charges. After the district attorney's decision was announced, Brownlow resigned from the police department.
"Had (Hurley) survived, we would have praised his bravery in engaging a mass shooter before anyone else was killed," King said. "He acted to defend others and we will remember him for his selflessness."
Local News
Arvada officer 'ambushed' in Olde Town Arvada attack, Good Samaritan hailed 'hero'
4:41 PM, Jun 22, 2021
Boleyn claimed in the lawsuit that her son's quick actions stopped further bloodshed — something that Police Chief Strate had said in a news conference in 2021, where he called Hurley a "true hero who likely disrupted what could have been a larger loss of life."
On Thursday, Boleyn explained that she has had people come up to her saying they are still alive because of her son's actions.
She said while Brownlow has not contacted her at any point, she has forgiven him. In the days after the shooting, she remembered thinking about how he must feel.
"The only true closure is through forgiveness," she said. "Quality of forgiveness is larger than all of us, but we can all tap into it. I know that my heart has a great capacity for forgiveness, and I know that no one wants his or her life to be judged on the worst thing they ever did. Our world is so full, I think, of hate and blame and retribution and self-aggrandizement and selfishness and I think we need to make more space for forgiveness. When we hold onto regret or anger or fear or retribution — through not forgiving, we are holding ourselves back from moving forward in life. That is true for both forgiver and forgiven."
Matthew Crone, an attorney for the Hurley family, said on Thursday that this case was scheduled to go to trial on Oct. 6. It was in active litigation until a few days ago, he said. Lawfirm partner Qusair Mohamedbhai explained that as the trial grew closer, the parties were more inclined to reach an agreement without using a jury of strangers.
---
The Follow Up
What do you want Denver7 to follow up on? Is there a story, topic or issue you want us to revisit? Let us know with the contact form below.