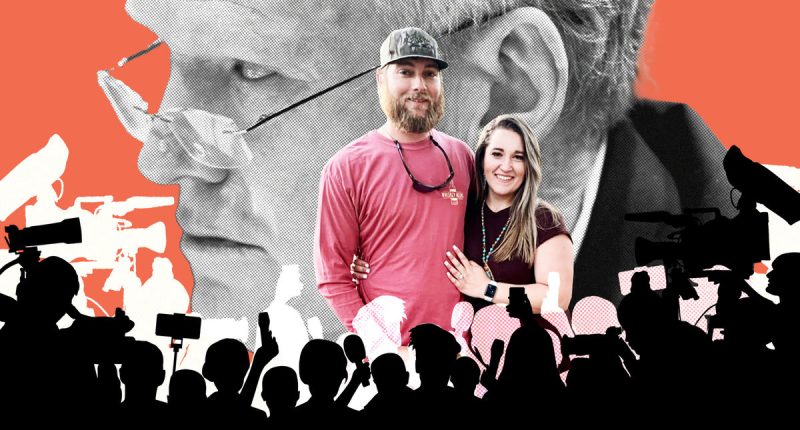 For more than a year, Ashlyn DeLong and her fiance, Josh, have been dreaming about their January wedding at the Walterboro Wildlife Center.
DeLong said she booked the multi-purpose South Carolina event hall— which includes an outdoor amphitheater— last January. It was one of the couple's "top venues," and they wanted to ensure that their 205-person wedding had no major hiccups. But last week, the couple—who are to be wed next weekend—learned that across the street from their romantic venue, notorious South Carolina lawyer Alex Murdaugh is being tried for the heinous murders of his wife and son.
To make matters more surreal, Walterboro Wildlife Center is currently being used as a makeshift media center for the dozens of journalists from across the country who have descended on the small town to cover what has been deemed the "trial of the century" in the Palmetto state.
"I couldn't believe it," DeLong, 28, told The Daily Beast this week, as the Murdaugh trial kicked off in Colleton County Court. "I did know about the courthouse being across the street but we have never had a trial like this before. It's been a mess trying to figure out what to do."
DeLong's wedding is one of three events scheduled at the Walterboro Wildlife Center during the double homicide trial.
City of Walterboro Tourism Director Scott Grooms told The Daily Beast that for all three events—which included a wedding held on Thursday—the facility has taken steps to ensure that they will not be impacted by the trial across the street. He added that reporters will be moved from the event space downstairs to the aquarium space at the front of the facility, which has a separate entrance.
"Nobody attending any of these events should see reporters at all, because they are in a completely different part of the building," Grooms said. "There are other venues, but we can't move the media six miles away from the trial."
But the idea that at least two celebrations of love will be held so close to a notorious trial is bizarre for DeLong, given the fact that Murdaugh is being charged with brutally killing his 52-year-old wife, Maggie, as well as his 22-year-old son Paul in the dog kennels outside their estate on June 7, 2021.
"With it being such a small community, I know about the Murdaughs and the murders. I knew the trial was coming, but I didn't know the dates. So to know it's happening across the street from my wedding, it's wild and upsetting," DeLong said.
Prosecutors allege that Murdaugh, 54, murdered his family in a harrowing attempt to shift the attention away from his alleged financial crimes and garner sympathy from the community. During opening statements this week, prosecutor Creighton Waters told jurors that Murdaugh allegedly first shot his son, before turning the gun on his wife and leaving the property—only to return almost two hours later and call 911.
"It's up to you to decide whether or not he was trying to manufacture an alibi," Waters said Wednesday.
"It was very generous of the couple who got married at the Walterboro Wildlife Center yesterday to give journalists their leftover food and cake after their wedding!"
Murdaugh has pleaded not guilty to two counts of murder and two counts of possession of a weapon during the commission of a violent crime in connection with the murders. His legal team has argued to jurors their client is innocent because he had no reason to kill his family and that prosecutors have no concrete evidence tying him to the murders.
If convicted, Murdaugh faces up to 30 years in jail.
The trial marks the stunning downfall of a family that held legal reign in the Lowcountry for almost a century. Along with the murder trial, Murdaugh has been named in several lawsuits, faces over 80 financial offenses after allegedly stealing millions from his former clients and law firm, and is set to stand trial on a separate set of charges after a botched suicide scheme so his only living son could get his $10 million insurance payout.
DeLong noted that Murdaugh's alleged crimes have been the talk of the town for months—but nobody was exactly certain when the trial was going to be held. So she did not think there would be any issues with booking the Walterboro Wildlife Center for three days starting on Feb. 3. Especially since she knew other couples who had gotten married there and loved it.
"It was one of my top choices. It was more convenient due to the weather and location in town," she said, adding that she and her 33-year-old fiance are both from the area.
Last month, however, she said she was "sitting on her porch drinking coffee and scrolling on Facebook" when she saw a post from the city asking for food trucks to come to the Colleton County Courthouse in anticipation of the trial.
"I instantly got concerned, because those food trucks would be set up in the public parking lot next to the Walterboro Wildlife Center. We would need that space for our guests," DeLong said.
After inquiring with the center, however, she said she learned that it was not only food trucks that would be competing for space during her Friday afternoon rehearsal dinner—but a trial across the street and reporters upstairs sitting next to enclosed reptiles. Now, she said, it's "been a circus" scrambling to figure out how her vendors and guests will be able to smoothly enter and exit her venue and parking lot amid the case across the street.
"I basically had to figure it out for myself," she said. "I had been super excited and now I am pretty stressed out. Everything has been surprisingly smooth planning-wise until this. This has been my trying moment throughout the entire process."
Grooms, however, noted that the center has taken steps to ensure that DeLong's wedding runs smoothly.
"We have never had a trial like this before. It's been a mess trying to figure out what to do."
He also insisted that he informed DeLong "as soon as we knew the dates of the trial," and has been working with the city to ensure that each event is not hindered at all by the case across the street. (DeLong said Friday that Grooms never reached out to let her know about the neighboring trial.)
Grooms said the city parks department is set to clean the area prior to DeLong's 4:30 p.m. Feb. 3 rehearsal—and that there will be no court the next day when her Saturday ceremony is set to begin at 5 p.m.
"We are trying to make this as nice for her as possible under the bad situation that we are under," he added, noting that there should be no complications as vendors are trying to clean up the event space on Sunday.
The tourism director also stressed that the Thursday wedding went smoothly—noting the only complication occurred when a local news outlet tried to film the event without permission. The Thursday couple did not respond to a request for comment, but reporters took to social media to praise the pair for sending up their leftovers after their celebration.
"It was very generous of the couple who got married at the Walterboro Wildlife Center yesterday to give journalists their leftover food and cake after their wedding!" one local reporter wrote. "And gracious of them to share the venue with journalists from around the country covering the Murdaugh trial."
But despite the precautions that have been taken to ensure that both the makeshift media center—and the events downstairs—do not interfere with one another, at least one group has moved their festivity to another venue in Walterboro.
"There was a quilt show that was going to be at the center for a three-week period but they moved that to the civic center," he added. "It's a matter of trying to make everyone happy."


Post source: TDB