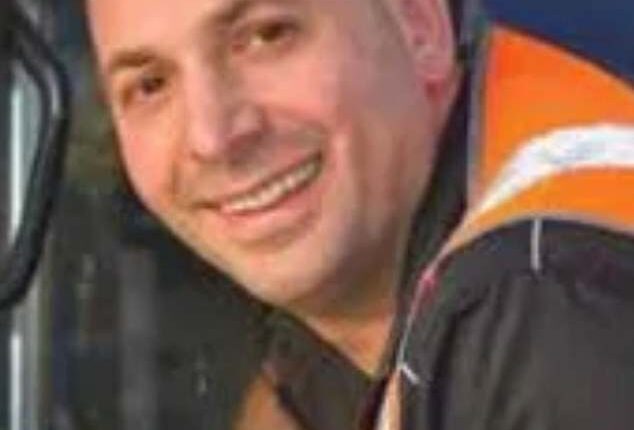 Buying a car, finishing high school, meeting his girlfriend, winning his first footy game with a new club and starting a business were moments Luca Virgona couldn't wait to share with his father.
Paul Virgona was his best friend and biggest supporter.
But the father of two wasn't there for any of those moments.
While driving to work on November 9, 2019, Paul Virgona was fatally shot in cold blood by two Mongols bikies, for reasons police cannot explain.
Aaron Ong and Josh Rider had staked out his Croydon home for hours before Mr Virgona left for work at 2am, and followed behind him as he went to pick out the day's fruit and vegetable order.
On the freeway they pulled alongside him and fired 11 shots into his van from a semi-automatic handgun, striking him 11 times.
Mystery continues to surround the gangland murder of Croydon father-of-two, Paul Virgona (pictured) who was in the midst of winding down business to spend more time with family
Mr Virgona's van spun out of control. When police found him the engine was still running, his phone was illuminated in his lap and Mr Virgona was dead.
Luca Virgona never missed an opportunity to talk to his best mate and couldn't wait to tell him about his latest achievements, to see just how proud his dad was.
'These are the moments I never had, the ones I'll never have,' he told Victoria's Supreme Court on Tuesday.
'It's excruciating to know the future is filled with these unanswered phone calls.'
Giulia Virgona said she and her father had shared excitement together for her future achievements.
'Having to complete and accomplish these goals without him is a struggle in itself,' she said.
Luca was 17 and Giulia was 14 when their father died.
Despite both Mongol bikies Josh Rider (pictured) and Aaron Ong being convicted for the murder, it is still unknown what the motive behind the killing was and who fired the weapon
Rider pleaded guilty to Mr Virgona's murder last year, and weeks later a jury convicted Ong of murder.
Prosecutors can't prove which of the pair was behind the wheel of the high-performance Mercedes that had followed Mr Virgona from his home to the murder scene, or which one fired the fatal shots, but said their guilt was based on them acting together.
Prosecutor Mark Gibson, KC, said Mr Virgona had no criminal associations and was not associated with the Mongols bikie gang, like Ong and Rider both were.
'There is nothing in Mr Virgona's background to explain why he was targeted and killed,' he said.
Rider's barrister Dermot Dann, KC, did not challenge the narrative that it was a case of mistaken identity.
The court heard Rider may have discussed a motive with a psychologist, but Mr Dann said there would be no evidence about that.
Rider also told the psychologist that he had made an 'extremely poor decision' and acknowledged Mr Virgona's death was not meant to happen.
Mr Vigona's widow (left), told Victoria's Supreme Court on Tuesday she will 'miss him every day with sadness' while his son, Luca (right), said he missed his father and best friend
Antonietta Virgona said her husband was an easy-going, carefree and knowledgeable man with a passion for cars, motorbikes, sports and especially food.
He would stop at a pasticceria on his way home from work and pick up pastries for his wife and family, or decide to take them on a spontaneous trip for ice-cream.
'He enjoyed the simple things in life and was easily pleased,' she said.
Mrs Virgona said her husband had begun to wind down his business to spend more time with his family, but after his death that task fell to her.
'I had imagined a long life growing old together,' she said.
'Paul was my everything. I live every day with sadness. I will miss Paul for the rest of my life.'
Marc Virgona said his brother never even thought he was being followed, or was at risk.
'Why would you when you are an innocent person who is just going to work to provide for your family?' he said.
Their parents, Giuseppe and Geraldine Virgona, were also in court for the pre-sentence hearing, which is continuing.
Supporters of Ong and Rider were in court and shed tears as the family spoke.