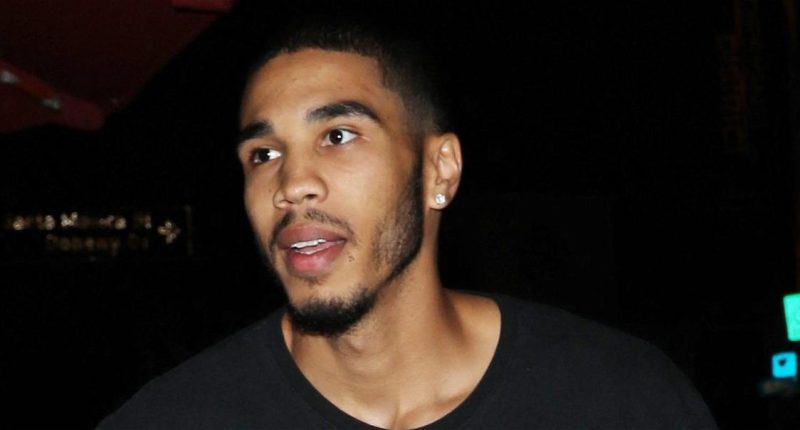 Boston Celtics star Jayson Tatum launched his new healthier gummy candy line with his son Deuce, 5, in mind.
After more than a year of working on the perfect formula, testing tons of batches to get it right, the company explained on the business's website, "We hit the jackpot with our mix of bold flavors and textures and can't wait for the most loyal candy fanatics to try our products."
On Wednesday, Tatum announced the official launch of Small Wins on his Instagram page.
Jayson Tatum Launches A Gummy Candy Line Called Small Wins
The NBA star originally announced his new business venture, Side Step Sweets, last year to offer a healthier line of candy options. Under the brand, Tatum's first product launch is the gummy candy line named Small Wins. The products use natural colors and flavors and have just 4 grams of sugar per serving, making it a healthier option than the typical sugar-filled gummy candy.
According to the Small Wins website, Tatum had his son in mind when choosing the products in the candy line.
"Being Deuce's father has created so many incredible small (and big) moments that have built such a strong bond between us. There is no better feeling in the world than seeing Deuce smile while we enjoy good times together. Like most kids, he loves his candy (and is very picky). As a dad, I want to instill habits that promote better overall health for both of us…and I know how sugar negatively affects our brain and body," the website reads.
"We started Small Wins so we can feel great about what sweets we introduce to our kids, family and friends. Without compromising on taste, our candy is full of flavor, but not excess sugar."
Tatum continues explaining that all of the company's products are made with "non-GMO, organic, and plant-based ingredients."
Small Wins gummies are available in four flavors – Sassy Strawberry, Perfect Peach, Groovy Green Apple, and Whimsical Watermelon.
Tatum announced his sweet news on Instagram with a carousel of photos captioned, "Finally here! We created a better-for-you candy company and now you can enjoy Small Wins with us🤞🏽way less sugar and no bad ingredients… learn more and purchase at @enjoysmallwins we officially up 🔥."
Some of his followers dropped into the comment section to leave supportive thoughts on the new venture. "Wow Jason Tatum! This amazing ad makes me want to empty my bank account into your delicious healthy snacks! You're my MVP Jason Tatum," one follower wrote.
Another added, "This is fire bro! Love this. I'm about to become a dad and my wife and I were just talking about all that sugary cereal the other day. Keep it coming!"
Deuce Is Never Too Far Away From His Dad!
Anyone who follows Tatum, either on or off the court on social media, knows that Deuce is never too far away from his NBA star dad. Often seen at games and interacting with the players, Deuce has his growing fan club. Some might even say he's somewhat of a legend to NBA fans.
"Deuce is the cutest bodyguard," one of Tatum's fan wrote on a social media post. "Best duo in the league 💚," said another.
Deuce, whose full name is Jayson "Deuce" Christopher Tatum, Jr. was born in December 2017 to Tatum and his high school girlfriend, Toriah Lachell. He was born during Tatum's rookie year in the NBA and has become an icon for Celtics fans.
"On the court [I want Deuce to remember me as] a competitor, somebody that always wanted to win. Every time he comes to the game, he sees how I give it my all, I'm doing everything I can to help us win," Tatum once explained, according to PEOPLE. "Because as he gets older, team, sports, that's what's most important is winning and everything else besides that will follow."
Deuce is no stranger to being in the spotlight thanks to his dad's career. In many of Tatum's postgame interviews, he's seen courtside at games and workouts with his dad. And of course, dad shares lots of his life on his social media pages.


Post source: The blast