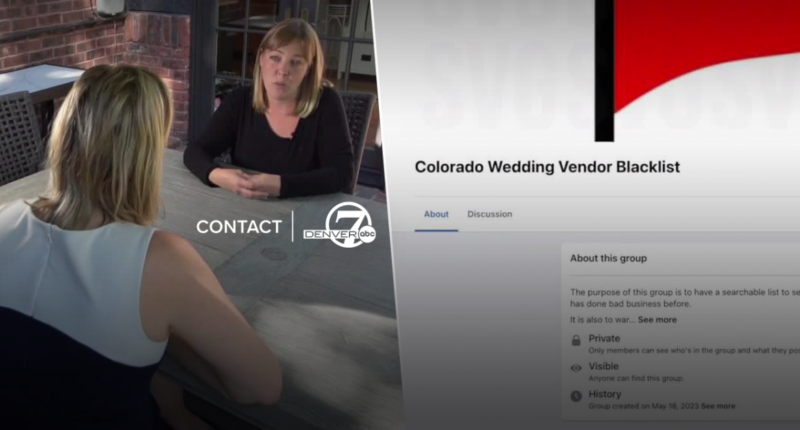 DENVER — As a wedding photographer, Michelle Roybal knows the wedding industry from the inside and that there aren't many places for couples to find honest vendor reviews.
"On the business side of things, you can remove negative reviews," Roybal said. "You can even censor your reviews on places like Wedding Wire and the Knot."
So earlier this year, Roybal created a private Facebook group called "Colorado Wedding Vendor Blacklist," and within a few days, roughly 1,000 people joined.
That number included Maggie Whitman, who posted after she says a photographer named Autumn Davis shot her wedding in June and then disappeared with the photos.
"We figured we would get something," Whitman told Contact Denver7. "We didn't know that we would get nothing."
Whitman said she did not hear from the photographer for 10 weeks and learned she was not the only one having issues with Davis as five others had posted about her.
Meanwhile, they said Davis was changing the name of her business and soliciting to photograph more weddings.
"So we had to go for the big dogs. We had to contact the police, the credit card companies, and eventually the news because every other attempt to reach her didn't work," Whitman said.
Contact Denver7 was able to reach Davis, who said she understands why people are upset with her, but she is not scamming people.
She said a few brides are still waiting on their photos, but noted she has been struggling to raise six children and has had personal issues. However, she is working to get people their money back or their photos.
"I do feel absolutely terrible for any pain and hurting and stress that I have caused," Davis said.
Whitman said she was hurt and wanted to stress that she hopes this doesn't happen to anybody again.
Davis said she is not taking any new wedding jobs right now.
And Whitman said, shortly after Contact Denver7 and the police got involved, Autumn sent her edited wedding photos.
"Thank you so much to (Denver7) and the Estes Park Police Department for working on getting our wedding photos back," Whitman said. "We had an amazing weekend finally being able to go through all our pictures and we are so excited for them."
Editor's note: Denver7 seeks out audience tips and feedback to help people in need, resolve problems and hold the powerful accountable. If you know of a community need we can address or have a story idea for our consumer investigates team to pursue, please email us at [email protected] or or call (303) 832-7777. Find more Contact Denver7 stories here. You can also use the form below to request help from Jaclyn Allen and the Contact Denver7 Team.
---
---
Need help with a consumer problem? Send it to Jaclyn Allen and the Contact Denver7 team
Use the form below to send us a comment or story idea to the Contact Denver7 Investigates Team. You can also email [email protected] or call our newsroom at 303-832-0200.