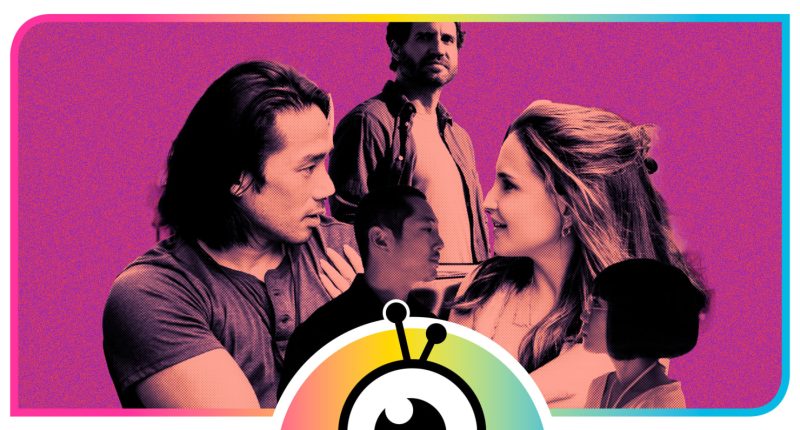 Aren't we all ready for some warmer days of fun in the sun? Netflix has a few tricks up its sleeves this April, as spring rolls into the picture.
Perhaps Florida Man will remind us of dreamy beach days on the shore. There's also A Tourist's Guide to Love, which may be inspirational for summer vacays—or, in fact, dissuade you from traveling completely.
First, though, Netflix will start the month out with Beef, an A24 series set to release on April 6. Ali Wong and Steven Yeun star in the dark comedy following two strangers, who become entangled in a feud after a major road rage incident. If you liked Dave or Silicon Valley, Beef may be up your alley—it's created by Lee Sung Jin, a writer on both of those series.
Then comes Florida Man on April 13. Good luck Google searching what this is about! If you type in "Florida man" on Google, you're going to find 80 headlines about men in the state doing wacky (usually illegal) things. And that's exactly what the show is about. A Florida man goes on a wild goose chase for his missing girlfriend and gets caught up in plenty of hijinks worthy of "Florida Man…" headlines.
On April 27 comes A Tourist's Guide to Love. While that may sound like another fun-loving romantic comedy from Netflix—and it may be—the premise sounds a little less lighthearted. A travel executive faces a break-up and voyages off to Vietnam, going undercover to report on the tourism industry with the help from a Vietnamese expat tour guide. The tourism industry can't be that cheery and romantic, can it?
Here's everything else Netflix wants you to pencil into your April watch calendar:
April 1
Weathering
28 Days
A League of Their Own
American Hustle
Battleship
The Birds
Born on the Fourth of July
The Bourne Identity
The Bourne Supremacy
The Bourne Ultimatum
Charlie Wilson's War
Conan the Destroyer
Dr. Seuss' The Cat in the Hat
Dr. Seuss' The Lorax
Friday Night Lights
Hatfields & McCoys: Season 1
Hoarders: Season 12
Hotel Transylvania
How to Lose a Guy in 10 Days
How to Train Your Dragon
I, Frankenstein
Inception
Inside Man
The Land Before Time
Marnie
Matilda (1996)
The Negotiator
Not Another Teen Movie
Psycho
Puss in Boots
Shark Tale
Shrek Forever After
Smokey and the Bandit
Smokey and the Bandit II
Spider-Man
Spider-Man 2
Spider-Man 3
Thomas & Friends: The Mystery of Lookout Mountain
Zombieland
April 2
War Sailor: Limited Series
April 3
Magic Mixies: Season 1
Surviving R. Kelly Part III: The Final Chapter: Season 1
April 4
My Name Is Mo'Nique
The Signing
April 5
Lewis Capaldi: How I'm Feeling Now
April 6
BEEF
The Last Stand
April 7
Chupa
Holy Spider
Kings of Mulberry Street: Let Love Reign
Oh Belinda
Thicker Than Water
Transatlantic
April 8
Hunger
April 10
CoComelon: Season 8
April 11
All American: Homecoming Season 2
Leanne Morgan: I'm Every Woman
April 12
American Manhunt: The Boston Marathan Bombing
CELESTE BARBER Fine, thanks
Operation: Nation
Smother-in-Law: Season 2
April 13
The Boss Baby: Back in the Crib Season 2
Florida Man
Obsession
April 14
Phenomena
Queenmaker
Queens on the Run
Seven Kings Must Die
April 15
Doctor Cha
Time Trap
April 16
The Best Man Holiday
The Mustang
The Nutty Boy Part 2
April 17
Oggy Oggy Season 2
April 18
Better Call Saul Season 6
How to Get Rich
Longest Third Date
April 19
Chimp Empire
Mighty Morphin Power Rangers: Once & Always
April 20
The Diplomat
Tooth Pari: When Love Bites
April 21
A Tourist's Guide to Love
Chokehold
Indian Matchmaking Season 3
One More Time
Rough Diamonds
April 22
Ada Twist, Scientist Season 4
April 25
The Hateful Eight
The Hateful Eight: Extended Version Season 1
John Mulaney: Baby J
April 26
The Good Bad Mother
Kiss, Kiss!
Love After Music
Workin' Moms Season 7
April 27
Firefly Lane Season 2 Part 2
The Matchmaker
The Nurse
Sharkdog Season 3
Sweet Tooth Season 2
April 28
AKA
InuYasha Season 6
King of Collectibles: The Goldin Touch
April TBA
Ex-Addicts Club
Welcome to Eden Season 2
Post source: TDB