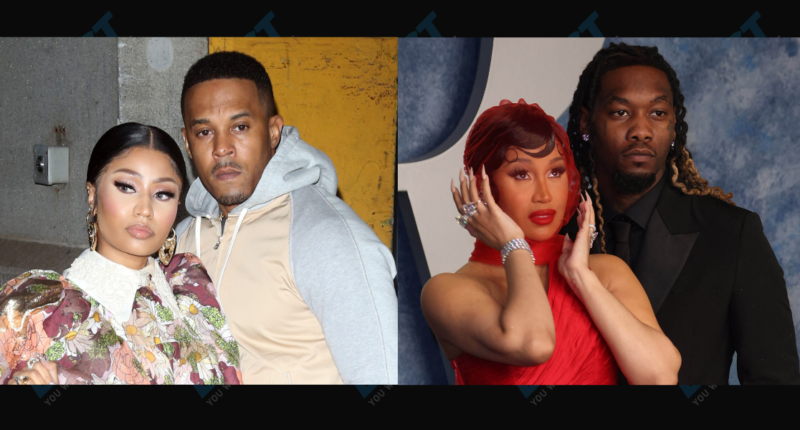 Nick Cannon and his "Daily Cannon" team recently laid into Nicki Minaj's husband, Kenneth Petty, suggesting he's detrimental to her music career.
Petty is under 120 days house arrest for threats made against Cardi B's husband, Rapper Offset. The viral video depicted Petty and his group making threats against Offset at night time on an empty street.
Nick Cannon Slams Nicki Minaj's Husband, Kenneth Petty
Nick Cannon and his "Daily Cannon" team called out rapper Nicki Minaj's husband, Kenneth Petty, stating that he is detrimental to her music career and brand.
They discussed Petty's ongoing 120-day house arrest due to social media threats against Offset, which violated his probation as a registered sex offender. One of the comedian's co-hosts proposed renaming Petty as "Nicki Minaj's Husband."
During the podcast, Cannon slammed Petty, saying his actions were not "street smart." 
He said, "If you a street dude, be a street dude. Don't be on the internet. Street dudes didn't even get on the phone." The talk show host added, "Like real gangsters move in silence." 
Cannon then noted that he was "all for keeping it street, but keep it street smart."
The comedian and his co-host humorously suggested revoking Petty's TV privileges during his house arrest, stating that he was a "housewife" and would need to do the dishes.
Kenneth Petty Threatens Offset In Viral Video
The now-viral video from September 16 depicted Petty and his group, which included individuals with prior convictions for the rape of a 16-year-old girl in 1995 and manslaughter in 2002, gathered outside a New York City hotel, supposedly where the "Clout" hitmaker Offset was staying.
In the video, Petty made multiple threatening remarks, challenging Offset. He taunted, "We gonna get you n****. We know where you at, what's up? Let's go. Let's talk, p**** a** n****."
He continued: "Nobody hiding around here man. We outside. We ready, n****. I run this s*** n**** keep playing with me. Let's play man, y'all wanna play? It's all fun and games until we wanna play too…That whole gang can suck a d***…Up North, I had you scared boy!"
He also suggested that Offset would meet a dire fate soon, stating, "Plan that vacation, you gonna be planning your funeral p****!."
Offset responded to the threats in a video on his social media, downplaying them and implying that Petty was financially struggling. "I'm getting off a jet. He's funny," the former Migos member said.
Why Kenneth Petty Was Placed Under House Arrest 
In the petition filed in the U.S. District Court for the Central District of California, a probation officer requested that Petty be placed under a home detention program for up to 120 days due to his threats toward Offset.
This program may involve various monitoring methods like "electronic monitoring, GPS, Alcohol Monitoring Unit, or an automated identification system."
The petition stated that "Mr. Petty was recorded on video making threatening remarks towards a specific individual while in the company of someone with a criminal record." 
It continued, "Placement in the Location Monitoring Program will effectively allow for closer monitoring of Mr. Petty's activities, limit his movements, provide a sanction for his non-compliance, and hopefully encourage him to reflect upon and reevaluate his current status in the community."
In a statement to USA Today following the sentence, Petty's attorneys, Michael Goldstein and Hagop Kuyumjian, expressed appreciation for the court's decision to grant probation and home confinement.
Cardi B Shuts Down Claims Of Her And Offset's Involvement 
Shortly after Petty was ordered to the 120-day house arrest, court reporter Meghann Cuniff shared in an X post that there was no "outside report/complaint" that triggered the probation officer or a judge to take action regarding Petty's threats. "[Offset] and [Cardi B] didn't even seem to care," she wrote. "Offset LOL'd about it in a video as he walked off a jet."
The sentiment was shared by celebrity blogger KenBarbie, who wrote, "THANK YOU! Because they're definitely trying to flip the narrative like this man didn't do what he did on Instagram and tag every blog in it." He added, "Be mad at him and HIS friends."
Cardi B retweeted the post and seemingly responded to speculation linking her and Offset to Petty's house arrest, writing: "EXACTLY KEEP ME AND MY MANS OUT YALL F****N MOUTH!!!"


Post source: The blast