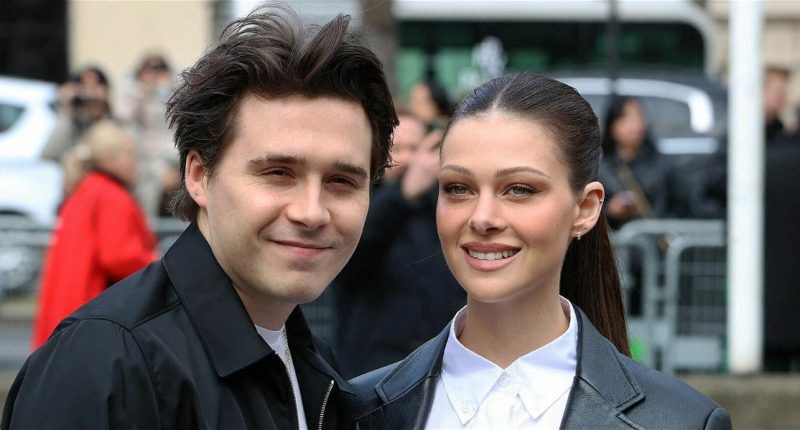 Brooklyn Beckham and Nicola Peltz Beckham are among the many Hollywood stars who have mastered the art of capturing their sweet romance in its raw and genuine form.
The millennial couple has similar backgrounds as they are both offsprings of rich and famous parents. But above all, they are two individuals who found love in each other and decided to take it a notch higher with wedding bells on April 9, 2022. 
In the time they have been together, fans have witnessed their relationship blossom in every way through the special moments they share on social media. The gorgeous bride recently shared a sweet selfie that showed the lovers enjoying each other's presence.
Nicola Peltz & Brooklyn Beckham Cozy Up In New Post
The "Transformers: Age of Extinction" actress posted a photo on her Instagram Story to her 2.9M followers. The cute post revealed a special moment with her beau as they posed in a car. 
As the 28-year-old faced the camera, she tilted her head and balanced her right arm on the middle glove of the automobile. Her beautiful brunette hair was styled all back, giving way to her well-trimmed brows, rosy cheeks, and sultry lip gloss. The "Deck the Halls" actress donned a black long-sleeve sweater with a semi-turtleneck. 
Sitting beside his wife, Beckham rocked a face cap and grey sweatshirt. In the shot, he had his left hand to his mouth, revealing an extensive arm tattoo.  Since tying the knot last year, the budding photographer has openly admitted to having babies on his brain.
Recently, he gushed over the idea of having his mini-me during a recent interview on the "Jennifer Hudson Show." The discussion between Beckham and Jennifer Hudson started with the aspiring chef declaring that he was the number-one fan of his wife. Also, he stated his justification for adding his wife's name to his last name.
He confidently said, "It was my idea because I wanted to honor her family's last name as well, and you know I thought when we have kids I think it'll be so cute to have little Peltz-Beckham's running about." The reply led the host to ask the social media chef about his future as a dad. He responded, "Yes, I want as many kids as my wife wants. I want a lot, but it's obviously up to her."
At a point in the interview, the doting husband revealed to Hudson that he had just gotten new ink in his wife's honor. He proceeded to roll up the sleeve of his sweater and undershirt to reveal a new tattoo of his wife's face.
Nicola Peltz Beckham Disclosed The Reason She Adores Her Husband To Fans
Last month, The Blast reported how the "A&E" star opened up about her blossoming relationship with her husband. During a late-night session on her Instagram Story, Pelz happily responded to queries from fans after she confirmed that she was up and had time to answer any questions they may have. "I don't know if anyone cares, but I'm up if you have any questions," the "Bates Motel" actress penned.
As reported, Numerous questions flooded her DMs, but the top questions on most minds were about the entertainer's relationship. One fan sweetly asked the newlywed bride to divulge her favorite thing about her husband. 
The "Eye of the Hurricane" star responded by sharing an adorable picture of her beau, who gazed passionately at the camera and gave a heartwarming smile. Beckham posed in a beige faux fur hat and white t-shirt, showing off his collections of arm tattoos. The TV personality wrote over the picture, "His heart is so pure," followed by a white heart emoji, and "he is truly so kind." 
Still in her mood of sharing, "The Last Airbender" actress responded with another picture of her beloved when another inquirer wanted relationship advice. The former model posed shirtless in a sauna this time, showing off his glorious body tattoo. 
The snap was taken mid-motion as the Westminster native extended the massage accessory to his lover. To answer the question, Peltz wrote, "Marry your best friend."


Post source: The blast