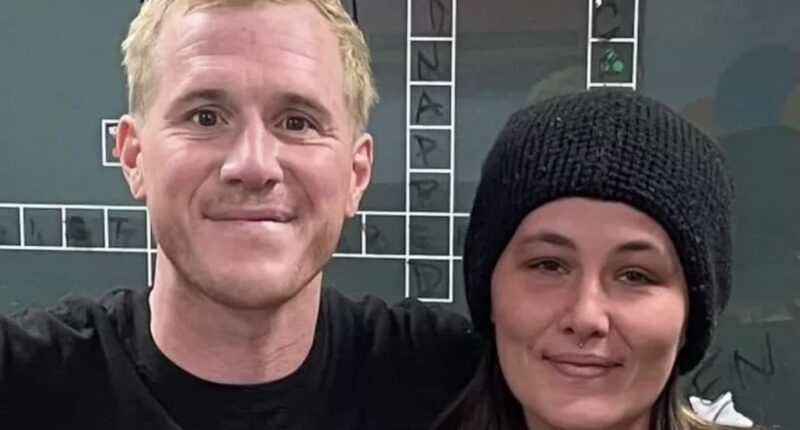 Toni Alcaraz says that she usually speaks with her sister, Nikki Alcaraz, almost every day. For three weeks now, however, Toni hasn't heard a word from Nikki—who was last seen on a cross-country trip with her boyfriend, Tyler Stratton.
Nikki Alcaraz, also known as Nikki Cunningham, is a 33-year-old mother of two, Oklahoma's News 4 reports. She reportedly Tennessee left for California with Stratton and a dog in her black 2013 Jeep Wrangler, which sports a "Mama Tried" sticker, camo seats, and a "BGL3539" tag.
Nashville's WKRN reports that Stratton—named in fliers shared by the Cheatham County Sheriff's Office on Facebook as Steven Tyler Stratton—is wanted Tennessee on an unrelated charge for "failure to appear on a probation violation that stems from a theft charge."
The news outlet also compares Alcaraz's disappearance to that of Floridian Gabby Petito—who went missing during a cross-country trip with her fiancé, Brian Landrie.
Petito was found dead in Wyoming in September 2021, and Landrie was found a month later alongside a notebook in which he confessed to killing Petito.
"All the stories like that that seem to happen and seem to happen more often make it more terrifying," Toni said, according to WKRN.
Alcaraz and Stratton had reportedly embarked on their road trip to Orange County, California, to visit family. Her sister said she'd made the trip "hundreds of times."
Toni believes that Nikki was last seen on May 6, after police intervened in an incident between the couple in New Mexico. Toni received her last text from her sister—saying she was in Arizona and planned to continue to California—two days later.
WKRN cites a police report from the Torrance County Sheriff's Office on May 4, which states that a witness saw Stratton punch Alcaraz in the face. "The report went on to say that Stratton claimed he was also hit, with blood coming from his mouth and nose," WKRN reports. Neither of them reportedly wanted to press charges.
Alcaraz called her sister after police dropped her off in Moriarty, New Mexico, WKRN reports. "She was crying and upset," Toni said. "Her eye was already turning black and you could tell she was beat up pretty bad."
A family friend drove to retrieve Alcaraz and hoped to bring her to California, but Toni told WKRN that on the morning when they were meant to depart, Alcaraz "told him that she had to go back and find Tyler because she had a bad feeling." To her sister's knowledge, she has not been seen since.
"Due to history of domestic assault," one of the fliers shared by the Cheatham County Sheriff's office states, "we believe she is in danger. She may be located in NM, AZ or CA."
Nikki Alcaraz is 5 feet 6 inches tall with brown eyes and black/brown hair, and News 4 describes her as having many tattoos.
If you have information regarding Nikki's whereabouts, call Moriarty, New Mexico police at 505-832-6060 or 505-834-2705.
Post source: TDB