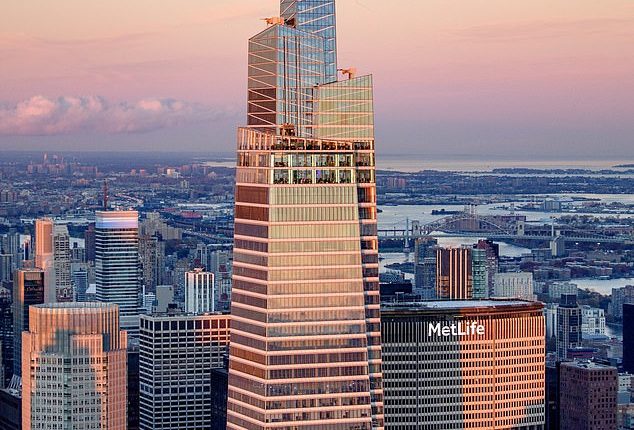 Terrified workers flee NYC's new One Vanderbilt skyscraper after 'huge SHAKE' rippled through interior of 93-floor tower
Office workers claim the 14th, 51st and 60th floors all shook dramatically
Unclear what may have caused the reported tremor; some staff evacuated
One Vanderbilt opened in September 2020 and is 90 stories tall  
Terrified workers fled a huge new Manhattan skyscraper after experiencing a huge 'shake' run through the building.
One Vanderbilt, which sits just above Grand Central Station in Midtown Manhattan, was struck by the tremor Tuesday afternoon.
A tweeter called Colin Ho who says he works inside said the shake was felt on at least three floors of the 90-story tower, which opened in September 2020.
Colin wrote: '@one_vanderbilt huge "shake" just ran through the building. felt on the 14th, 51st, and 60th floors. what was it??? felt like a huge sine (sic) wave running through the building. anyone else feel it
Manhattan's One Vanderbilt skyscraper is said to have shaken on Tuesday afternoon, prompting multiple workers to evacuate 
Tweeter Colin Ho was among those who claimed they'd felt the building shake, and voluntarily evacuated as a result
'i and my team evacuated. strange i haven't seen any other tweets or news on it yet. i'm never the first on these things!'
Another tweeter called Bridgette Devine shared an even scaried version of events:
She tweeted: 'Working at #onevanderbilt today and it felt like the floor dropped 5 feet and continued to bounce. Evacuated to Madison Avenue and mutiple (sic) floors are reporting this. 13, 33, and 60. So far they say they are investigating and there is "no cause for concern". It is very scary.'
Those who evacuated are said to have congregated in nearby Bryant Park, although there has been no word of any compulsory evacuation of the tower. 
Others replied to apparently confirm Colin's version of events. A tweeter called Hidden Aegis said: 'Was on a video conference with some colleagues. They felt the floor shake and are now evacuating.'
And a third tweeter called Pana said they'd been texted by a friend about the same thing.
There have not been any reports of injuries or damage, and it's unclear what may have caused the shake.
One Vanderbilt is billed as one of Manhattan's glitziest new skyscrapers, and features a three-floor Summit observation deck spread across three of its upper floors. 
Its clients include multiple blue-chip banking, law and tech firms.
New Yorkers have been understandability jittery about unexplained incidents in tall buildings since the 9/11 attacks, when the Twin Towers of the World Trade Center were destroyed by two Boeing 767s piloted by Islamist terrorists. 
DailyMail.com has contacted One Vanderbilt's press office for comment.