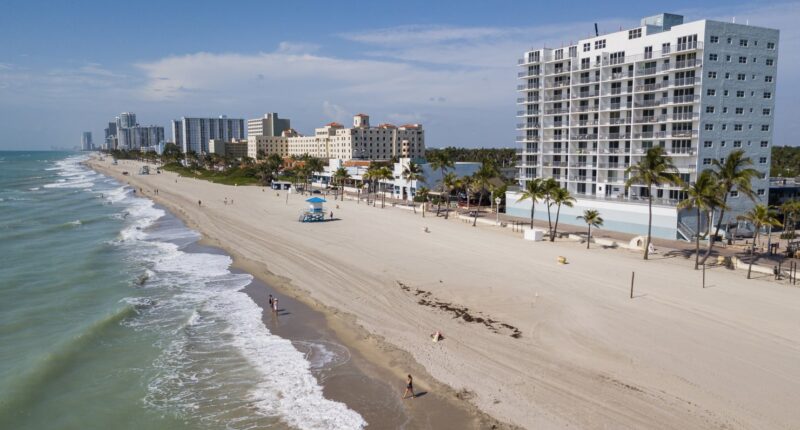 Florida cops are encouraging people to avoid an area of Hollywood Beach after an apparent shooting sent the packed area into chaos, with a live feed of the boardwalk showing a large crowd take off sprinting at the sound of shots fired.
Few details are known about the shooting, which appears to have broke out around 7 p.m. Monday, in the final hours of Memorial Day weekend. It's unclear how many people—if any—were struck by gunfire, or what the shooter's possible motive was. Police are expected to provide a first update on Monday night.
Josh Levy, the mayor of Hollywood, told the South Florida Sun Sentinel that people may have "gotten caught in the crossfire" of a shooting, suggesting the chaos may have stemmed from a targeted attack. He added that victims were rushed to a hospital, but didn't specify how many.
People claiming to be witnesses posted online that shots were fired outside Nicks Bar & Grill—a popular restaurant that's attached to the Hollywood Beach boardwalk in Broward County.
Calls to the business and to the Hollywood Police Department went unanswered Monday night. A spokesperson for the Broward County Sheriff's Office told The Daily Beast it was aware of an incident at Hollywood Beach but said it wasn't the primary responding agency, so information would be released elsewhere.
Hollywood cops wrote to Twitter, "Please avoid the area on Hollywood Beach, from Johnson to Garfield Street, and the Hollywood Beach Broadwalk due to an ongoing police investigation."
It added that there's an "ongoing shooting investigation," in a later tweet, describing a "heavy police presence in the area."
This is a developing breaking news story and will be updated.


Post source: TDB