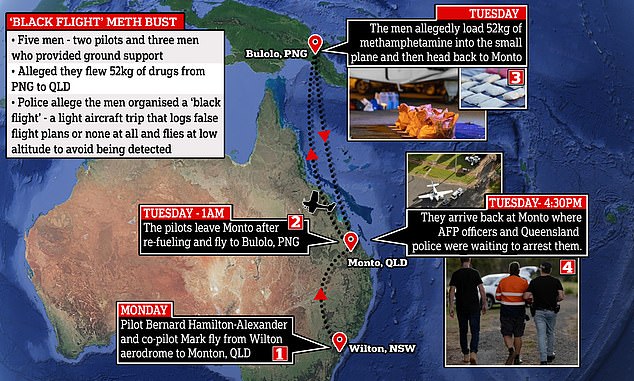 Five men accused of operating a 'black flight' that could not be detected by radar to collect drugs in Papua New Guinea and bring them to Australia have been arrested by police who were awaiting their arrival. 
Australian Federal Police officers were in position when the light aircraft landed at a remote airstrip in Monto, Queensland, on Tuesday afternoon.
Police allege the men had organised a 'black flight' – a light aircraft trip that logs false flights plans, or none at all, and flies at a very low altitude to avoid law enforcement and aircraft monitoring systems. 
It's alleged the five men – two pilots and three men who provided ground support – orchestrated the plan to pick up 52kg of methamphetamine from the town of Bulolo in Papua New Guinea and bring it back to Queensland.
Police will allege the two pilots, Bernard Hamilton-Alexander, aged 51, and his co-pilot, John Horvath, aged 52, took off from Wilton, a rural area south of Sydney in a twin-engine Beechcraft light aircraft on Monday.
Australian Federal Police have arrested five men after they allegedly operated a 'black flight' to collect drugs from Papua New Guinea (pictured, police at the men's alleged refuelling station in Monto, Queensland)
Police allege the men collected five duffel bags containing 52kg of methamphetamine, valued at about $15million (pictured, the duffel bags next to the men's aircraft)
The small plane landed in Monto – 100 kilometres inland from Bundaberg – for a quick refuel before taking off again to head to Bulolo in the Papua New Guinea highlands, 250km north of the nation's capital Port Moresby.
Police said the plane landed at sunrise on Tuesday and the two pilots allegedly picked up five duffle bags filled with 52kg of methamphetamine.
'Their [alleged] actions were monitored by members of the Royal Papua New Guinea Constabulary from Lae in PNG,' the AFP said.
The pilots allegedly hid the duffle bags in the plane before switching off the plane's transponder to avoid radar detection on the way home.
The plane was pounced upon by police when it stopped for a refuel in Monto just after 4.30pm on Tuesday.
The pilots were arrested alongside three men – Brian Pracey, Peter Payne and Nathan Bailey – who police allege acted as the ground crew.
It's understood the crew had been living in Monto since February and allegedly delivered more than 1,000 litres of aviation fuel to the airstrip to facilitate the plan. 
All five were charged with importing a commercial quantity of methamphetamine and face life imprisonment if found guilty.
Only one of them has been granted bail. 
The methamphetamine collected from the plane had an estimated street value of $15million.
The men allegedly flew from a small aerodrome in Wilton to Monto where they stopped for fuel before heading to Bulolo in PNG and returning to Monto for a second fuel stop (pictured, a map of the alleged flight path)
Police allege the pilot and co-pilot flew from a small aerodrome south of Sydney and met the the three ground crew men, who they claim have been set up in Monto since February (pictured, one of the arrests)
The five men were charged with importing a commercial quantity of methamphetamine and only one was granted bail (pictured, methamphetamine allegedly recovered from the plane)
One of the arrested men allegedly had 17 phone accounts in his name. 
'The syndicate also allegedly used encrypted phones and messaging systems to communicate with other members of the supply chain based offshore,' AFP Assistant Commissioner Eastern Command Stephen Dametto said.
'Further inquiries are continuing into how this syndicate sourced the drugs, and to identify others responsible for planning this importation.'
AFP and NSW Police officers later seized electronics, firearm parts, drug paraphernalia and documents about aircraft parts and travel to Papua New Guinea from four homes and businesses in Wilton, Tahmoor, Fairy Meadow and Wallsend.
All the seized items will undergo forensic examination. 
Police allege this week's black flight was not the first time a criminal gang had tried the method to bring drugs into Australia.
The AFP said alleged transnational serious organised crime members tried to fly 550kg of cocaine into Australian from Papua New Guinea back in 2020.
The plane however crashed when trying to take off.
'The pilot of that venture is serving an 18-year-prison sentence term in Papua New Guinea for the attempted import,' the AFP said.
'Other prosecutions, both in PNG and in Australia, relating to that matter are ongoing.'