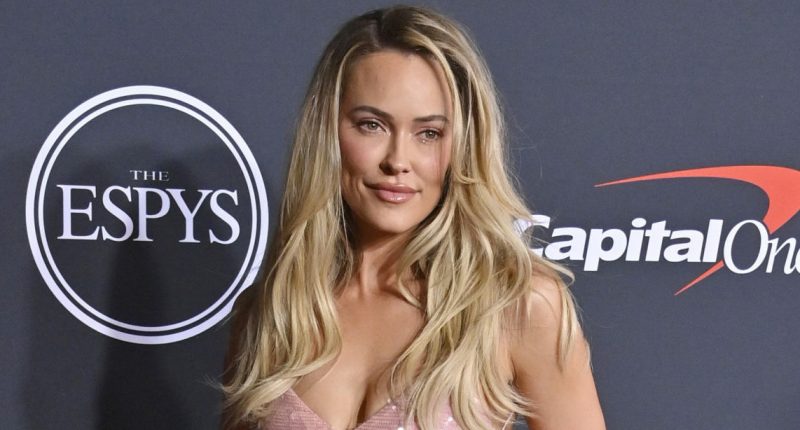 Since her announcement at the start of the year, Peta Murgatroyd has taken pleasure in updating fans about her current pregnancy via social media.
With various clips and photos, she has been honest about her good and bad days, her changing body, and, more importantly, the baby's growth. Recently, the professional dancer went showy as she gave her 966K Instagram fans a view of her growing baby bump.
Peta Murgatroyd Is 'Grateful' Her Growing Baby
The mother-of-one took to her IG Story to share a short video of her huge baby bump. Murgatroyd was seen brewing with excitement as she sported black sweatpants, a matching long-sleeve sweater rolled up to her underboobs to expose her popping stomach, and a tan sheep-skin boot. 
The reality star also had a pair of sunglasses balanced on the crown of her head while her blonde hair was styled in a slick bun. In the clip, the former "Dancing With the Stars" dancer said, "27 weeks with this baby. I cannot believe this. I still wake up sometimes and go wait a second, how, why? I'm just so grateful."
Over Murgatroyd's upload, a black and white text that read: "27-weeks… it's wild. I promise there is only one baby in there."
In another pregnancy update last month, The Blast reported how fans of the dancer swooned over her pregnancy photoshoot. The "Burn the Floor" star uploaded three pictures of herself striking a beautiful pose under the sun; she donned a tan crop top and lingerie under an oversized fluffy brown coat. 
She completed the look and rocked freshly made wavy blonde hair and flawless glam. A specific snapshot showed the reality TV star in a closed-eye posture, where she placed both hands on either side of her baby bump.
In the caption, she expressed that the memory was here to stay forever, penning, "Felt cute… won't delete later 👶." Fans of the "Faith, Hope & Love" actress filled the comment section with remarks swooning over her blossoming baby bump. One user wrote, "I envy you, if only I looked like you." A second comment read, "WOW, what a body on a mama to be, you look fantastic hope it's a little girl 🙏🏻🙏🏻.😍😍!!
Meanwhile, a third person gushed, "This is what pure beauty looks like, you are stunning, maman 🥰." A genuine supporter noted, "I'm so happy for you and I don't even know you. Watched your journey. And I'm cheering you on and praying for you and your family during this joyous time! And you look incredible!" 
"U look amazing!!!! Keeping snapping that baby pic!! Heaven on earth!!! So happy for u all!!! Still cooking and already loved beyond words!!! ❤️😍," a fifth fan wrote.
The Pro Dancer Opens Up About New Struggles In Pregnancy Update
Murgatroyd has been candid about the not-so-good days of her pregnancy. The Blast noted that she uploaded a clip on her Instagram story, where she elaborated on certain developments regarding her pregnancy. 
In the first clip, the 36-year-old, who appears tired, is seen wearing a gray cotton shirt as she lies on a couch, her hair spread out. She began the video by explaining how she took her son, Shai, to school and helped a little in his classroom.
Then, the star said she rested on the couch when she got home and "literally hasn't gotten up." She mentioned that she would have to prioritize her body rest by ticking some things from her schedule.
The ballroom dancer talked about the problems with her pregnancy, saying: "Tired, Exhausted, this week, I feel like I doubled in size. I feel like the baby is growing too much." In the following video, the expectant mother said, "My body just wants to sleep."
She explained a moment when her body persuaded her to take a twenty-five-minute rest when she only intended a five-minute rest. In her words, "I feel I have to set my alarm for 6 to then snooze till 6:30, and then I'm maybe……I can wait up with a bit more vigor."
Post source: The blast