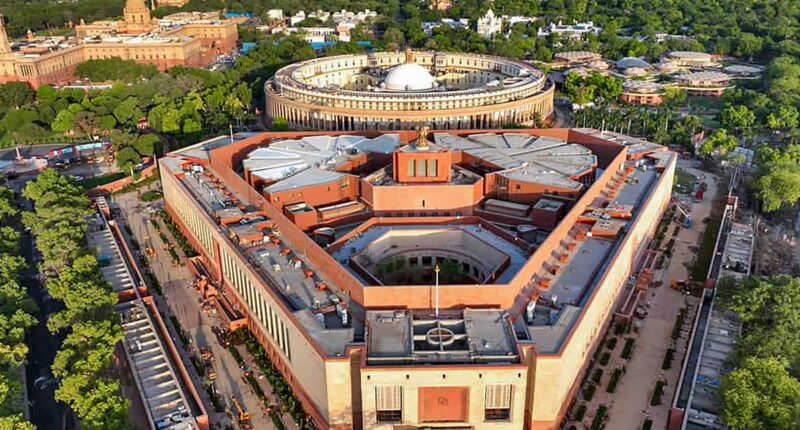 New Delhi:
Prime Minister Narendra Modi will inaugurate the new parliament building today amid a boycott by opposition parties, which insisted President Droupadi Murmu should do the honours. The historical sceptre Sengol will be installed in the new parliament.
Here's your 10-point cheatsheet to this big story
Prime Minister Modi reached the new parliament building at 7.30 am. Soon after, he and Lok Sabha Speaker Om Birla sat down for a puja. Once the puja ended, the Prime Minister prostrated before the historic sceptre 'sengol'.

The Adheenam seers handed over the 'sengol' to the Prime Minister, who sought their blessings on the momentous occasion. The Prime Minister then carried the historic sceptre to the Lok Sabha chamber and installed it beside the chair of the Speaker.  

The 'sengol', the government has said, marked the transfer of power from the British to Indians. It was at a museum in Allahabad till now. 

The Congress has rejected the BJP's claim that the Sengol symbolised the transfer of power from the British to an independent India. The BJP has hit back, saying the Congress needs to "reflect" on its behaviour.

The old parliament building was completed in 1927, and is now 96 years old. Over the years, it was found to be inadequate for present day requirements.

The new parliament building can comfortably seat 888 members in the Lok Sabha chamber and 300 in the Rajya Sabha chamber. For a joint sitting of both the houses, 1,280 MPs can be accommodated in the Lok Sabha chamber.

The material used for the new building has been acquired from across the country. The teakwood was sourced from Maharashtra's Nagpur, while the red and white sandstone was brought from Sarmathura in Rajasthan, to name a few.

With carpets from Mirzapur in Uttar Pradesh, bamboo flooring from Tripura and stone carvings from Rajasthan, the new parliament building reflects India's diverse culture. The government has announced a commemorative Rs 75 coin to mark the historic event.

Built by Tata Projects Ltd, the new Parliament building has a grand constitution hall to showcase India's democratic heritage, a lounge for MPs, a library, multiple committee rooms, dining areas and ample parking space.

The triangular-shaped four-storey building has a built-up area of 64,500 square metres. It has three main gates – Gyan Dwar, Shakti Dwar and Karma Dwar – and separate entrances for VIPs, MPs and visitors.
Post a comment


Post source: Ndtvnews