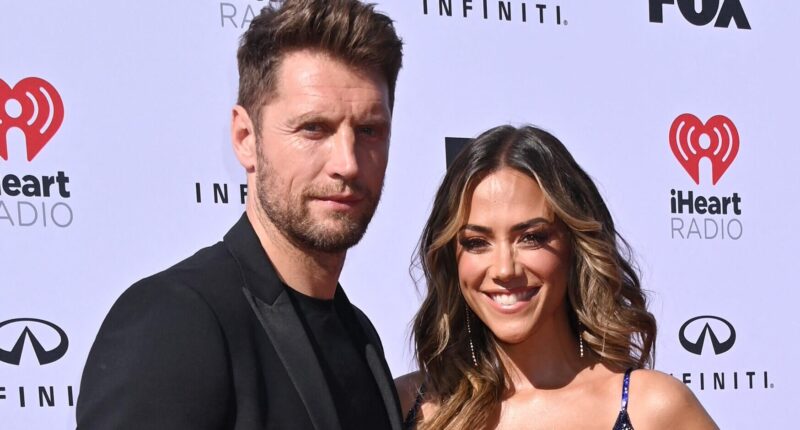 Jana Kramer and her fiancé, Allan Russell, are taking fans along as they embark on a new chapter in their cozy love nest.
Expecting a bundle of joy, the dynamic duo has thrown open the doors to their new abode, giving fans a peek into their heartwarming journey. Since announcing their engagement in May 2023, she has been keen to share their love story and exciting path to parenthood.
Jana Kramer Shares Sneak Peek of New Home With Fiancé Allan Russell
Taking to her page, the Country singer shared a heartwarming video that started with her, her children Jolie and Jace – with ex-husband Mike Caussin – and her beau in an office, presumably to sign the deal for their new home. 
After sharing that it was "closing day on our new house," the scene changed to show the small family of four standing in front of the impressive white and black building as the "One Tree Hill" actress held up the keys. 
The ungated front yard boasted an expansive lawn filled with well-trimmed grass. Next, Kramer and her daughter could be seen climbing up the white steps before her kids excitedly rushed through the brown oak doors with glass paneling. 
The inside space, which was as impressive as the outside, featured a white and brown spiral staircase, and the tall windows allowed ample light to penetrate the home, turning it into a warm, welcoming space.
The clip also showed the couple holding each other to share a kiss in front of an unused fireplace in a cozy area. Overcome with emotion, the expectant mother turned her camera around to show the rest of the space before bringing the video to an end. 
In the caption, she joyfully penned, "Closing day!!!!!!!! More on the feels later ;)." Fans flooded the comments with heartfelt messages, like this admirer who gushed, "Ahhh, so exciting! I can't wait to see more of the house! It's beautiful! Congrats!!! 😍😍😍." 
Another called the home "Beautiful" before congratulating her and the family. A third emotionally pointed out that she deserved "all the happiness in the world," while a fourth added, "Glad you happy." 
In a subsequent upload to her Instagram story captioned "First official dance party in New house," the 39-year-old and Jolie moved happily to music playing from what sounded like an impressive audio system in the background. 
As the doting mother twirled her baby girl around, more structures came into view, like the sizeable brown floor-to-ceiling cabinet and marble island. 
The new move should not surprise the "Why Ya Wanna" singer's followers because just last month, she shared details about her upcoming nuptials and teased the potential for a fresh living arrangement with her fiancé. 
Based on her response during the Q&A session on her Instagram story, it looks like her family's new abode is in the United States. When asked if she would consider relocating to the UK, the "I Got the Boy" artist firmly replied, "While the kids are young, no. But I could see us having a place there one day."
However, she shared that her eldest child had expressed interest in visiting "England and Scotland to see castles." In one of the screenshots she posted, the "Click" star answered a question about her wedding date. She disclosed:
"Next summer we think. @superiorstriker is looking at venues today and tomorrow so we will have a better idea then 🥰."
The 'Boxboarders!' Actress Offers Rare Glimpse Into Intimate Relationship
Known for keeping her relationship with Russell private, the "DWTS" alum delighted fans when she hopped on social media to swoon over her man. Kramer posted a snapshot of them casually seated on a bench, sporting matching sunglasses and outfits, with the music sensation in a stylish sleeveless dress and the former soccer player in a shirt. 
With one hand resting on his shoulder, she showed off her stunning engagement ring and elegantly painted red nails while her other hand sparkled with bracelets.
The "Prom Night" star captured another moment of pure joy, with her brunette locks dancing in the wind. In the sweet caption, the "Circles" singer quipped, "I love loving you @superiorstriker ♥️….even more so when you hate taking selfies 😂." 
Her beau playfully responded, "Love you, babe ❤️ I see you tried that new ginger head filter on me 🤣." 
Other than the couple's love, something else caught her fans' eye, and they could not help but praise it, like this person, who wrote, "That ring is blinding 😍😘 you two are beautiful." 
Someone else called them cute and noted that they love seeing her happy, while another pointed out that "happiness looks great on" Kramer. Meanwhile, a fourth also stated, "You guys look so happy. ❤️."


Post source: The blast