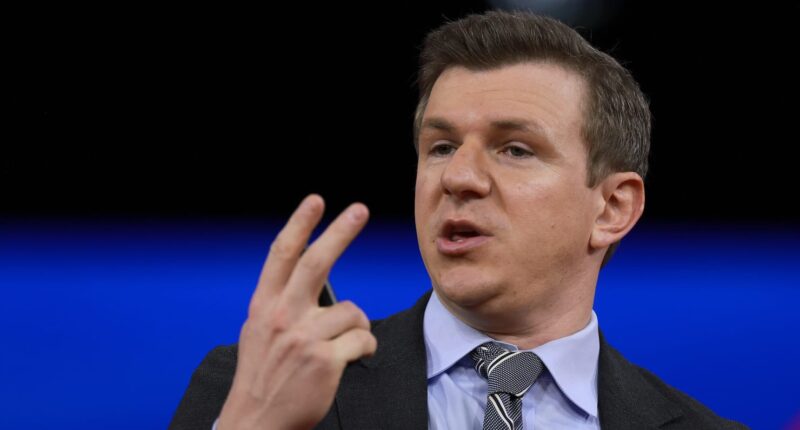 Right-wing media group Project Veritas is suing its founder James O'Keefe, accusing him of bullying employees, racking up massive personal bills on company accounts, and using Project Veritas resources to start a new, rival media shop.
The suit, filed Wednesday in New York federal court, comes amid a bitter rift between O'Keefe and Project Veritas, the far-right video sting operation he founded in 2010. In early February, a group of Project Veritas employees signed a letter accusing O'Keefe of becoming "a power-drunk tyrant" who was "outright cruel" to employees whose misdeeds ranged from eating an eight-months-pregnant woman's sandwich, to spending company funds on musical theater productions. O'Keefe was placed on suspension in February and soon thereafter announced the launch of a new, Project Veritas-like group called O'Keefe Media Group (OMG).
Project Veritas claims O'Keefe started his new venture while using Project Veritas resources like donor lists and laptops.
Neither Project Veritas nor O'Keefe returned The Daily Beast's requests for comment on Wednesday. (Two additional ex-Veritas employees who are also named as defendants did not respond or could not be reached for comment.)
Project Veritas claims O'Keefe's wild behavior constituted a breach of contract even before he founded OMG. During an internal investigation into O'Keefe's conduct this year, the company's board "heard allegations that O'Keefe routinely behaved unprofessionally during team meetings, including by screaming at coworkers and belittling them" and "particularly target[ing] female employees with mean-spirited comments about their lack of contributions to the companies and inappropriate comments about personal situations like pregnancies."
Employees also reportedly alleged that "they personally had observed obscene messages between O'Keefe and various women on social media applications when accessing O'Keefe's phone for work-related matters."
Employees claimed the unprofessional conduct extended to financial matters. O'Keefe was "routinely late for meetings and rude at VIP events designed to give donors extra access to O'Keefe," resulting in "strained relationships with several donors," the lawsuit alleges.
The suit goes on to accuse O'Keefe of making employees run personal errands like cleaning his boat and picking up his laundry. While working for Project Veritas, O'Keefe allegedly used company funds for dubious ends, like spending more than $10,000 "for a helicopter flight from New York to Maine without clear benefit to Project Veritas," and expensing first-class air travel and luxury hotels. O'Keefe's alleged penchant for black car services cost Project Veritas "more than $150,000 over the past 18 months" as the company paid for cars "to go relatively short distances in and around Manhattan and then wait outside of restaurants for hours," the suit alleges.
O'Keefe, a fan of song-and-dance numbers, also allegedly directed the company to spend big on "events like the Project Veritas Experience," which has previously been described as a dance event.
Shortly after his February suspension, O'Keefe launched OMG, which shares Project Veritas's right-wing mission and hidden camera approach. O'Keefe promoted the new company by bashing his old company. On a tour of conservative podcasts and web shows, O'Keefe claimed to have been ousted by Project Veritas.
But the company says that's not true. The lawsuit claims that O'Keefe was not officially kicked off the Project Veritas board until April 24, and not formally fired until May 15.
Project Veritas accused O'Keefe of disparaging the company board, creating a conflict of interests, and also of skimming off Veritas' donor list while working on OMG's behalf. The company cites emails O'Keefe sent to Project Veritas donors in late May stating "Hey there, I know you've been a supporter of my work in the last year" and linking to OMG's subscription page.
"The only way O'Keefe and OMG had those donors' contact information was because it was part of a confidential list kept by Project Veritas," the company alleges.
The suit also accuses O'Keefe and two former Project Veritas employees of making off with Project Veritas equipment when they left for OMG. The company claims those ex-employees refuse to turn over Project Veritas laptops.
One Veritas-turned-OMG staffer "claims to have lost the MacBook Air and told Project Veritas he would pay for it, but he has not done so and has ceased all communications," the suit alleges.
Post source: TDB