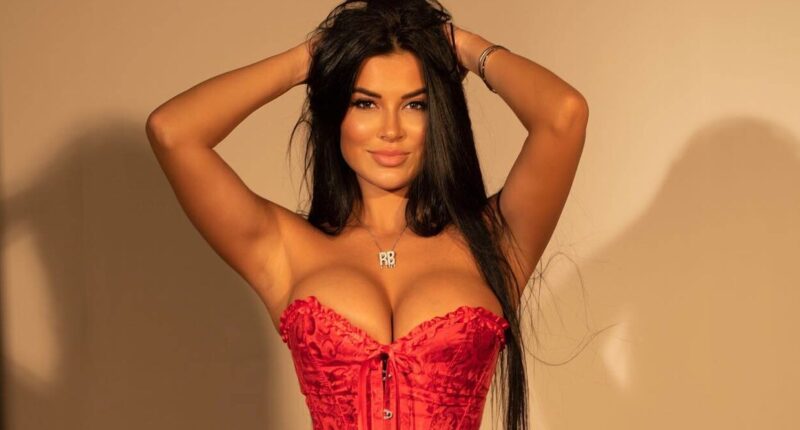 Model Rachel Bush, the wife of NFL star Jordan Poyer, is sizzling during her summer in Greece!
The popular OnlyFans model had a ton of fun on a girl's trip to Greece. She put together a highlights reel of her adventures on TikTok and fans are loving her summer fun!
NFL Star Jordan Poyer's Wife Rachel Bush In Tiny Two-Piece Is Twerking Up A Storm In Greece!
@therachelbushSummer in Greece ????♬ greedy tate mcrae unreleased – babytatie1
In a TikTok video captioned "Summer In Greece," Rachel started off with a clip of her and her friends twerking on top of a boat. They are all wearing bikinis as they give fans a rear view. It's followed by a shot of someone jumping into the ocean and Rachel wearing an orange dress while filming a mirror selfie.
The shots are filled with eating, drinking, dancing, singing, and plenty of twerking! There are also some steamy pool shots as well. "The vibes are vibing," one fan commented. "That a** jiggling in the beginning," another follower gushed. "Going to need an extended version of that first clip," a third fan chimed in while another follower joked, "I'll take Jordan's place."
Rachel In Her Orange Dress Says 'Smile For Me Babe'
Over on Instagram, the mom-of-one shared a photo of her sitting in the club in a knit orange dress. The golden fabric looks like it is practically glowing in the blue light of the club as she smiles for a shot with one hand posed underneath her face. Her lean legs are crossed over one another while her necklace featuring her "RB" initials glow in the dim light.
"Smile for me babe," she wrote in the caption along with various emojis. "I don't even care that the Bills lost anymore," one fan commented. "That's the spirit," Rachel replied. "Dolphins orange. Atta girl," another follower teased. "Guess I gotta wear red and blue all the time now," Rachel responded.
Fans Can't Stop Gushing Over Rachel Bush and Her Steamy Snaps!
"Don't tell me what to do," Jordan Bush responded. "Well then," Rachel replied. "You can tell me what to do," one fan offered. "Do I gotta start rooting for the bills now?" another follower asked. "Yes," Rachel replied. "I'm so obsessed with you," another fan gushed, to which Rachel responded with a heart-eye emoji and a red heart emoji.
"The joy of a blessed Rachel," another follower wrote along with an orange heart emoji. "One time for the orange dress," another fan shared. "Got it in every color," Rachel responded. "Where did you get it from?" another follower asked but Rachel did not reply. There were also a lot of followers who called her "gorgeous," "gorgggg," or a "gorg gal."
Take A Look At Rachel's Selfie Videos!
In the fourth slide of her Instagram carousel, Rachel held up her phone to her face as she danced along in her orange dress. Although it looked almost yellow in the club, fans can clearly see the orange color here, standing out against her glowing tan. She moves her hips as she dances in front of her hotel mirror, letting her long dark hair fall in front of her face.
"There is not a color that you don't make look good. RB the definition of beauty," another follower gushed. "The baddest NFL wife. I don't care. And your husband's great," another fan chimed in. "Sexiest NFL player's wife there is," another follower commented. "Orange is your color," another fan wrote while another follower called her an "angel face."
Interested in more Rachel Bush content? In another recent Instagram post, she flaunted her sunned buns tanning in an animal-print bikini in Switzerland! Fans can check out those steamy summer snaps by clicking here!


Post source: The blast