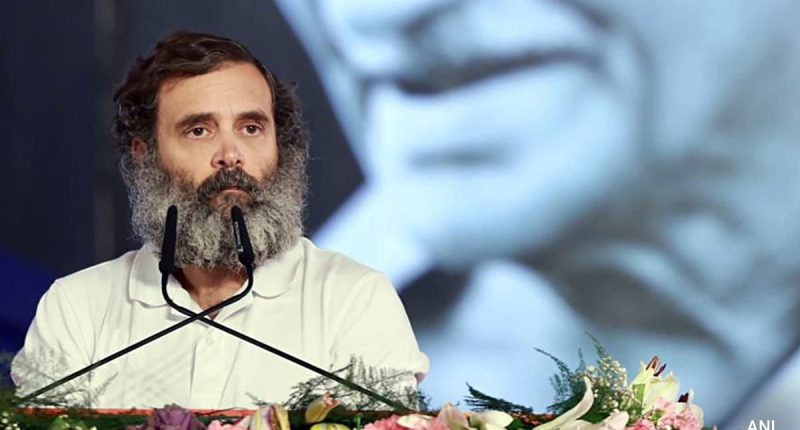 New Delhi:
Rahul Gandhi cited a quote from Mahatma Gandhi after a Surat court pronounced him guilty in a 2019 criminal defamation case over his remarks about Prime Minister Narendra Modi's surname. 
Mr Gandhi was sentenced to two years imprisonment but was later granted bail and his sentence was suspended for 30 days to let him appeal the court's judgment.
"My religion is based on truth and non-violence. Truth is my God, non-violence the means to get it," Mr Gandhi wrote on Twitter. 
मेरा धर्म सत्य और अहिंसा पर आधारित है। सत्य मेरा भगवान है, अहिंसा उसे पाने का साधन।

– महात्मा गांधी

— Rahul Gandhi (@RahulGandhi) March 23, 2023
BJP MLA and former Gujarat minister Purnesh Modi had filed the defamation case against Mr Gandhi for saying, "How come all thieves have the common surname Modi?"
Mr Gandhi made those remarks during a rally at Karnataka's Kolar ahead of the 2019 Lok Sabha elections. 
The Congress leader was present in the court of Chief Judicial Magistrate HH Varma during the verdict.
The court's decision drew sharp reactions from Opposition leaders, including Mr Gandhi's sister and Congress leader Priyanka Gandhi.
"The whole scared machinery is trying to suppress the voice of @RahulGandhi ji by imposing price, punishment, discrimination. My brother has never been afraid, nor will he ever be. He has lived speaking the truth, and will continue to speak the truth. He will continue to raise the voice of the people of the country. The power of truth and the love of crores of countrymen are with him," Ms Gandhi tweeted in Hindi.
डरी हुई सत्ता की पूरी मशीनरी साम, दाम, दंड, भेद लगाकर @RahulGandhi जी की आवाज को दबाने की कोशिश कर रही है।

मेरे भाई न कभी डरे हैं, न कभी डरेंगे। सच बोलते हुए जिये हैं, सच बोलते रहेंगे। देश के लोगों की आवाज उठाते रहेंगे।

सच्चाई की ताकत व करोड़ों देशवासियों का प्यार उनके साथ है।

— Priyanka Gandhi Vadra (@priyankagandhi) March 23, 2023
 Delhi Chief Minister Arvind Kejriwal alleged a "conspiracy" to "finish" Opposition leaders.
"There is a conspiracy to finish the Opposition leaders and parties. There is a conspiracy to file cases against the leaders of non-BJP parties. I have differences with Rahul Gandhi, but trapping him in a defamation case is not right. I respect the court, but don't agree with the verdict," said Mr Kejriwal.
Congress chief Malikarjun Kharge, meanwhile, said the party will seek legal recourse to fight the conviction. 
"He has been granted bail. We knew from the beginning because they kept changing judges. We believe in law, judiciary and we will fight against this as per law," Mr Kharge said, as quoted by news agency ANI. 
Mr Gandhi's lawyer has argued that PM Modi, and not Purnesh Modi, should have been the complainant in the case because the PM was the main target of Mr Gandhi's speech. The lawyer added that the court's proceedings were "flawed" from the beginning. 




Post source: Ndtvnews