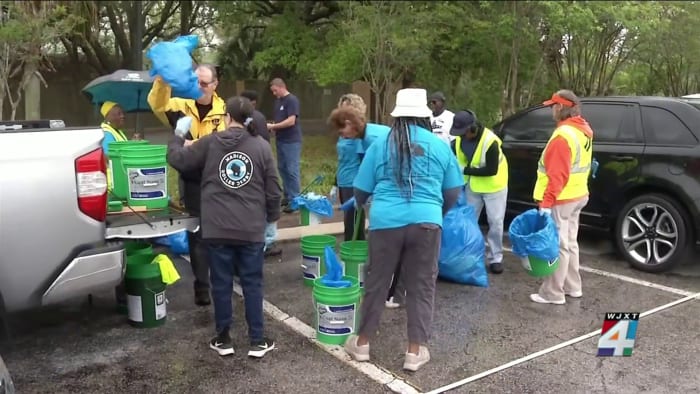 JACKSONVILLE, Fla. – Despite the rainy morning Saturday, volunteers were out in full force for the 28th annual St. Johns River Celebration. Participants gathered at 46 locations around Duval County to clear litter and debris from neglected areas.
News4JAX stopped by the Dunn Avenue cleanup site, an area volunteers said has been neglected. They're pleading for the community to step forward.
"This is your area. So if you want to do something about it, you need to get out and do physical work like we're doing now," said event organizer Shannon Bivins.
That work was part of Saturday's St. Johns River Celebration.
"It's been neglected for many years. And we complain about it, we talk about it, and they do come out and clean. But then once they clean, it gets right back like this again," Bevins said.
The volunteer event had city council candidates rolling up their sleeves.
"It's important to keep the community clean," City Councilman Reggie Gaffney Jr. said. "This community has been neglected, you know, so we thought we'll give back to the community. It's always good and best in your community."
"It turns my stomach to see people stopping at stoplights, throwing cigarettes, cans, and bottles out. Please help us," said Soloman Olopade.
"We have nothing up here on the Northside," Charles Barr said. "From entertainment to roads being fixed. You name it. We are neglected on the Northside. It's time for that to change."
Copyright 2023 by WJXT News4JAX – All rights reserved.
Post source: News 4jax