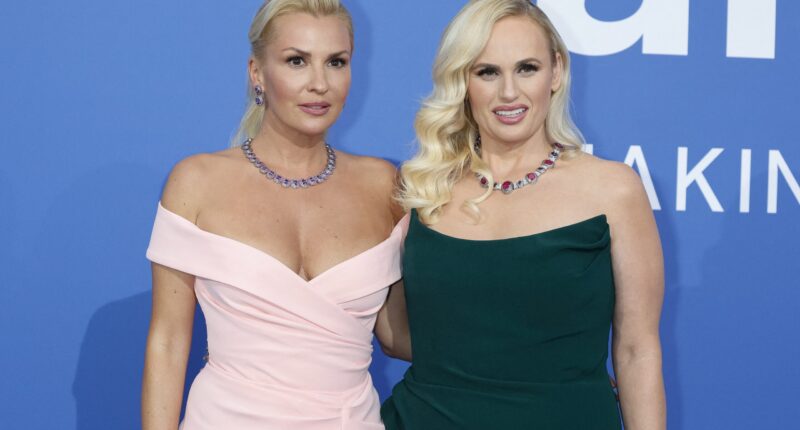 Rebel Wilson and her fiancée Ramona Agruma are totally obsessed with each other and never tire of affirming it to the world!
The lovebirds, who share a daughter born via surrogate, have been an item since June 2022 and got engaged earlier this year, which Wilson fondly recounted about three months ago.
Since confirming their relationship and engagement, the loving pair have been seen now and again flaunting their romance on social media, like they recently did in an alluring post amid their getaway.
Rebel Wilson And Ramona Agruma Look Very Much In Love In Vacation Post On Instagram
The Australian comedian took to her Instagram Story with a romantic view of herself with her sweetheart sitting side by side on a light brown cushioned platform on a boat's deck. They were surrounded by several sea vessels on the vivid blue sea and looked c in their casual outfits.
Wilson wore a dark two-piece outfit paired with a multicolored jacket, while her partner opted for a light-colored shirt-and-shorts ensemble. The duo completed their looks with sunshades, though Wilson added a white baseball cap, and Agruma tied her hair into a messy ponytail.
Despite the stunning view surrounding the couple, they had eyes only for each other with their hands touching.  The "Pitch Perfect" star placed one hand on Agruma's shoulder, pulling her closer while her other hand held the fashion designer's hand on her thighs.
Back in June, Wilson once more blessed her Instagram followers with unfiltered views of her love for Agruma by dropping behind-the-scenes highlights from their engagement ring selection process. The three uploaded images on her feed centered on the lovebirds posing together and flaunting their striking diamond rings while rocking matching white blouses.
The "Isn't It Romantic" actress was all smiles for the camera as she stood slightly behind her beloved, placing both hands around Agruma. She then revealed in the caption how the renowned luxury jewelry brand Tiffany and Co. played a significant part in their fairytale romance.
Wilson exclaimed, "Tiffanyandco has been part of our unique love story since the very beginning! (Our friend Hugh who set us up, gave us both Tiffany's charms when he 3rd wheel'd us at The Sunset Tower Day 1). #TiffanyandCo #LockedwithLove #TiffanyPartner."
As expected, the post was flooded with a ton of adoring reactions from fans who were also taken with the extra highlights Wilson shared on her Instagram Story from the ring selection process.
"Back in February when I was choosing our engagement rings," she captioned the video update, which focused on the movie icon pushing her hand closer to the mirror and her phone's camera while adoring a "classic" round-cut diamond jewel.  The "Super Fun Night" actress later teased a closer view of the ring in another video.
A third clip showed the same items alongside a large blue purse while the ring was kept in a signature blue Tiffany ring box.  Wilson proudly showed off the boxed jewelry in an ensuing photo on her Story before ending the fond recollection with throwback pictures of her and her lover's engagement in Disneyland.  
The 'Senior Year' Producer Opened Up About Stand-Still Wedding Plans Due To 'Different Ideas'
In June, Wilson gave fans an insight into her wedding preparations with Agruma, or lack thereof, considering the partners had "different ideas" about what their ceremony should be like. She discussed so in an interview at the Casamigos Cristalino launch of her dating app "Fluid," clarifying that although they did not share similar views, they would still make it work.
The 43-year-old actress also said, "So I don't know. I don't know who's gonna win. We'll do a very beautiful compromise."
Subsequently, Wilson confessed that her work schedule was a major challenge in their wedding planning. She shared, "I've got two movies to shoot this year and with a 7-month-old…so we'll probably get into it more next year."
Even with the prolonged plans, Agruma remained supportive, according to "The Wedge" star, who gushed, "Ramona is so loving and thoughtful, and she's just such a good partner." 
She then dished more on their thriving relationship, noting that the jewelry designer came into her life "at the exact right time" and even approved the idea of birthing their child via surrogate. 


Post source: The blast