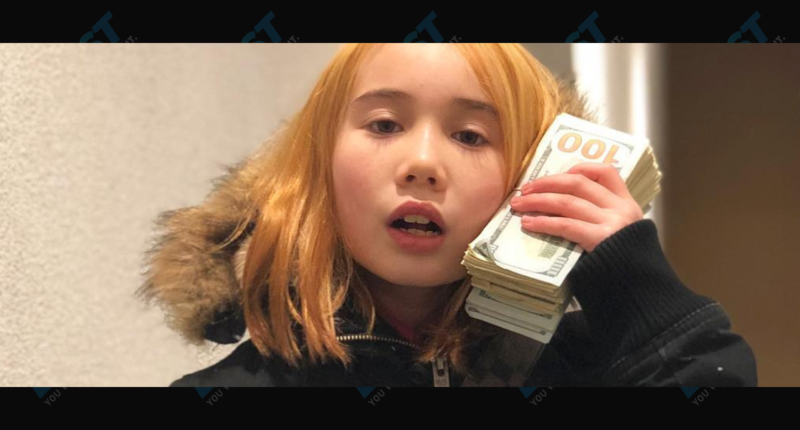 Fans have a lot of questions about that death hoax now that Lil Tay is officially back on the scene.
The social media sensation stopped posting in 2018 following a bitter custody dispute between her two parents: Angela Tian and Christopher Hope. After teasing that she was going to go live Saturday at 3 PM ET all week, the controversial YouTuber made her return to the social media scene with a brand new music video.
Lil Tay Attempts Career Comeback With New Music Video Following Death Hoax
Lil Tay is back on Instagram and still flashing stacks of cash in her song "Sucker 4 Green," which features her singing and dancing in a black tube top, black boots, burnt orange jacket, and matching ruffled skirt. She is even sporting a new haircut: bleached blonde roots with black tips.
In the caption, the rising star couldn't contain her excitement. "IM BACK?IM BACK ☺️IM BACK?LINK IN MY BIO‼️ YALL B—–ES THOUGHT THE SHOW WAS OVER? ??? SUCKER 4 GREEN OUT NOW!!! LINK IN BIO‼️ EVERYONE GO WATCH‼️" she wrote in all caps.
Fans were confused by the video, to say the least. "That is NOT Lil Tay," one fan commented. "Go back into hiding," another follower wrote. "Wtf?" a third fan asked. "I thought you died," another follower shared. "YOOOO I'm spinning my fidget spinner remembering 2017," another fan added. "It's been six years h— yeah," another follower agreed.
"You're joking," another fan shared. "She got so much taller," another follower noted. "She doing music now?!" another fan asked. "I have a feeling that it was never her, it's just her parents who were behind her all the time. And also why is she kinda sexualized in this video, like she's so exposed? Nah it's not her. It's the same s— just another era," another follower wrote while other users ventured that it's only a matter of time until she ages up enough to join OnlyFans.
So Who REALLY Created That Fake Death Hoax?
On Tuesday, someone – most likely Lil Tay – took to her Instagram Stories to claim that her father was the one who created her death hoax. "My abusive racist misogynistic woman beating father faked my death," she wrote alongside a photograph of her father, Christopher J. Hope.
Her father later told TMZ that he was not "responsible" for creating the viral death hoax and hinted at taking legal action against the allegations. "The person who is responsible for that Instagram post, as well as anyone repeating the completely false and libelous accusation within it, are virtually certain to become defendants in a defamation lawsuit," he said.
"Everything stated is 100% false, and I trust that this should be obvious to anyone who knows me or the long history of absurd and untrue statements made by the various people who have controlled the Instagram account," he added.
Former Social Media Manager Speculates That Lil Tay Might Have Been Behind The Death Hoax
On Wednesday, August 9, a statement was posted to her Instagram page, announcing that both she and her older brother, Jason Tian, had died. Jason still has not spoken up about the incident, but Lil Tay's former social media manager told the Daily Mail that he believes either Tay or Jason was behind the hoax as part of a career comeback.
"Upon learning about Lil Tay's assertion of her well-being, I find relief in the fact that she is safe. However, I believe the reported hacking incident may not have occurred," he told the outlet. "My rationale for this perspective is twofold: firstly, the restoration of a compromised account on platforms like Meta/Instagram typically does not necessitate a 24-hour timeframe," he added, although Meta did confirm that her account was hacked.
"Secondly, the actions of Lil Tay's brother, renowned for his propensity for extreme measures, lead me to hypothesize an alternative motive behind this occurrence," he continued.
"Simultaneously, if the underlying motive is indeed to rekindle Lil Tay's prominence within the public sphere, I contend that such actions demonstrate a certain degree of irresponsibility," Tsang added. "It's essential to consider the potential repercussions of employing such tactics, particularly given their potential impact on the perceptions and sentiments of the broader audience."
At this time, it is still not clear who created the death hoax, but it looks like Lil Tay is anxious to return to the spotlight.


Post source: The blast