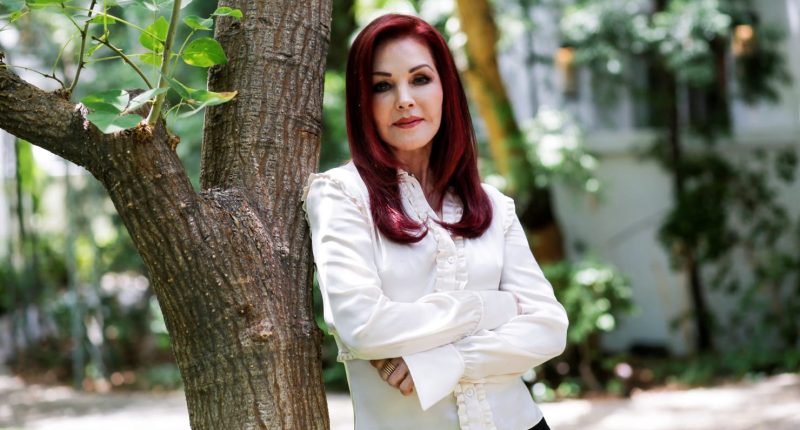 Actress Riley Keough, granddaughter of Elvis Presley, has reportedly locked her grandmother, Priscilla Presley, out of the iconic singer's historic Graceland estate. Per The Daily Mail, Keough's decision comes after Priscilla contested an amendment to her late daughter Lisa Marie Presley's will.
Lisa Marie passed away in January at age 54 after suffering from suspected cardiac arrest. Her death came just two days after the Golden Globes, where she and Priscilla appeared together in support of the film Elvis. (Actor Austin Butler, whose heavily accented portrayal of The King became the stuff of meme legend, lost the Academy Award for Best Actor to Brendan Fraser on Sunday night.)
At the time of Lisa Marie's death, she still owed millions of dollars to the IRS, but she'd also retained $35 million in life insurance policies, of which her 14-year-old twin daughters were named the beneficiaries and Keough was named the trustee, replacing Priscilla.
Now, The Daily Mail says a source told them that because Priscilla has moved to challenge the validity of her daughter's will, which essentially cut her out of a trust worth a fortune, Keough has "changed the locks on the upstairs doors and archives" to prevent Priscilla from accessing the Graceland mansion in Memphis, Tennessee.
Just last week, a Presley family source told People that Keough and her grandmother "do not see eye to eye." The outlet also reported that Lisa Marie's trust includes the Graceland mansion and a 15 percent stake in Elvis Presley Enterprises, all of which brought in roughly $110 million in 2022.
The Daily Beast has reached out to Keough and Presley for comment.
Post source: TDB