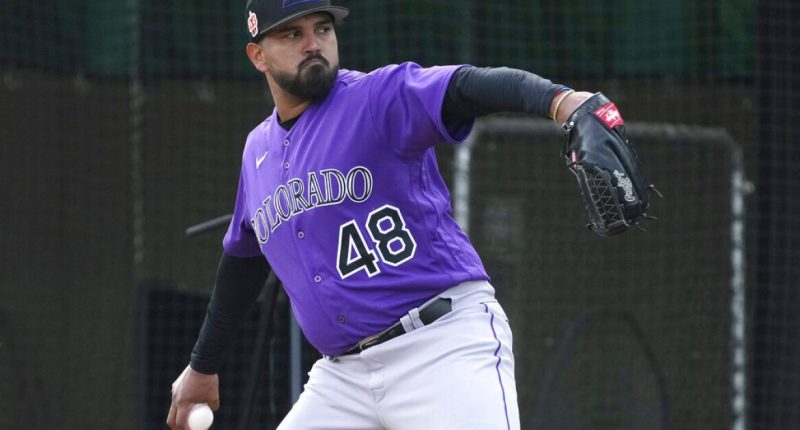 DENVER — Peanut shells cracking under feet. Expectant green grass. Red, white and blue bunting draped over the stadium rails.
Baseball opening day returns like a long lost friend Thursday night, offering hope of a fresh start and new beginnings.
The Colorado's 30th season begins in San Diego, the first pitch moved back to 7:40 p.m. as a concession to the latest storm cyclone drenching Southern California. The Rockies boast modest expectations, owner Dick Monfort admittedly hoping for a winning record.
Not exactly the stuff of a bumper sticker.
Truth is, even 82 wins carries delusions of adequacy, though not as much as winning the National League pennant (SuperBook has those odds at +50000). Guided by manager Bud Black, who received a contract extension in spring training, the Rockies aim to snap their streak of four straight losing seasons.
Colorado has not been relevant in the National League West since delivering back-to-back playoff berths in 2017-18, and still has never won a division title. The current roster features a blend of experience and youth, but pales when matched with the Padres and Dodgers, who are two of the National League's top teams.
What is fans should look forward to with this year's edition beyond the beautiful sunsets and socializing on the party deck? My Denver7 things to watch:
—German Marquez is the first Rockies pitcher to start three opening days. He owns a 63-54 record, making him one of the best starters in franchise history, which is a credit to his talent and also the Rockies' lacking excellence. Marquez finds himself in an interesting spot. He can spearhead an unexpected U-turn or become valuable trade bait since he is the final year of his contract with a club option for 2024. The Rockies are reluctant to make deals to rebuild. But if this team is not contending, it would make sense to ship Marquez to a contender. For Marquez to rebound this season — he went 9-13 with a 4.95 ERA a year ago — he must regain his footing at Coors Field, where he went 2-6 with a 6.70 ERA last season while allowing 19 home runs. Marquez leads a rotation that should include: Kyle Freeland, Jose Urena, Austin Gomber and Ryan Feltner.
—Kyle Freeland is Denver. He prepped at Thomas Jefferson High School, and loves representing his city and state. He is a joy to watch compete, including in the recent World Baseball Classic. However, he operates with little margin for error as someone who lacks the new standard of velocity. Freeland posted a 3.95 ERA in the second half last season. A number under 4 this season would go a long way in keeping the Rockies competitive this season, starting with his assignment in the home opener next Thursday.
—Kris Bryant won a World Series ring with the Cubs. That seems like a long time ago. A former MVP talent, Bryant did the unthinkable, failing to hit a home run at Coors Field in 99 at-bats in his first season in Denver. Saddled with injuries, Bryant played 42 games after signing a seven-year, $182 million contract, ostensibly as Nolan Arenado's replacement as a big bat. The Arenado trade — paying $51 million to the Cardinals and getting no top prospects — has a chance to go down as one of the worst in MLB history. Bryant can't worry about that. He just needs to stay healthy and hit. Anything less than a .300 average, .375 on-base percentage with 25 home runs would be a huge disappointment.
—Can new prospect Ezequiel Tovar create a bright light in a dark season? Only 21, the shortstop brings soft hands and elite defense. Despite being young for Double-A last year, he shined offensively, hitting .318 with 13 homers, 15 doubles and 17 stolen bases. He was signed for $800,000 six years ago, identified as a top prospect. The issue for Tovar is the bat. Can he hold his own? The last thing Rockies need is for Tovar to lose confidence. His development — picking matchups when necessary — should be a priority this season, even over winning.
—Is this the final act for closer Daniel Bard? Few baseball stories can match Bard's. He was out of the big leagues for seven years because of command issues when he joined the Rockies in 2020 and became of the National League's top relievers. Bard should have been traded last season to help begin a rebuild. Instead, the 37-year-old signed a two-year contract through 2024. The Rockies need Bard to be good, but there is some concern after his disappointing performance in the WBC. He struggled to throw strikes and broke Jose Altuve's wrist with a sinker that ran up and in on the right-hander. Brent Suter, Pierce Johnson, Justin Lawrence, Dinelson Lamet, Brad Hand are names to know in the bullpen.
—Will the lineup help the the Rockies avoid 100 losses for the first time in franchise history with the additions of left fielder Jurickson Profar, and corner infielder Mike Moustakas paired with 36-year-old Charlie Blackmon and crew? Here's the thing. Even when the Rockies are awful, they are average or good at home. The lineup suggests they should be competitive but All-Star first baseman C.J. Cron must rebound from his second-half power slump and Ryan McMahon cannot afford another forgettable April with standout second baseman Brendan Rodgers potentially missing the season with a shoulder injury suffered in spring training.
—The reality is the Rockies are in an unenviable position. They should be ushering in a youth movement, but they don't have enough prospects to do it. If this season goes south, the focus should be on finding what they have in first baseman Michael Toglia, Tovar, infielder Nolan Jones, and if all goes well, former first-round outfielder Zac Veen.