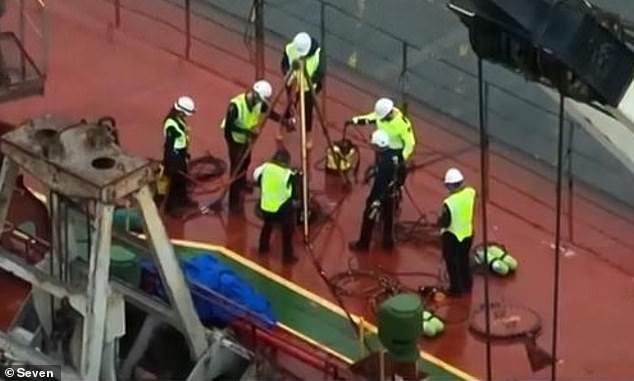 Huge haul of cocaine is seized from a container ship in Western Australia
About 900kg of cocaine seized at Fremantle
AFP, Border Force and WA Police made the bust 
One of Australia's biggest ever drug busts has been made on board a container ship at Fremantle.
Approximately 900kg of cocaine was found on the bulk carrier, St Pinot, by three Australian law enforcement agencies at the Kwinana Bulk Terminal in Western Australia.
The drugs, believed to have come from South America are estimated to have a street value of at least $375million.
The seizure was the result of a joint investigation by the Australian Federal Police, Australian Border Force and WA Police.
Officers from the AFP, Border Force and WA Police were present when the St Pinot, sailing under the flag of Marshall Islands, was searched leading to the seizure of 900kg of cocaine
Officers from all three agencies were present when the ship, sailing under the flag of Marshall Islands, was searched.
Footage of the search showed Australian law enforcement agents being lowered inside the haul of the carrier to conduct their search.
'The AFP, Australian Border Force (ABF) and WA Police Force are searching a cargo vessel as part of an ongoing operation,' an AFP spokesperson confirmed to Daily Mail Australia on Wednesday evening.
According to 7News the cocaine came from South America. 
More to come